Accademia Riaci
Lesson Reports
Read all class reports from our students!
Reporter
Morita
Nationality: Japan
Course: Shoe Making
Assistant
Jul. 30, 2014 | Posted in Reports, Shoemaking , Lesson Reporter | Tags:Morita, ShoemakingReporter: Morita | Course: Shoemaking
外羽接着製法、グッドイヤーウエルト製法2 27.2.2014
・The open-laced style shoe (called "Derby") is almost completed
・ほぼ完成の外羽接着製法。
・This 2nd-year student is adding some stitches in the internal part of the shoe
・2年目の学生さん。次回はもう少し縫いを内側に入れることが課題。
・In order to sew together the welt and the outsole, students mark the welt surface (photo on the left)
・This student is preparing the groove to sew the outsole, but it's important to pay attention because the hand gets easily clumsy (photo on the right)
・ウエルトと本底を縫う為の目印をウエルトに打ちます。(左)
・本底に縫いをする為の溝を作りますが手元が狂わない様に注意が必要です。(右)

・Here, outsole and welt have been sewn together (photo on the left)
・After having finished the sewing, we place the groove back to the original position (central photo)
・Student decided they preferred sewing style and use a soldering iron to create decorations (photo on the right)
・本底とウエルトを縫いつけた状態。(左)
・縫い付ける為の溝は縫いが終わったら元に戻します。(中)
・好みによって縫いに合わせて熱ゴテを当ててデコレーションをします。(右)
・Even small parts, such as tassels, are made by hand (photo on the left)
・Since sewing together welt and outsole is a difficult procedure, students work together with the teacher (central photo)
・In case students want to attach a non-slip rubber on the outsole, this work has to be performed separately (photo on the right)
・タッセルなどの小さなパーツも全て手作りで行います。(左)
・本底とウエルトを縫い付ける作業は難しいので先生と一緒に作業を行います。(中)
・本底に滑り止めのゴムを貼り付ける場合は部分的に本底を加工します。(右)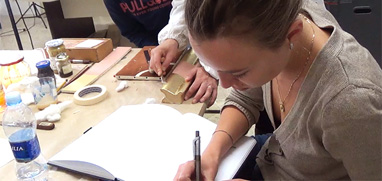 At Accademia Riaci, we are recruiting Course Reporters from our students. The students who are chosen to become Course Reporters are given 10 % of the tuition as their scholarship fee.
The Reporters who have submitted excellent reports will have his or her profile posted on our school website for the next 5 years as an alumnae and will be able to connect with their business chancesafter their graduation.