Accademia Riaci
Lesson Reports
Read all class reports from our students!
Reporter
Morita
Nationality: Japan
Course: Shoe Making
Assistant
Aug. 04, 2014 | Posted in Reports, Shoemaking , Lesson Reporter | Tags:Morita, ShoemakingReporter: Morita | Course: Shoemaking
外羽接着製法、グッドイヤーウエルト製法4 5.3.2014
・Here I'm sewing the welt of the Goodyear (photo on the left)
・
The toe part needs to be stitched thinly on the opening and widely on the closing, so this step requires much attention (central photo)
・This student has just sewn the welt all around the shoe (picture on the right)
・グッドイヤーウエルト製法のウエルトを縫い付ける作業。(左)
・つま先部分では入り口が狭く出口が大きくなる様に縫い付けるので注意が必要です。(中)
・この生徒さんは靴の全周にウエルトを縫いつけました。(右)
・Here, welt and outsole have been sewn together (photo on the left)
・Students need to wrap back the leather so that the stitches are not visible from the outside (central photo)
・Instead, when sewing together the welt with the outsole, the stitches will be visible so this work requires accuracy (photo on the right)
・本底とウエルトを縫いつけた状態。(左)
・縫いを行うために起した革を戻して縫いが外から見えない状態にします。(中)
・本底とウエルトを縫い付ける作業ですが縫いが外から見えるので丁寧な作業が必要です。(右)
・Another student sewing together outsole and welt (photo on the left)
・The student performs decoration all around the shoe, by drawing a line and using a heated metallic tool (central and right photos)
・本底とウエルトを縫いつけた状態。(左)
・熱コテを使い靴の周囲に線を入れてデコレーションをします。(中・右)
・The shank, previously adjusted to the shoe shape, is glued to the surface (left and central photos)
・A 2mm-thick leather is then applied over the shank (right photos)
・接着製法では整形したシャンクを最初に接着します。(左・中)
・シャンクの上に厚さ2mm程度の革を貼り付けます。(右)
・The teacher's welt sewing is extremely neat and fast (left and central photos)
・Once the welt is sewn, students cut off the leather in excess (right photo)
・先生によるウエルトの縫いつけは流石に早くて綺麗です。(左・中)
・ウエルトが縫いつけ終わったら余分な革を切り取ります。(右)
・Students write accurately the procedure, step by step, on their notebooks (left photo)
・In case there is something not clear, the teacher helps the students in continuing the task (right photo).
・作業の手順を細かくノートに記載する生徒さん。(左)
・作業手順で少しでも分からない時は先生と一緒に進めていきます。(右)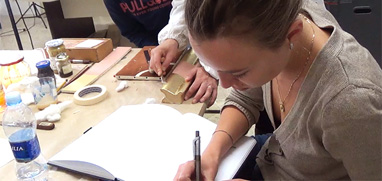 At Accademia Riaci, we are recruiting Course Reporters from our students. The students who are chosen to become Course Reporters are given 10 % of the tuition as their scholarship fee.
The Reporters who have submitted excellent reports will have his or her profile posted on our school website for the next 5 years as an alumnae and will be able to connect with their business chancesafter their graduation.