Accademia Riaci
Student Reports
Read all class reports from our students!
Reporter
Mihaela ZANEVA
Nationality: Bulgaria
Course: Fashion Design
Program: Art Short Course
Period: Sep. 4, 2017 – Sep. 15, 2017
After studying in Bulgaria Scenography and Costume design, she wants very much to develop her knows and to create something fashionable. She wins the competition 2017 and start studying a short course in Florence, her dream – Fashion Design.
"The theater is one big, magic and artistic world, but the fashion is the real life." So she wants to understand the real life here in Florence. She will create a collection with motives from her nationality and will develop in her country, Bulgaria.

ブルガリアで背景画法と衣装デザインを学んだ後、知識を深め、ファッショナブルなものを作りたいと強く思いました。2017年コンペティションで入賞し、夢であったファッションデザインをフィレンツェのショートコースで学び始めます。「演劇は大きなマジックであり芸術的な世界だが、ファッションはリアルな生活である。」ここフィレンツェでリアルな生活を学びたいです。自身のナショナリティーをモチーフにしたコレクションを創り、母国ブルガリアでそれを発展させていきたいです。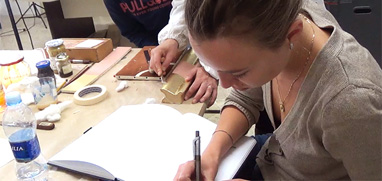 At Accademia Riaci, we are recruiting Course Reporters from our students. The students who are chosen to become Course Reporters are given 10 % of the tuition as their scholarship fee.
The Reporters who have submitted excellent reports will have his or her profile posted on our school website for the next 5 years as an alumnae and will be able to connect with their business chancesafter their graduation.