Accademia Riaci
Students' Blog
Up-to-date report from one of our students!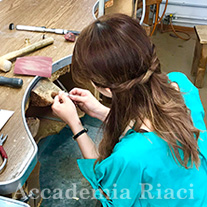 Reporter
Mariko KATO
Nationality: Japanese
Course: Jewelry Making
Program: Summer Intensive Course
Period: Jul. 15, 2019 - Sep. 1, 2019
I majored in painting at an art university in Japan and then worked for a company as a jewelry designer.
Japanese jewelry manufacturers basically have a lot of division of labor, so I have little experience in making and designing and producing instructions.
I decided to come to Florence because I wanted to deepen my knowledge and experience of jewelry in general and to enhance my creativity in an environment different from everyday life.
私は日本の美術大学で絵画を専攻した後、ジュエリーデザイナーとして会社で働いています。
日本のジュエリーメーカーは基本的に分業制が多い為、デザインと製作指示までが私の仕事でメイキングに関する経験はほとんどありませんでした。
よりジュエリー全般に対する知識と経験を深め、普段の生活とは違った環境の中で自分の創造性を高めたいと感じフィレンツェに来ることを決めました。
Oct. 24, 2019 | Posted in Jewelry Making, Blog , Student Reporter | Tags:Mariko Kato, Jewelry Making | Language:

Reporter: Mariko KATO | Course: Jewelry Making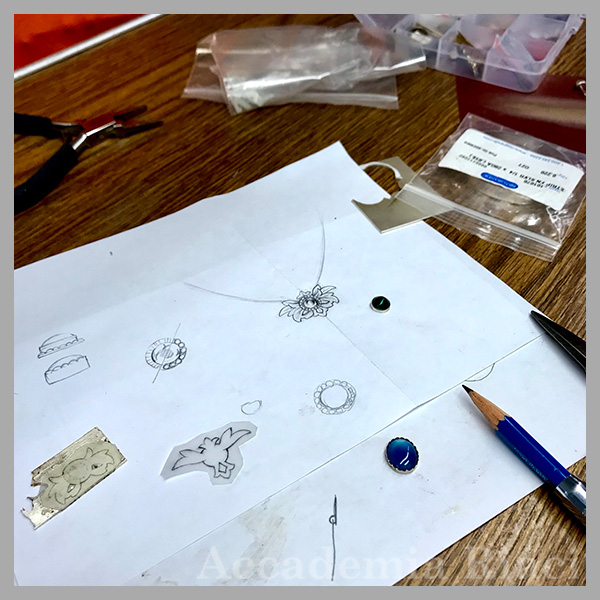 8月に入り人の少ない教室には静かな夏休みモードが漂います。今日からは別の先生と新しい課題に入っていきます。 今までは学校が用意したデザインを作りながら技術を教わっていましたが、今回はデザインから自分で行います! カボションカットという一番初心者向けの石の留め方を教わり、先生と進め方を相談しながらストーンを活かしたデザインを考えました。自分で考えたものを自分で作れると思うとわくわくします!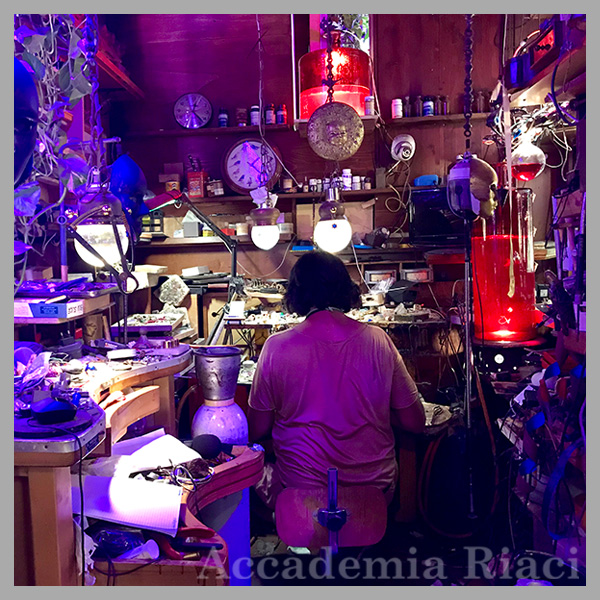 また学校でのレッスンと並行して週に数回外部の工房でWAX技法を教わることになりました。先生の作品を展示しているお店に工房が併設されており、卓越した技術力と一貫した強いテーマ性を持った世界観の強い空間に圧倒されます。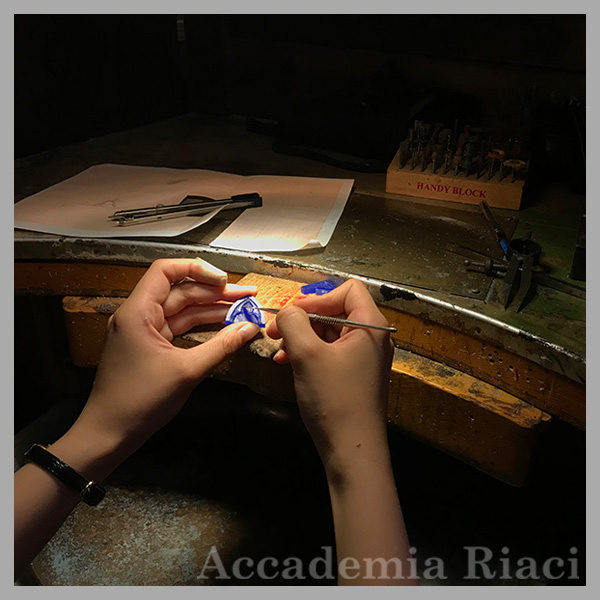 WAXを切り出すのは彫金よりも自由度が高く扱いやすいイメージでしたが、実際作業を行うと非常に難しかったです。 スパチュラという工具で削っていくのですが、少し力を加え過ぎただけで面がガタつき、それを直そうとしてまた削り過ぎ…先生のように上手くWAXを注ぎ足せず……なかなか先生のOKが出ずに滑らかな面を作り出すだけで一日が終わります。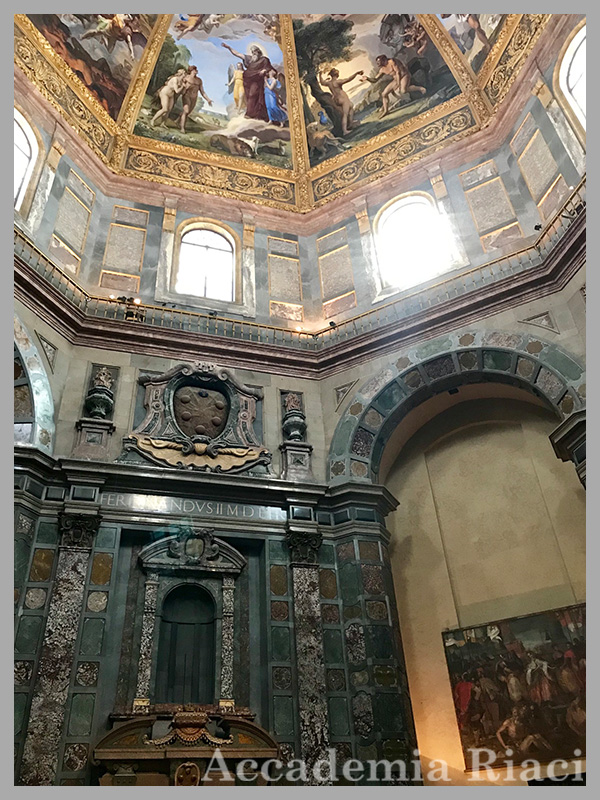 この日は学校の前にメディチ家礼拝堂へ。
学校がフィレンツェの中心部にあるので行き帰りの寄り道も楽しみのひとつです。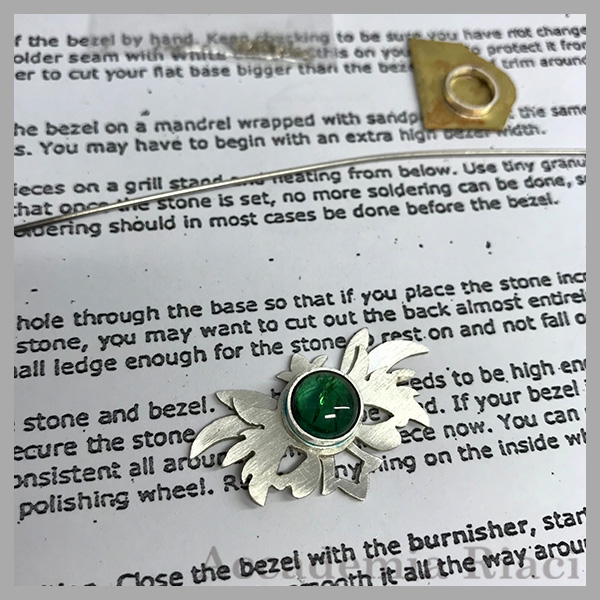 月曜日の続きです。
メタルのお店や宝石のお店も学校から歩いて行ける距離にあるので自習の時間に買い出しに行き、深いグリーンのトルマリンを選びました。
糸鋸で形を切り出し、ヤスリで綺麗に全体を整えていきます。奥に写っているのはカボションカットのトルマリンを留める枠の練習作です。
板状の薄い純銀をストーンの大きさに合わせて丸く成形し、鑞付けしていきます。繊細な作業ですが綺麗に出来るととても楽しいです。
このパーツに立体感や粒状の装飾、表面のテクスチャをつけてペンダントトップにしていく予定です。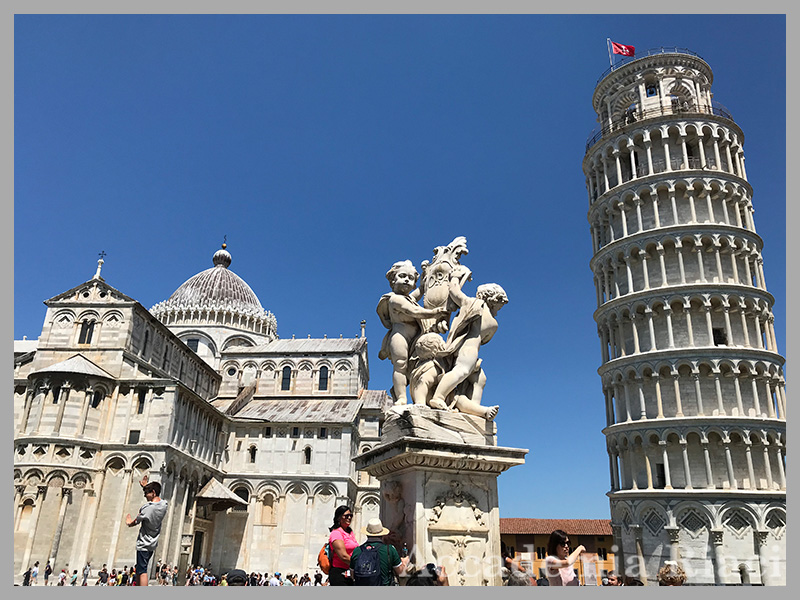 今週のカルチャービジットはピサへ!
もともと行きたかったので、連れて行ってもらえて良かったです。中世の繁栄から世界大戦時に被害が大きかった事など、歴史的なお話もたくさん聞くことができ興味深かったです。
イタリアは日焼け止めとサングラスが必須。遮る物のない陽射しが全身に沁みます…。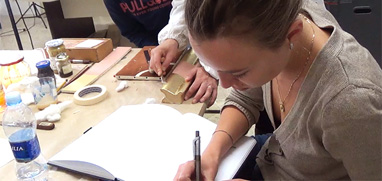 At Accademia Riaci, we are recruiting Course Reporters from our students. The students who are chosen to become Course Reporters are given 10 % of the tuition as their scholarship fee.
The Reporters who have submitted excellent reports will have his or her profile posted on our school website for the next 5 years as an alumnae and will be able to connect with their business chancesafter their graduation.