Accademia Riaci
Student Reports
Read all class reports from our students!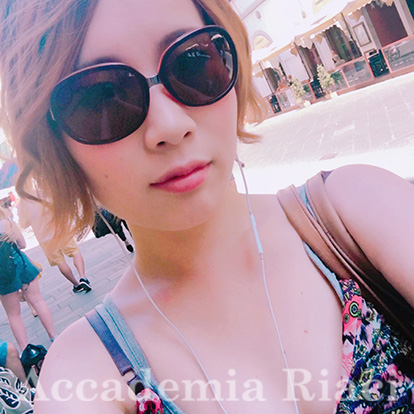 Reporter
Ai MARUYAMA
Nationality: Japanese
Course: Jewelry Making
Program: Atelier One Year Course
Period: Sep. 3, 2018 - Apr. 26, 2019
日本では大学で日本画を学び、平面の創作活動を中心にしてきました。今回ジュエリー制作を始めるきっかけになったのは、平面の作品を作ってきた中で立体作品にも興味を持ったからです。また、金属という素材には昔から魅力を感じており、芸術の本場であるフィレンツェという環境のなかで刺激的に創作活動をするために留学を決めました。ジュエリー制作では、自分の表現したいものや、自分が作ったものが多くの人に手に取ってもらえるよう追い求めていきたいと考えています。
Apr. 19, 2019 | Posted in Reports, Jewelry Making , Student Reporter | Tags:Ai Maruyama, Jewelry MakingReporter: Ai MARUYAMA | Course: Jewelry Making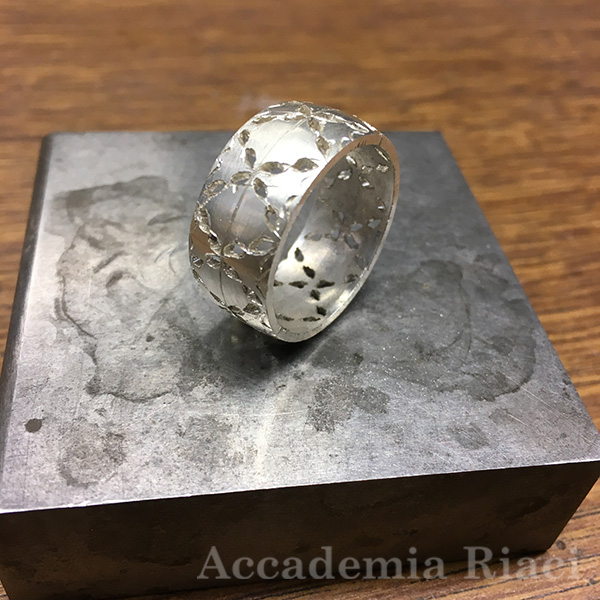 Pic1 先週の続きになります。まずPic1は先週撮り忘れていた穴をあけ、整えたものです。今週はこれの続きで、外側の飾りを彫って行きます。ここはやすりで少しずつ削っていくのですが、全体の形を見つつ、穴がよく見えるように彫って行きます。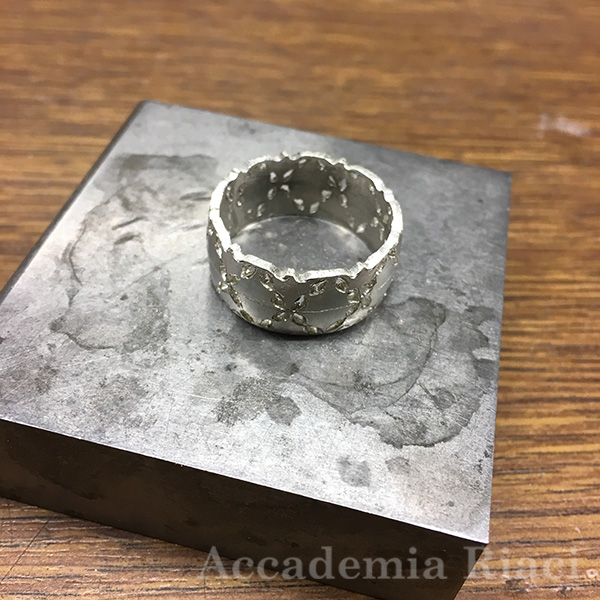 Pic2-3 片側だけ彫り終わったものです。かなりきれいにできたと自負してますが、作業はとても時間がかかってしまうので体がいつのまにか固まってしまって大変です。この調子で反対側も作業していきます。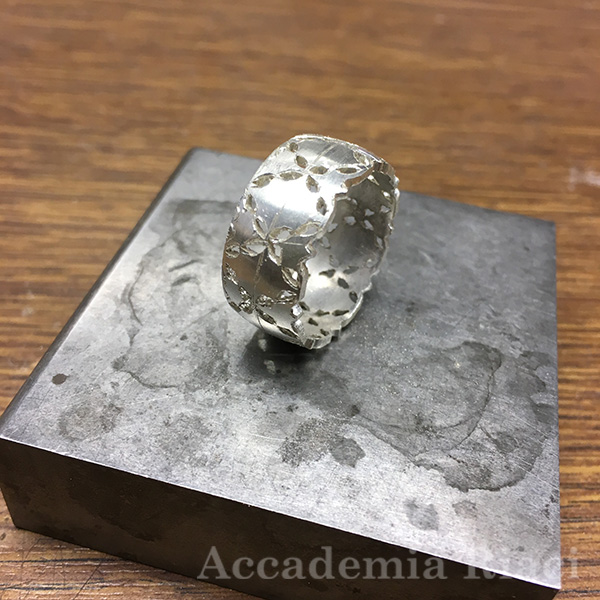 Pic3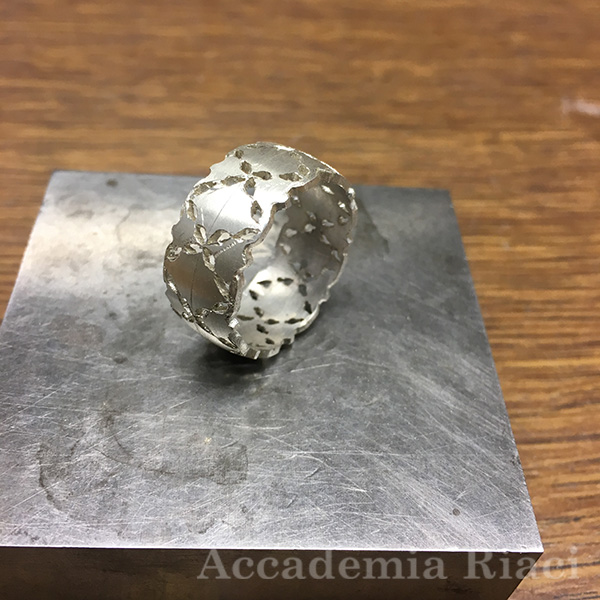 Pic4 反対側も作業し終わりました。これで各断面を整えてから、昨年に作っておいた2つのリング状の板を溶接していきます。すべての接地面を溶接していくので、これもまた気の遣う作業でした。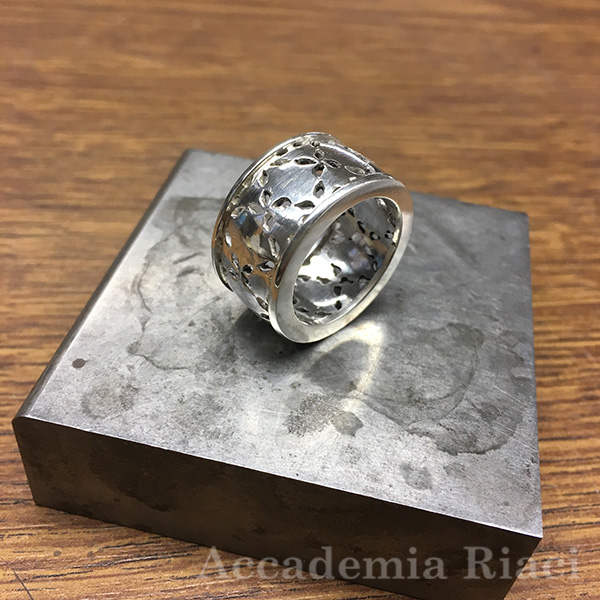 Pic5-7 すべての溶接が終わった後に、磨き上げたものです。この状態でもまだ完成ではなく、この後に石留めをする予定です。どんな風に仕上がるのか、まだまだイメージできないので完成が楽しみです!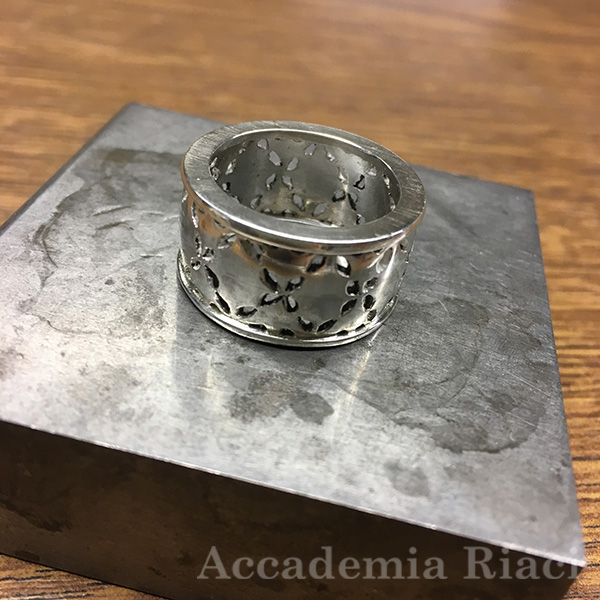 Pic6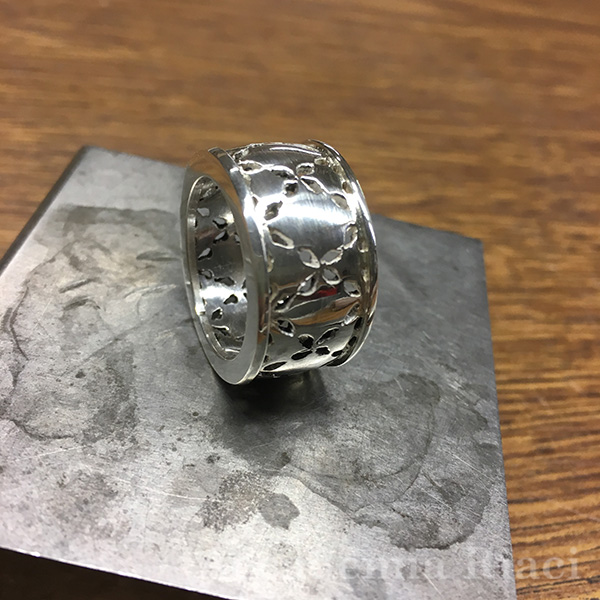 Pic7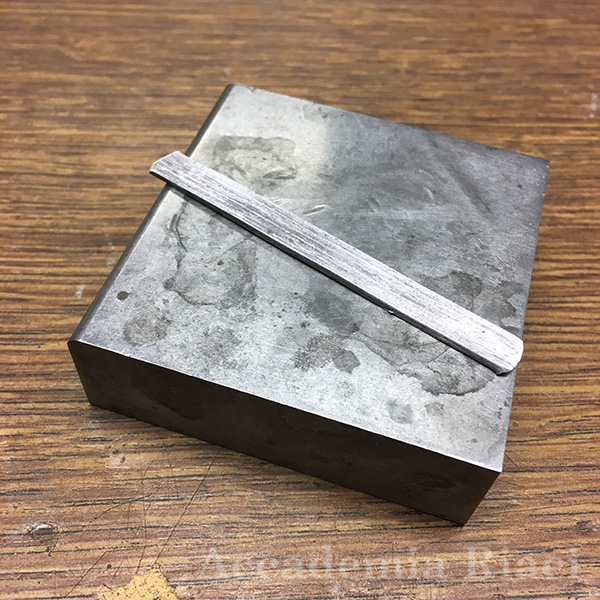 Pic8 そして、また新しい指輪の制作が始まりました。今回は大きな石がメインの指輪で、石留めが中心のデザインです。まずはこの板状の銀を用意して…来週に続きます。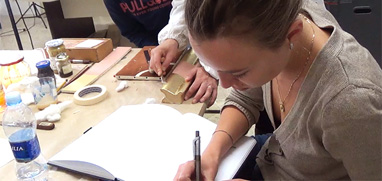 At Accademia Riaci, we are recruiting Course Reporters from our students. The students who are chosen to become Course Reporters are given 10 % of the tuition as their scholarship fee.
The Reporters who have submitted excellent reports will have his or her profile posted on our school website for the next 5 years as an alumnae and will be able to connect with their business chancesafter their graduation.