Accademia Riaci
Student Reports
Read all class reports from our students!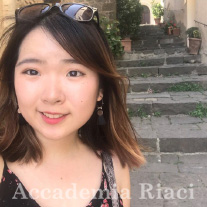 Reporter
Celine Goh Sining
Nationality: Singaporean
Course: Jewelry Making
Program: One-Year Course
Period: Sep. 4, 2017 – May. 4, 2018
Celine studied Fashion in Singapore and took a module in Jewellery Making and Design. She then found her passion in it and entered the Accademia Riaci Art Competition and was lucky enough to be selected.
She now studies Jewellery Making in the One Year Course and hopes to pursue her career in this field as a Jewellery Designer and Maker.

シンガポールでファッションを学び、ジュエリー制作とデザインの短期課程を受けました。そこでジュエリー作りに魅了され、アカデミアリアチのコンペティションに応募し、受賞しました。
今はジュエリーメイキングのワンイヤーコースで学んでいて、将来はジュエリー職人、デザイナーとしてのキャリアを積みたいと思っています。
Oct. 06, 2017 | Posted in Reports, Jewelry Making , Student Reporter | Tags:Celine Goh Sining, Jewelry MakingReporter: Celine Goh Sining | Course: Jewelry Making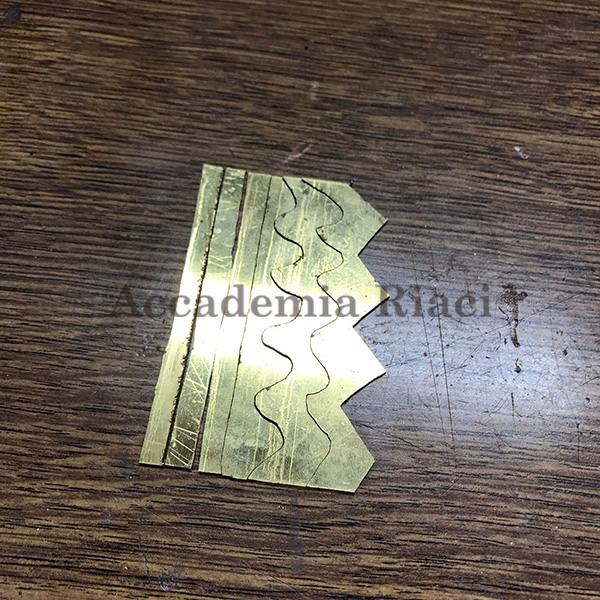 I began my week with basic practices with the jeweller's saw. My teacher drew lines and I had to follow as close to the lines as possible. I took me awhile to get the hang of it but eventually it became easier with practice.

今週はノコギリの基本的な使い方のレッスンから始まりました。先生が線を描いて、私はできる限りその線に近い所を切らなければなりません。コツを掴むのに時間はかかりましたが、なんとか出来るようになりました。

I then had to cut out shapes for more practice since shapes are more difficult than lines as you have to constantly move the saw as you cut the metal sheet.

そして次に、練習で型を切りました。金属の板を切っている間ずっとノコギリを動かしていなければならないので、線より型を切る方が難しいです。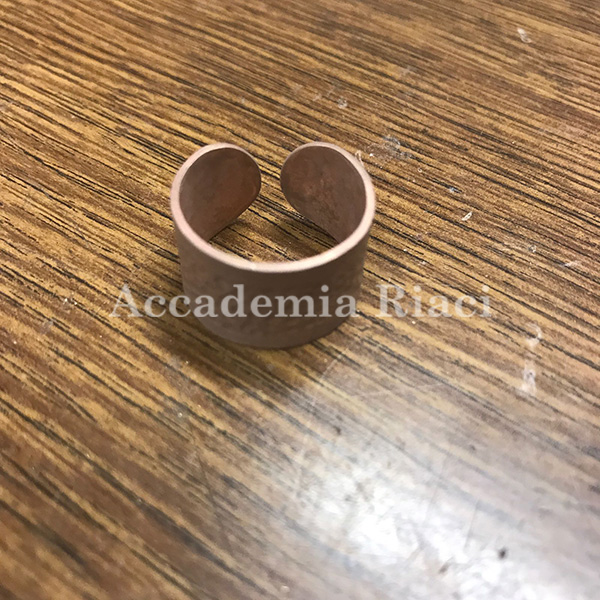 I also did a brass ring following the instructions from my teacher. With the flat sheet of metal, I had to cut out the shape of the ring, then using a compass to draw the rounded edges. After filing and cutting, I hammered dotted patterns as the design and then heated the metal, shaping it into a ring of my size.

そして、先生に教えてもらいながら真鍮の指輪も作りました。平らな金属の板を指輪の形に切り抜き、コンパスを使って丸みのある縁を描きます。ヤスリをかけて切った後、デザインとしてハンマーでドットのパターンを打ち、金属を熱して私のサイズにあった指輪に成形しました。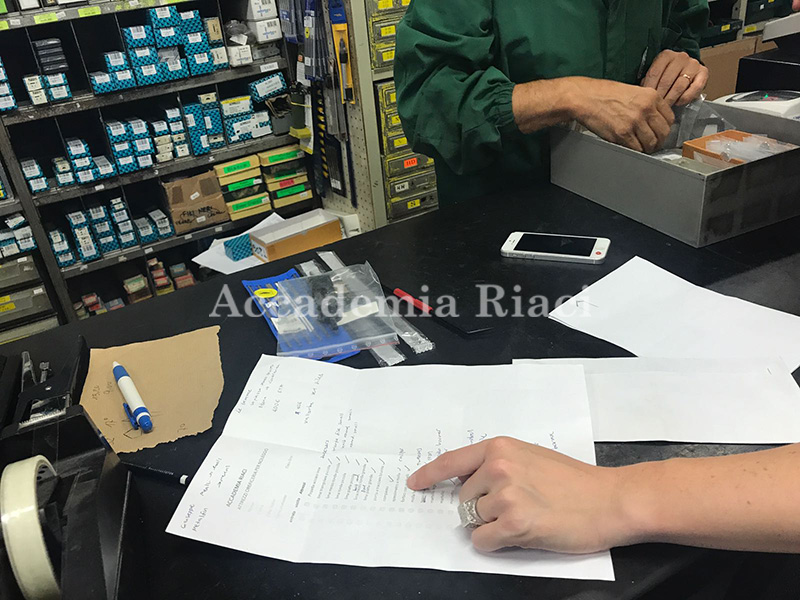 I went to the tool shop to buy materials needed for my course. There were a lot to buy and with the help of my interpreter, I managed to locate the shop and bought my tools with ease.

レッスンのために必要な材料を買いに道具屋さんへ行きました。買わなければならない物が多かったのですが、通訳さんの助けもあり無事に店を見つけて必要なものを買う事ができました。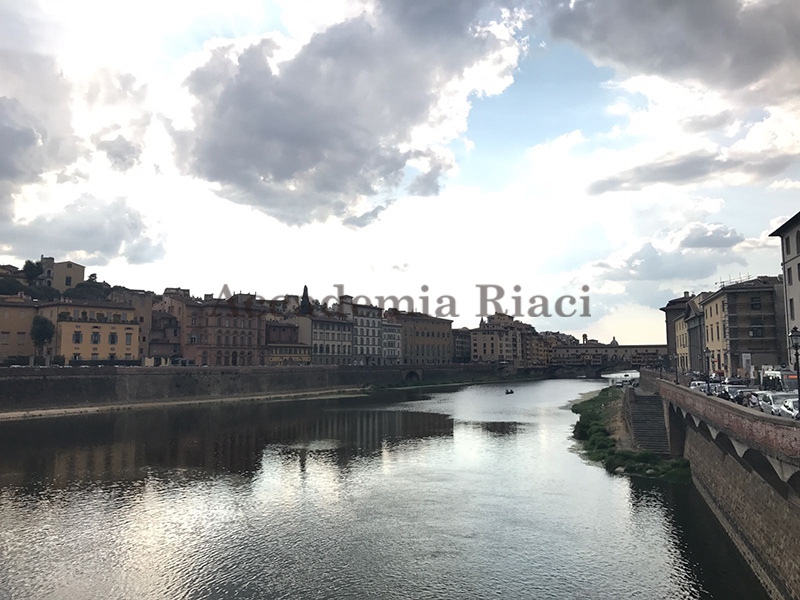 The view of Florence on my way back home. It is very different here in Florence and I enjoy the view of the river most. Depending on the time of the day, the river seems to look different everytime.

家に帰る途中のフィレンツェの風景です。フィレンツェの景色は独特で、特に川の景色を楽しんでいます。毎日時間によって様々な顔を見せてくれます。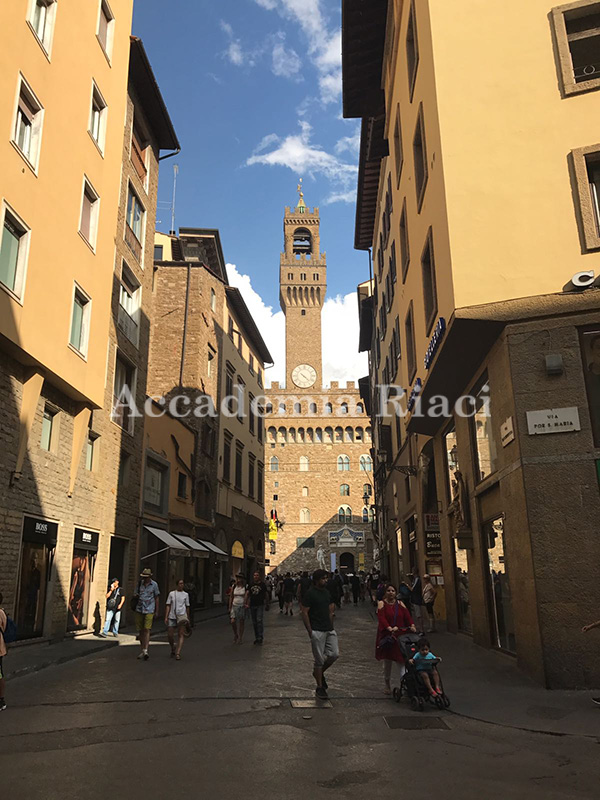 In basic lesson, we learnt about the art history of florence, and how the different era is reflected through the archietecture. We learnt that different catherdrals in Florence is made by the different artists of that era, especially Renaissance.

ベーシックレッスンではフィレンツェの美術史と、建築がどのように異なる時代を反映しているのかについて学びました。特にルネッサンス時代、様々な芸術家によってフィレンツェに作られた大聖堂について学びました。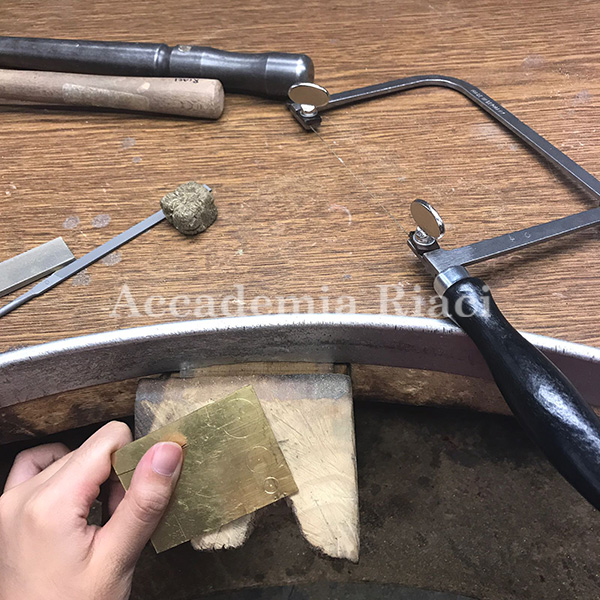 Back to the work bench, perfecting circles and squares. This time, my teacher drew more circles and I had to cut a perfect circle, then file it with the different types of files: big, small or rounded, flat edged.

作業台に戻ると、円形と四角形をより完璧にするための練習をします。今回は先生が円をいっぱい描いて、私がそれを完璧な円形に切ります。そしてそれを、大きかったり小さかったり、丸かったり平たかったりするヤスリで削ります。

One of the days we went to the supermarket near the accomodation for some grocery shopping. We bought ham, cheese , bread, etc. The supermarket is near to the accomodation and is very big.

フラットの近くにあるスーパーに食料品を買いにいきました。ハムやチーズ、パンなどを買いました。スーパーはフラットから近くて、そしてとても大きいです。

My Japanese roomate, pulling our basket full of groceries. She is very adorable and is studying English for a month here in Accademia Riaci.

私の日本人のルームメイト、食品のいっぱい入ったカゴを引いています。彼女はとてもかわいくて、アカデミアリアチで1ヶ月英語を学んでいます。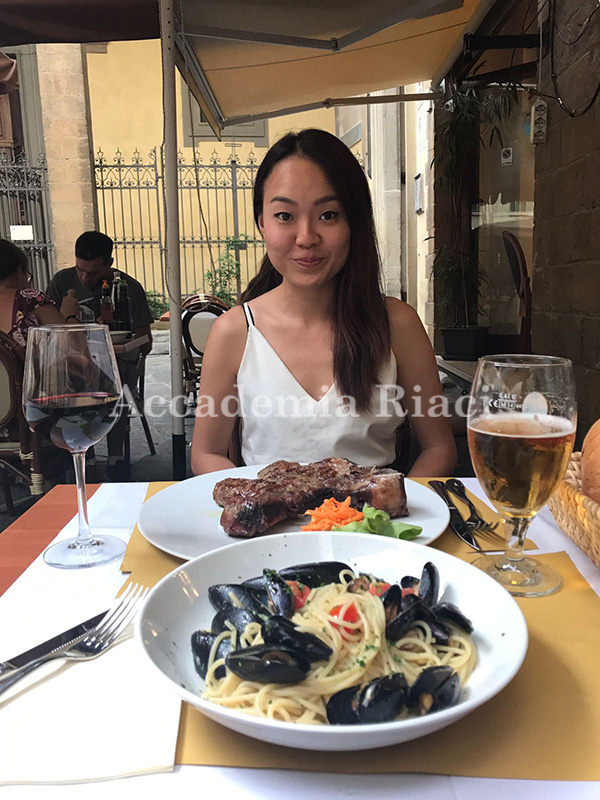 At the end of the week, I met up with my friend for dinner. We went across the river near Pitti Palace and I had really good spagetthi with mussels while she had the famous Florentine steak.

週末、友達と夕食に出かけました。私たちはピッティ広場近くの川を渡って行き、私は本当に美味しいムール貝のスパゲッティ、彼女は有名なフィレンツェのステーキを食べました。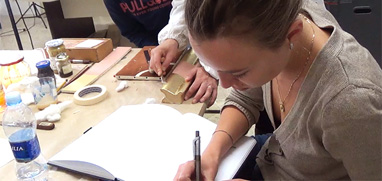 At Accademia Riaci, we are recruiting Course Reporters from our students. The students who are chosen to become Course Reporters are given 10 % of the tuition as their scholarship fee.
The Reporters who have submitted excellent reports will have his or her profile posted on our school website for the next 5 years as an alumnae and will be able to connect with their business chancesafter their graduation.