Accademia Riaci
Student Reports
Read all class reports from our students!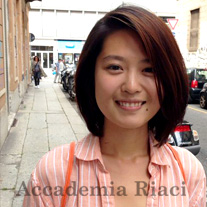 Reporter
Yihan ZHANG
Nationality: Chinese
Course: Jewelry Making
Program: Short Course
Period: Mar. 2, 2015 - Jun. 26, 2015
Mar. 09, 2015 | Posted in Reports, Jewelry Making , Student Reporter | Tags:Yihan Zhang, Jewelry MakingReporter: Yihan ZHANG | Course: Jewelry Making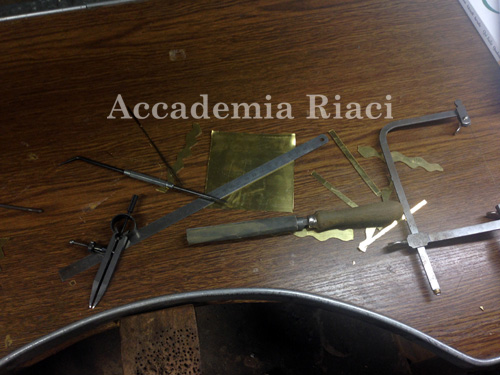 This is the first week for jewelry making course. the teacher show me all the tools i need to buy, and i started to remember all the italian names of those tools.

这周是学习制作首饰的第一周,课上老师先交给我所有我需要买的工具列表,首先要做到的是记住这些工具的意大利文名字和用途。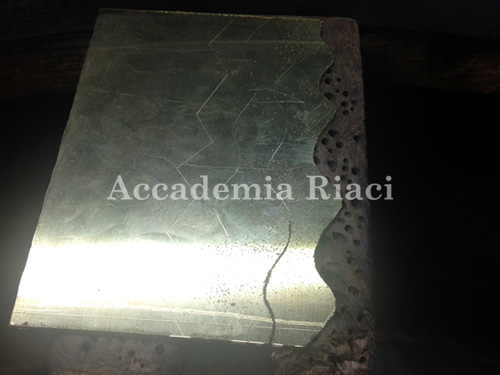 Then i started to practice the basic cutting tool—the saw. The first 14 days i will making jewelry with brass。

在前14天要学会使用黄铜做首饰,最开始要学会的基本功是用锯切割不同的线条。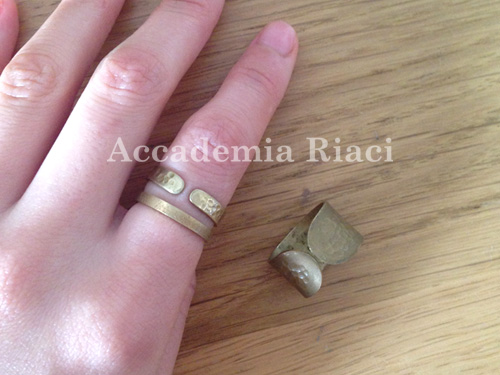 At the first day, i made this brass ring. As i continued for training, i am doing better than the beginning. But the ring is a little bit bigger than my finger, so after classes i made 2 smaller minimal rings independently with the steps i learnt from my teacher.

在第一天我做了一个黄铜戒指。随着每天不停地练习,我觉得越来越轻松熟练。但是第一次和第二次做的戒指的尺寸都有点大,所以我根据老师所传授,课下独自完成了两个简洁的戒指。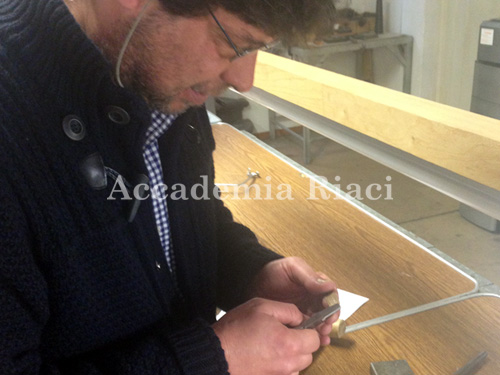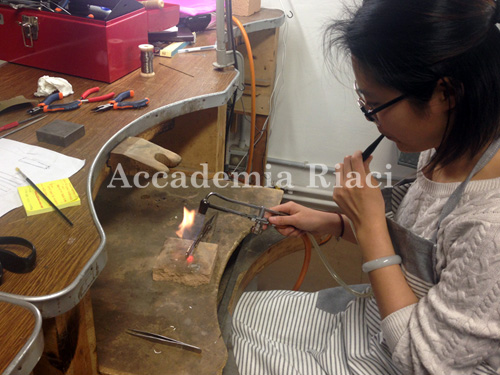 For using some tools, my teacher show me all the process patiently. At first i was a little bit afraid of some tools with fire and i didn't have enough power. Now i am getting used to all the process and find better way with experience.

老师认真地指导我利用一些工具完成制作,开始的时候我对于一些工具的使用感到力量不足并且对于有易燃物的工具使用感到害怕。随着不停练习我渐渐习惯并且摸索出一些经验。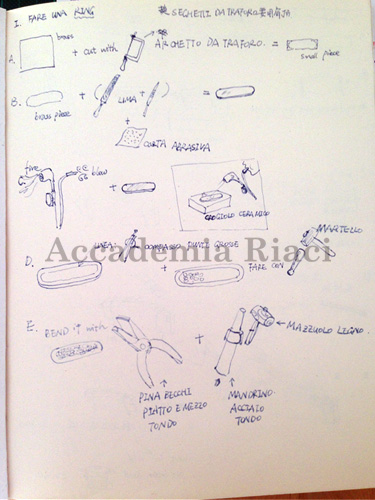 After class, the most significant thing is to record everything on note book with drawing, which is good for memory.

课后最重要的一项工作就是把学到的东西用图文形式记录下来,以便于日后记忆。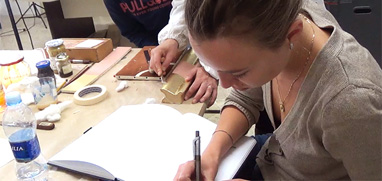 At Accademia Riaci, we are recruiting Course Reporters from our students. The students who are chosen to become Course Reporters are given 10 % of the tuition as their scholarship fee.
The Reporters who have submitted excellent reports will have his or her profile posted on our school website for the next 5 years as an alumnae and will be able to connect with their business chancesafter their graduation.