Accademia Riaci
Student Reports
Read all class reports from our students!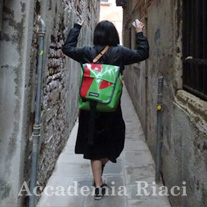 Reporter
Misa YOSHIDA
Nationality: Japan
Course: Graphic Design
Program: OneYear Course
Period: Oct. 31,2016-July 28,2017
高校を卒業後、語学と美術を学ぶ為にイタリアへ来ました。初めの半年間はシエナの語学専門学校に通いながらグラフィックデザインを学べる学校を探し、一度帰国をした後にアカデミアリアチへの入学を決めました。今までは絵画を中心に制作活動をしていたので、ルネッサンス期の芸術作品が溢れるフィレンツェでの生活はとても勉強になります。これまで培ってきた経験を生かし、今回は新たにグラフィックデザインについて学びを深めていきたいです。

I came to Italy right after I graduated from high school to study Italian language and art. I spent my first 6 months in Siena to study at an Italian language school. While I was there, I looked for a good school for graphic design. I went back to Japan once and decided to enroll Accademia Riaci. Because my main art field had always been painting & drawing, I have been learning a lot from the life in Florence surrounded by full of artworks from the Renaissance era. I look forward to learn further more about graphic design based on my past experience.
Mar. 21, 2017 | Posted in Reports, Graphic Design , Student Reporter | Tags:Misa Yoshida, Graphic DesignReporter: Misa YOSHIDA | Course: Graphic Design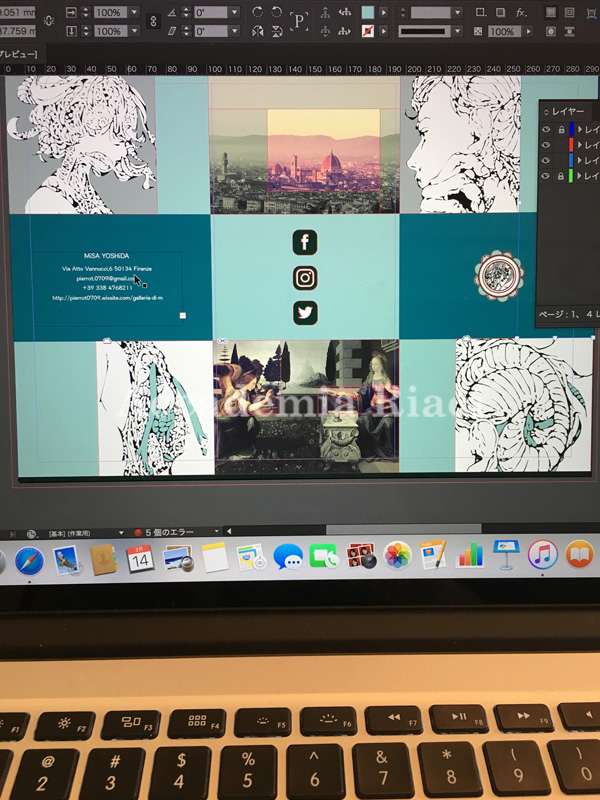 ブランディングの作業が終わり、次の制作は自己PRパンフレットに移りました。今まで使っていたソフト以外の物を使い作業を進めていきます。以前制作していた名刺のロゴデザインを使用しながら自分の作品を紹介していきます。

Now the branding assignment is done, we moved onto the self-appraisal brochure assignment. We will use new software for this task. My aim is to introduce my artworks as I make use of the logo made in the class.

授業風景です。たまに雑談を交えながら作業をします。先生の経験談や流行についてのお話はとてもためになります。これから社会に出る私たちにとって、こうした場で聞ける話はとても貴重なので、作業中でもしっかりと耳を傾けます。

This is a photo taken during our class. Sometimes we chat while we work on our assignment. It's really worthwhile to listen to the professor's story right from his experiences, or story about trends. These stories are absolutely a gold mine for us, students going out into the society in the future.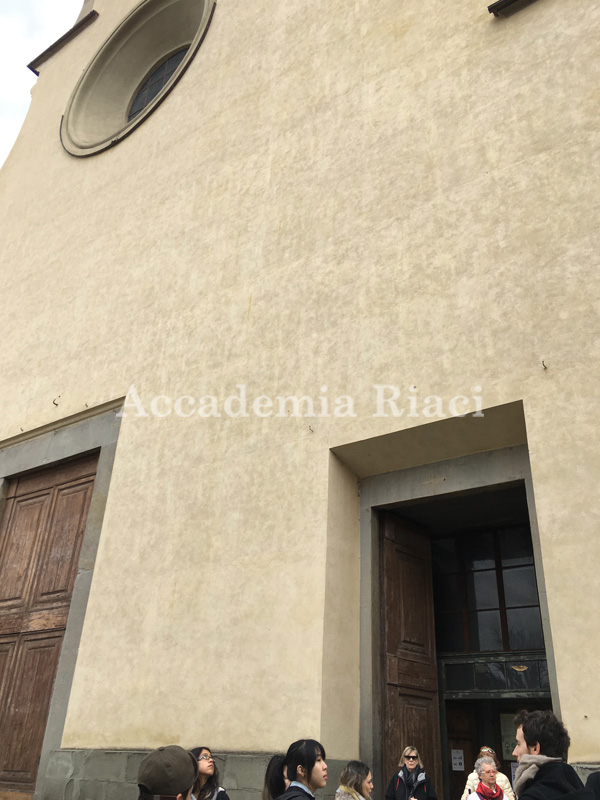 今回のART VISITはサント・スピリト教会へ。以前に一度足を運んでいましたが、今回はラファエレ先生の解説付きでした。教会内には絵画やステンドグラス、さらにミケランジェロが彫ったキリスト像などが飾られています。

We visited the Saint Spirito Church for this week's Art Visit. I was here once before, but this time with Prof. Rafaelle's guidance. There are drawings, stained glasses and the statue of Jesus made by Michelangelo, exhibited in this church.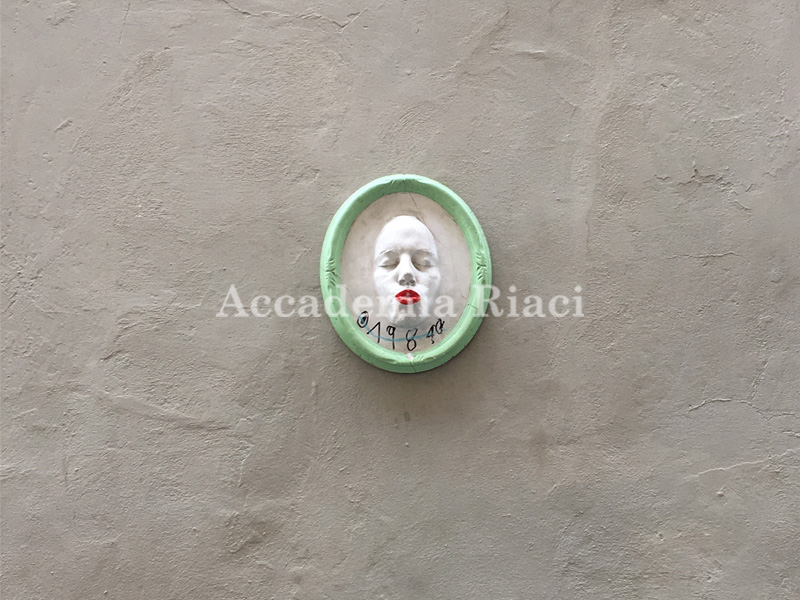 教会に行くまでに見つけたストリートアートです。平面でなく立体の作品を見るのは初めてだったので、とても驚きました。ここまでユニークな物はフィレンツェの町でもそうお目にかかることがないので、思わず写真を撮ってしまいました。

I found this street art on the way to the church. I was surprised to see 3D street art for the first time. It was too unique to ignore, so I could not stop myself taking this picture.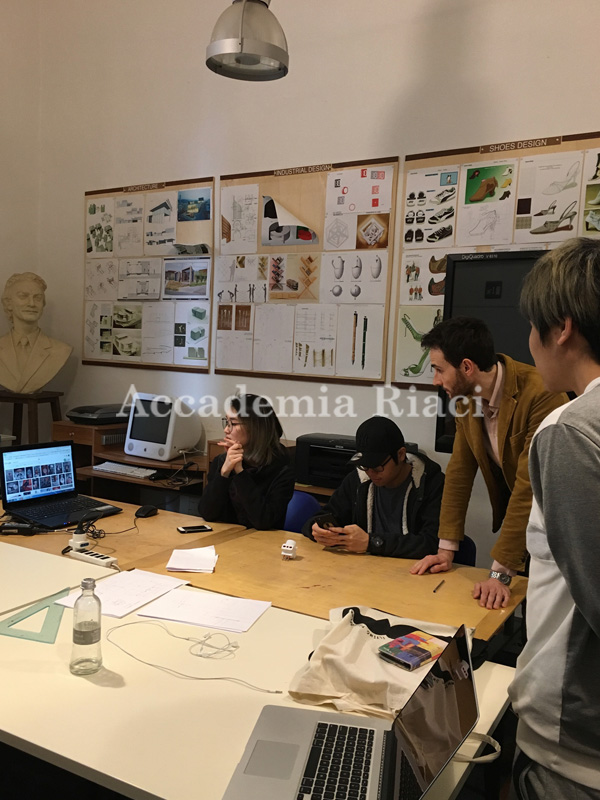 これまでベーシックレッスンでは現代アートの流れを学んできました。この日の授業は今まで学んできたことを含め、生徒さんたちがそれぞれリスペクトするアーティストについての発表がありました。個々に注目する点が違い、とても興味深い発表になりました。

Before today's basic lessons, we had been studying about the transitions in contemporary art. In today's lesson, we had time to discuss about the artists each of us respected. It was truly interesting to know how we all had different viewpoints.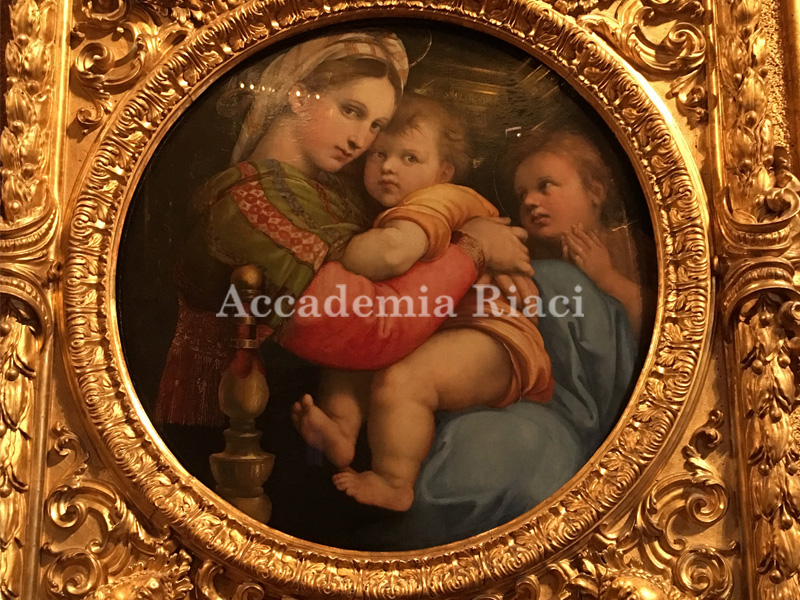 この日は月初めの日曜日だったので、美術館が無料開放されていました。そこで行ってきたのがパラティーナ美術館です。ここはピッティ宮殿(Palazzo Pitti)とも言われ、大昔トスカーナ大公が住んでいた宮殿です。中は画廊になっていて、ラファエロ作の「小椅子の聖母」などを見る事が出来ます。

As today was the first Sunday of the month, all museums were open for free. So I visited Palatine Gallery. This gallery is also called "the Pitti Palace", where the Grand Duchy of Tuscany used to live. Inside the Pitti Palace is a gallery, where you can appreciate drawings such as "Madonna of the Chair" by Raffaello.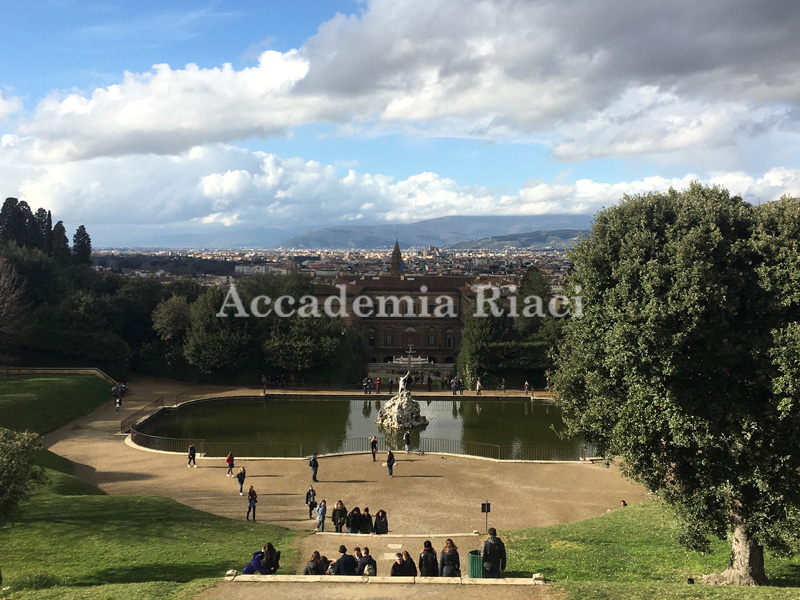 ピッティ宮殿の中にはボーボリ庭園があります。一瞬「公共の公園?」と思う程広大な庭園には、「海神ネプチューン」の彫像や「ヴェルベデーレ要塞」が有ります。この日は雨上がりなので、ピクニックをする人はあまり見られませんでしたが、天気が良い日には地元の方がレジャーシートを広げて昼食を取るそうです。日本のお花見の様なものでしょうか。

There is the Boboli Garden in the Pitti Palace. I almost thought it was a public park because it was so huge. Artworks such as the statue of Neptune and the Belvedere Forte can be found here. It was right after rain so there weren't many people enjoying picnic here, but on a sunny day many local people visit here with a picnic sheet to enjoy lunch.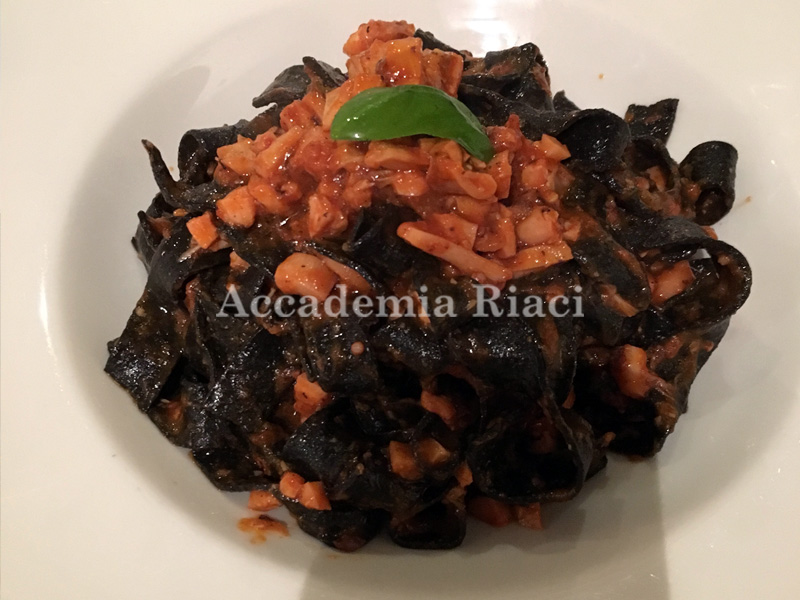 人生初のイカスミパスタです。サントスピリト教会前の食堂での日替わりランチです。ここのお店ではランチタイムだとパスタとパン、最後にコーヒーがついて€10になります。とてもリーズナブルな価格で美味しいお昼を頂きました。

This is my first squid ink pasta ever in my life! I had it as today's special lunch at a cafeteria across from the Santo Spirito Church. You can have a lunch set (pasta, bread and coffee) for 10 Euro here. I enjoyed delicious lunch at a very reasonable price.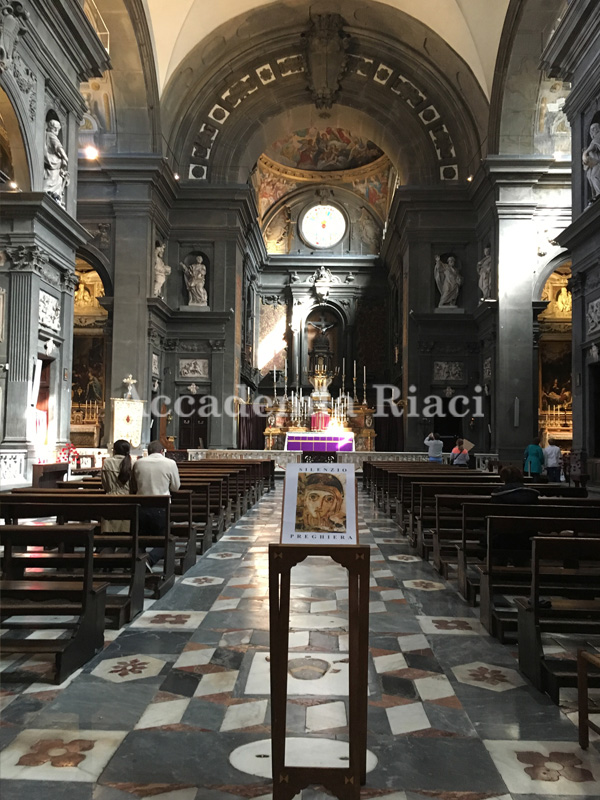 友人と立ち寄った教会の写真です。普段あまり開いているところを見ないので、とてもラッキーでした。サン・ミケーレ・ガエターノ教会はフレンツェにおいても重要なバロック建築のひとつだそうです。中はとても荘厳な雰囲気に包まれ、奥にあるステンドグラスの窓はとても素敵でした。

I dropped by at the Santi Michele Gaetano Church with my friend. I was lucky to see inside because I rarely see this church open. Its baroque architecture has a very significant meaning among all baroque style buildings in Florence. Inside this church was filled with a solemn atmosphere with a beautiful stained glass window.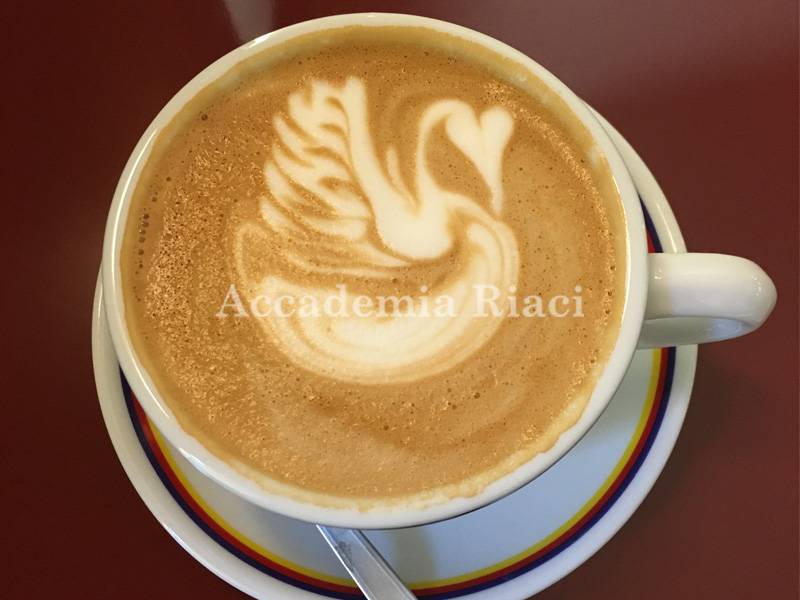 知人から教えてもらったバールのカプチーノです。ここのバールでは、カプチーノを頼むと日替わりでラテアートをやってもらえます。この日は可愛らしい白鳥がモチーフのカプチーノでした。見た目もさる事ながら、とっても美味しかったです。

Enjoying cappuccino at a coffee bar. The barista here draws the latte art of the day whenever you order cappuccino. Today's latte art was a swan. This cappuccino looked not only beautiful, but also tasted excellent.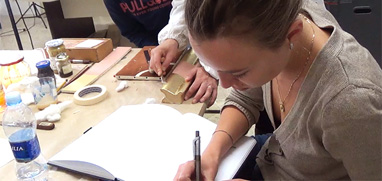 At Accademia Riaci, we are recruiting Course Reporters from our students. The students who are chosen to become Course Reporters are given 10 % of the tuition as their scholarship fee.
The Reporters who have submitted excellent reports will have his or her profile posted on our school website for the next 5 years as an alumnae and will be able to connect with their business chancesafter their graduation.