Accademia Riaci
Student Reports
Read all class reports from our students!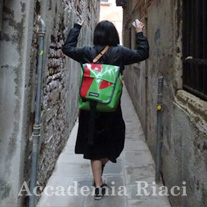 Reporter
Misa YOSHIDA
Nationality: Japan
Course: Graphic Design
Program: OneYear Course
Period: Oct. 31,2016-July 28,2017
高校を卒業後、語学と美術を学ぶ為にイタリアへ来ました。初めの半年間はシエナの語学専門学校に通いながらグラフィックデザインを学べる学校を探し、一度帰国をした後にアカデミアリアチへの入学を決めました。今までは絵画を中心に制作活動をしていたので、ルネッサンス期の芸術作品が溢れるフィレンツェでの生活はとても勉強になります。これまで培ってきた経験を生かし、今回は新たにグラフィックデザインについて学びを深めていきたいです。

I came to Italy right after I graduated from high school to study Italian language and art. I spent my first 6 months in Siena to study at an Italian language school. While I was there, I looked for a good school for graphic design. I went back to Japan once and decided to enroll Accademia Riaci. Because my main art field had always been painting & drawing, I have been learning a lot from the life in Florence surrounded by full of artworks from the Renaissance era. I look forward to learn further more about graphic design based on my past experience.
Mar. 09, 2017 | Posted in Reports, Graphic Design , Student Reporter | Tags:Misa Yoshida, Graphic DesignReporter: Misa YOSHIDA | Course: Graphic Design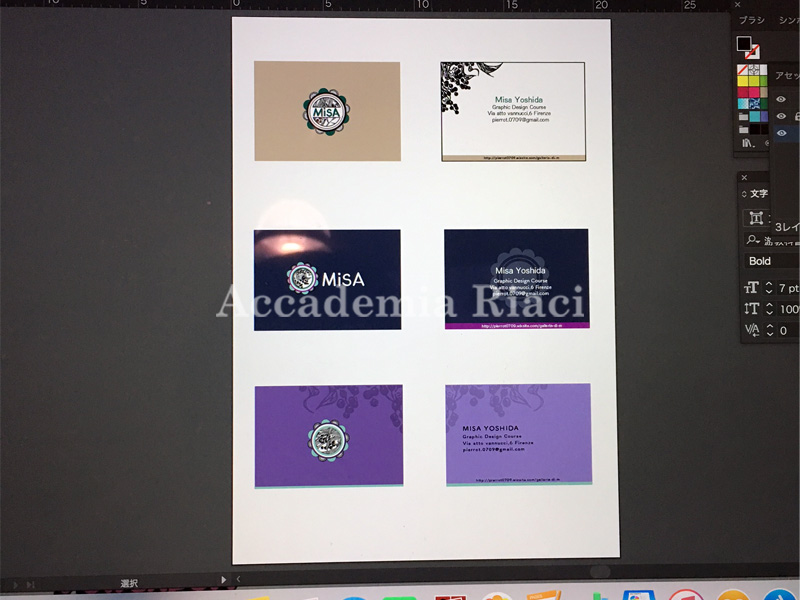 苦戦しているロゴ制作とビジネスカード制作が終盤に差し掛かりました。
色の使い分けが未だ曖昧ですが、何とか幾つかの案を出す事が出来ました。カードによって、感じる雰囲気やイメージがバラバラなので、この中から最も自分らしい物を選んでいきます。

I'm still struggling but finally getting to the end of my logo and business card designing. I didn't have a clear idea of colorings at this point, but somehow managed to squeeze out some plans. Each card has different taste, so I will choose the one that's like me the most.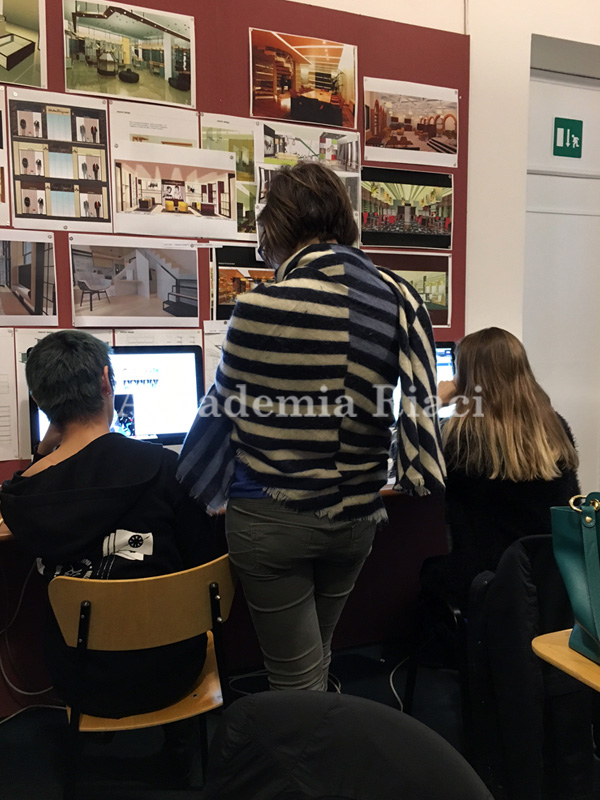 よく先生と他の生徒さんたちと日本のファッションとグラフィックデザインについて話す事があります。私はあまりファッションに詳しくは無いのですが、やはりイタリアではミラノが最も最先端なのだそうです。ここで個人的に一番面白いと思ったのが、日本人は比較的、個人の好みというより年齢にあった服を着るそうなのですが、それと違ってヨーロッパ(イタリア等)ではその人が気に入っているものを年齢に関係なく着続けると言う話です。(おばあちゃんがミニスカートを履きこなす等)これを聞いて「あ、確かに。」と妙に納得してしまいました。

I often have conversations with the professor and other students about Japanese fashion and graphic design. I don't have so much knowledge about fashion, but I knew Milan was the city of the latest fashion. I thought the difference between Japanese and European people in fashion aspect was the most interesting topic. Japanese people tend to wear what matches their own age group, whereas European (Italian) people keep wearing whatever the individual likes despite of the age (e.g., old lady looking good in a mini skirt.) Well, that's very true.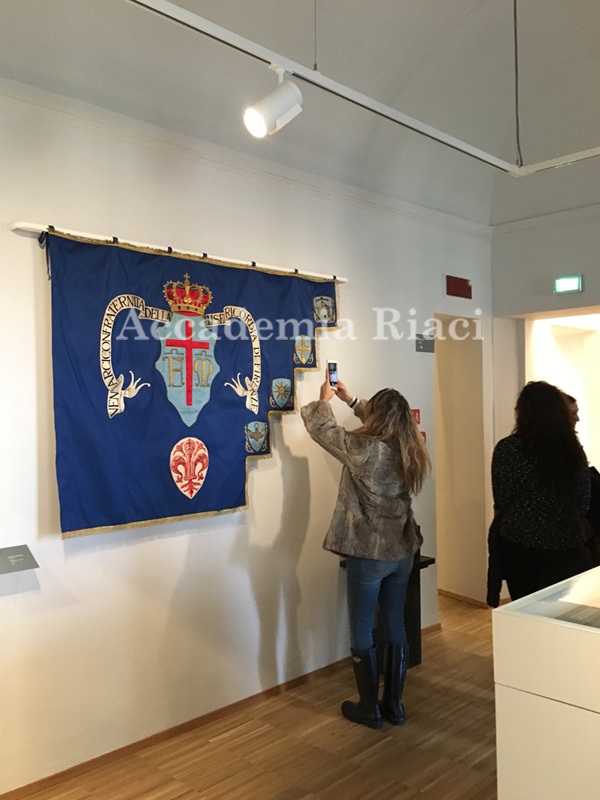 今回のART VISITではフィレンツェでも新しい美術館に行って来ました。この場所では主にフィレンツェの歴史の流れを感じることが出来ました。当時の街の様子や習慣などを知る事が出来、普段の見学とはまた違う知識を持てました。

We visited one of the newer museums in Florence for this week's Art Visit. In this museum, I could feel the flow of Florence history. I learned what the city was like and the old custom back then, which was a different knowledge compared to what we learned in other visits.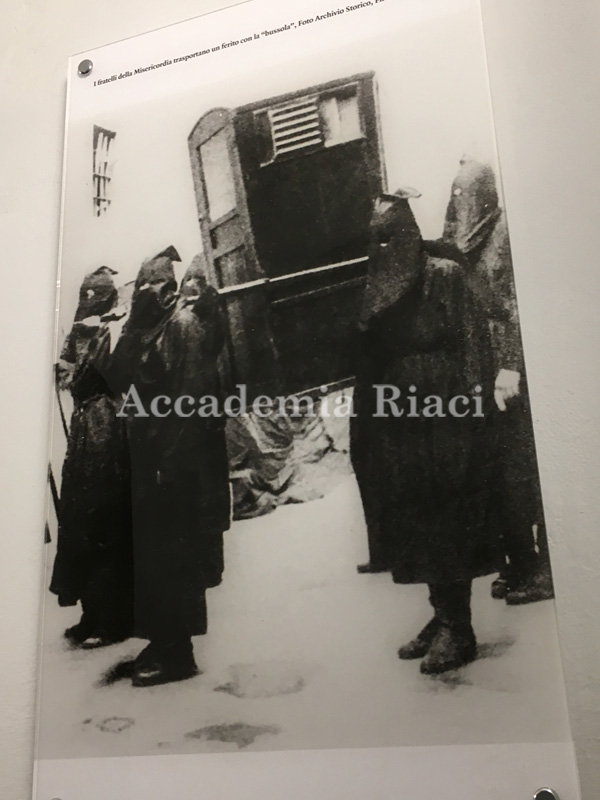 この美術館で最も目を引くのが、この黒装束の方々の写真や絵、そして実際に着られていた制服です。彼らは日本で言う、いわゆる葬儀の際に現れる方々なのだそうです。全身黒ずくめで、この写真を見たときは一瞬「え、死神みたい」と思ってしまいました。もしかすると、我々のイメージするモノもこうした風習から来ているのかもしれません。

What stood out the most in this museum were photos and drawings of these people in black attire and their actual clothes display. These people appeared for funerals in black. I could not help think they looked like grim reapers. Our stereotypical image of a grim reaper might have come from this kind of attires.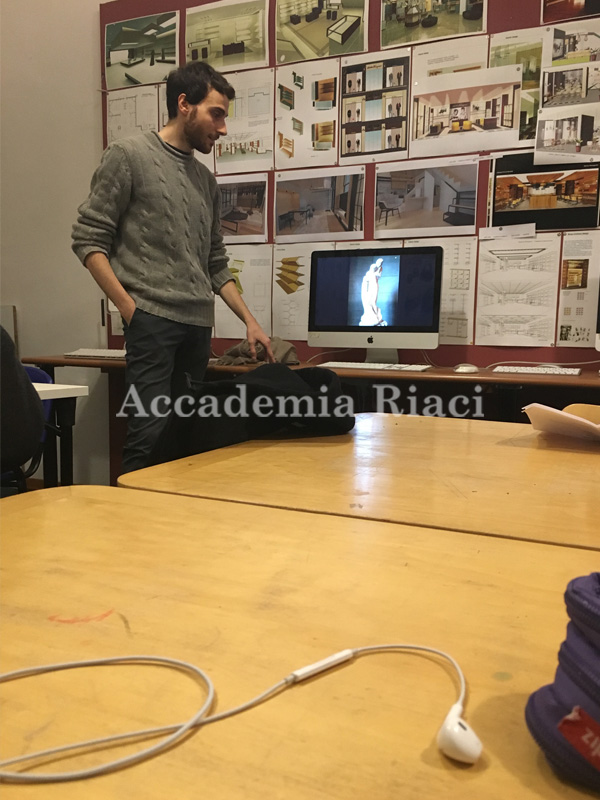 ベーシックレッスンでは現代美術について学びました。初めはルネッサンス期より前の時代の美術について。その後は順を追いながらフィレンツェにある美術作品や宗教について話を聞きました。この授業を担当しているラファエレ先生は本当に物知りで、教会の成り立ちなど様々な話を聞かせてくださいました。

In the basic lesson, we studied about the Modern Art. We started from the pre-Renaissance era, and then we had lectures on art works and religion in Florence. Prof. Raffaele is really knowledgeable, and he told us various stories about how churches were built, and so on.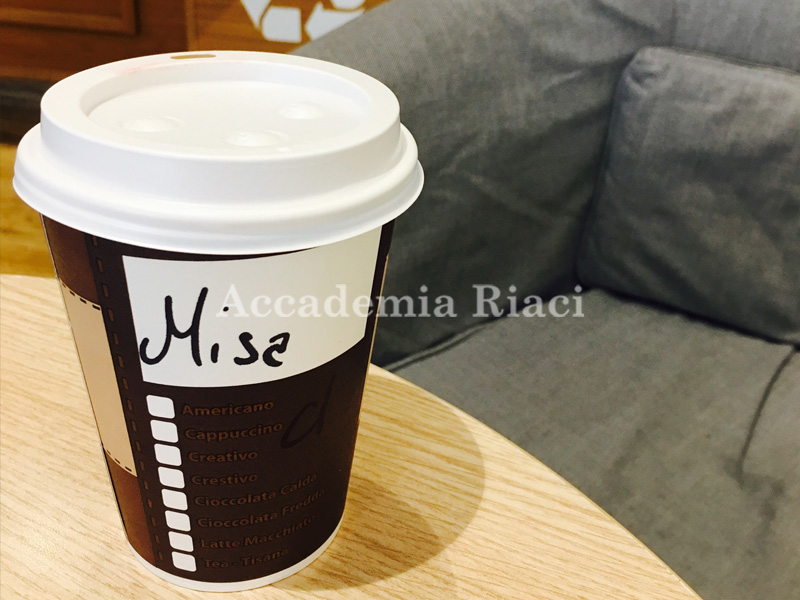 この日は午後の授業がなかったので、インターネットカフェに行って来ました。とても落ち着いた雰囲気で、言うなればスターバックスの様な場所です。Wi-Fiがあるので、カフェを一杯頼んで何時間でも作業が出来ます。軽食などもあるので、お昼時には学生さんやお仕事をしながら昼食をとる方達で賑わっています。

There was no class this afternoon, so I went to the internet café. It was nice and quiet, kind of like Starbucks. Since there is a free Wi-Fi here, I can stay here to work as long as I want. This place serves light meals, so many students and workers drop by to have lunch.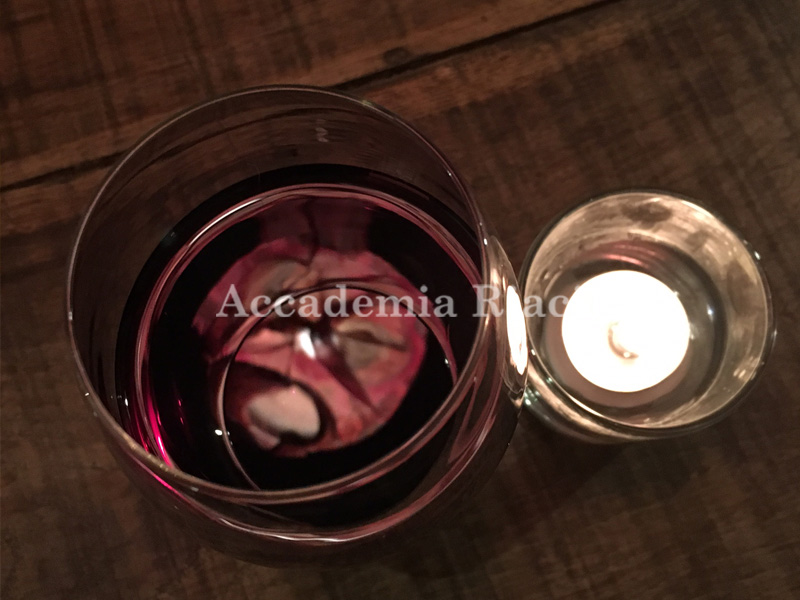 街には様々なバールが至る所にあります。大聖堂のある中心街はもちろんなのですが、お洒落な雰囲気漂うバールはアルノ川を渡った通りに多いと個人的には思います。たった一杯飲むだけでも大歓迎のお店もあり、そういった場所では仕事帰りのお母さんも立ち寄っていたりします。今回お邪魔したバールでは気のいい店主さんがワインをたった€2で飲ませてくださいました。

There are various bars throughout Florence. Other than central Florence around the Duomo, I think there are many stylish bars located on the street over the other side of the Arno River. You can casually drop by and have just 1 drink. This bar I visited was great, the owner only charged me 2 Euro for this glass of wine!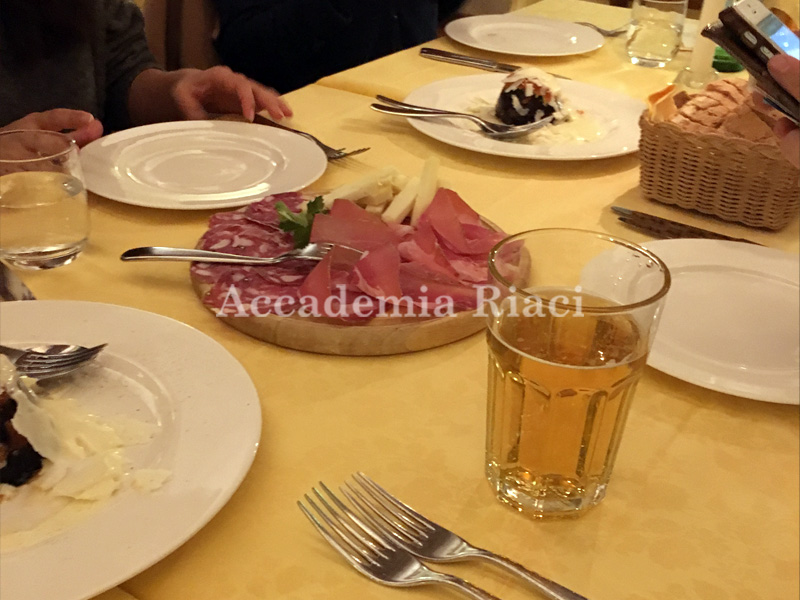 イタリアに来て暫く経つと、友人がコース終了のため帰国して仕舞う事があります。今回は料理コースでインターンシップをされていた生徒さんが帰国するとあって、皆さんでそのインターンシップ先のレストランへ行って来ました。さすが元研修先というだけあって、美味しいおすすめ料理をたくさん頂く事が出来ました。学校で出会った方々とは、日本に帰ってからも会う事が出来るので、楽しみが増えていきます。

After some time of staying in Italy, I often encounter friends leaving Italy as their course finish. One of my friends was about to complete her internship period in Chef Training Course, so we all visited her internship restaurant. We had so much good food! I really look forward to seeing my friends again when I'm back in Japan.

この日はチョコレート市までお散歩をしました。ラッキーなことに、通り道の公園で噴水から伸びる虹を見る事が出来ました。最近では気候も安定して来たので、天気がいい日は学校まで歩いて向かう事が増えました。

I took a walk to the Chocolate City, and I was able to see a beautiful rainbow over a fountain in the park I happened to walk through. The weather has been good and stable lately, so I walk to school more often.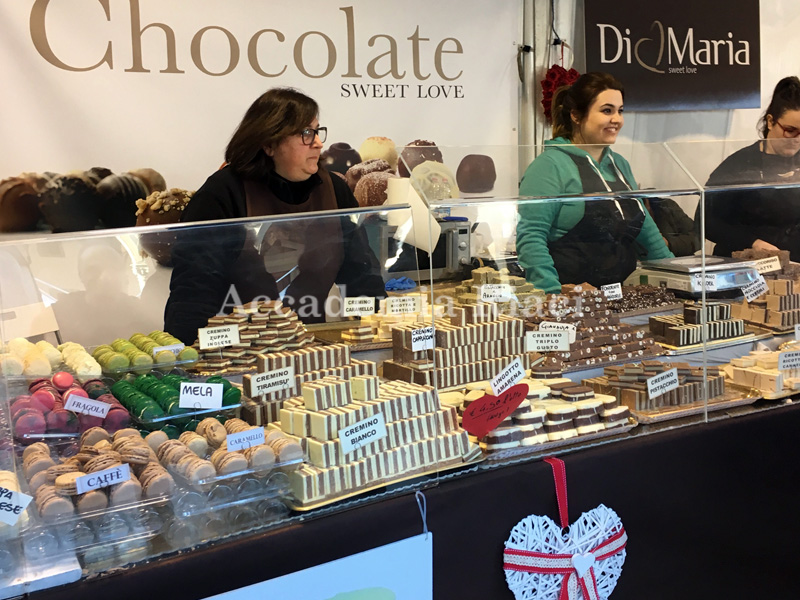 チョコレート市二回目の参戦。今回はピスタチオチョコレートとミルクチョコレートとピスタチオのサンド、ピスタチオマカロンにキャラメルマカロンと買い終わってからピスタチオ味しか買っていないことに気づきました。どれも見た目が可愛く、とっても美味しかったです。

My second visit to the Chocolate City. I bought pistachio chocolate, milk chocolate, pistachio cookie, pistachio macaroon and caramel macaroon. Boy, I must be in love with pistachio! They were all so cute and really delicious.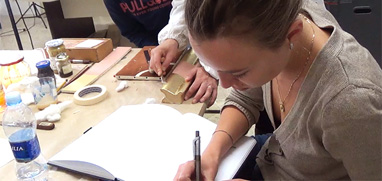 At Accademia Riaci, we are recruiting Course Reporters from our students. The students who are chosen to become Course Reporters are given 10 % of the tuition as their scholarship fee.
The Reporters who have submitted excellent reports will have his or her profile posted on our school website for the next 5 years as an alumnae and will be able to connect with their business chancesafter their graduation.