Accademia Riaci
Student Reports
Read all class reports from our students!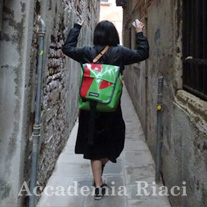 Reporter
Misa YOSHIDA
Nationality: Japan
Course: Graphic Design
Program: OneYear Course
Period: Oct. 31,2016-July 28,2017
高校を卒業後、語学と美術を学ぶ為にイタリアへ来ました。初めの半年間はシエナの語学専門学校に通いながらグラフィックデザインを学べる学校を探し、一度帰国をした後にアカデミアリアチへの入学を決めました。今までは絵画を中心に制作活動をしていたので、ルネッサンス期の芸術作品が溢れるフィレンツェでの生活はとても勉強になります。これまで培ってきた経験を生かし、今回は新たにグラフィックデザインについて学びを深めていきたいです。

I came to Italy right after I graduated from high school to study Italian language and art. I spent my first 6 months in Siena to study at an Italian language school. While I was there, I looked for a good school for graphic design. I went back to Japan once and decided to enroll Accademia Riaci. Because my main art field had always been painting & drawing, I have been learning a lot from the life in Florence surrounded by full of artworks from the Renaissance era. I look forward to learn further more about graphic design based on my past experience.
Feb. 27, 2017 | Posted in Reports, Graphic Design , Student Reporter | Tags:Misa Yoshida, Graphic DesignReporter: Misa YOSHIDA | Course: Graphic Design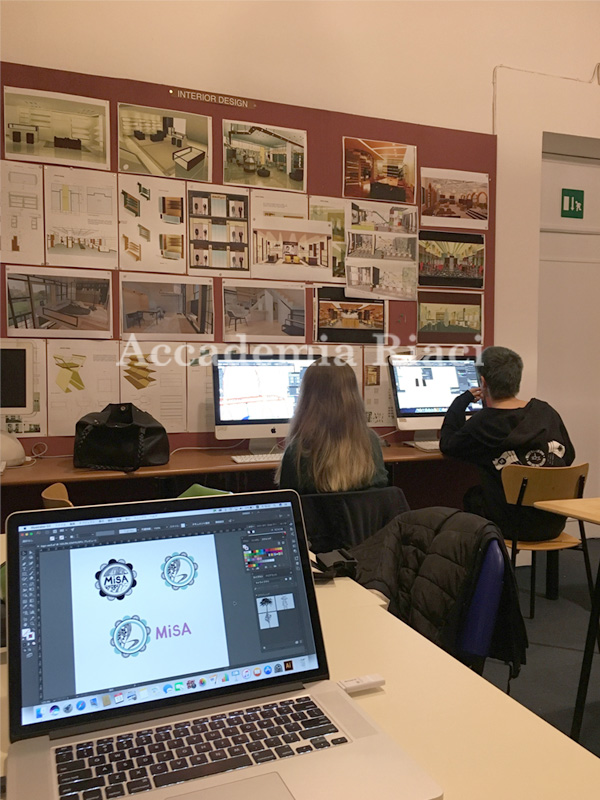 この日も引き続きロゴ制作です。微妙な調整を加えながら納得の出来る物を作って行きます。
制作に行き詰まると、手を止めて深呼吸。その後に他の生徒さんの作業を見学させてもらいます。それぞれの真剣な様子を見ていると「私も頑張らなきゃ」と制作の意欲に繋がります。

I continued working on my logo. By adding small adjustments here and there, I tried creating a logo that satisfies me.
When I get stuck on my creation, I stop my hands and take a deep breath. I then go see other students' works. Their eagerness surely increases my motivation toward my work.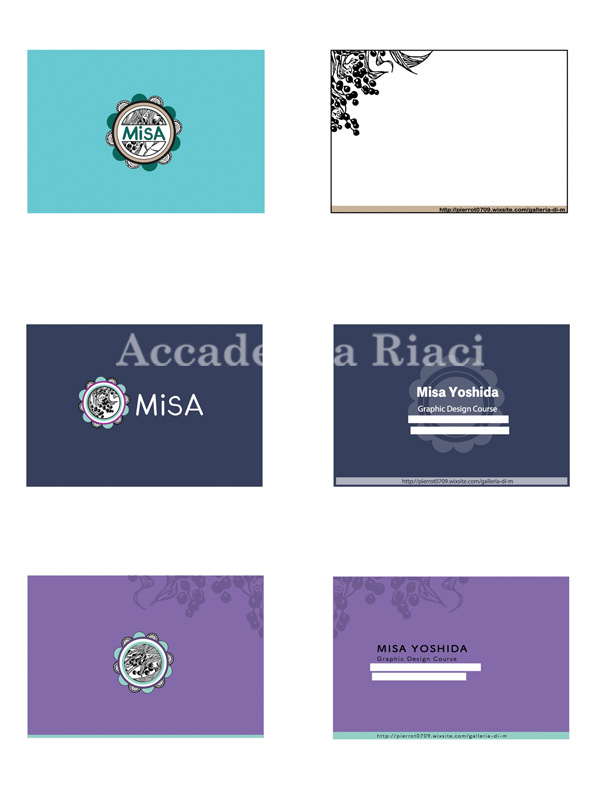 ロゴデザインがひと段落し、制作はビジネスカード作りに移りました。未だ色の使い分けが出来ず、苦戦し、先生からダメ出しを受けながら少しづつ進めて行きました。「Simple is the best!」と背後から言われ続け、それを目指して四苦八苦しています。

After finishing my logo designs, I started working on my business card designs. Although I still struggle with colors and am constantly getting the professor's advices, I am progressing little by little. I don't know how many times I was told from behind, "Simple is the best!" My struggling continues aiming for such simplicity.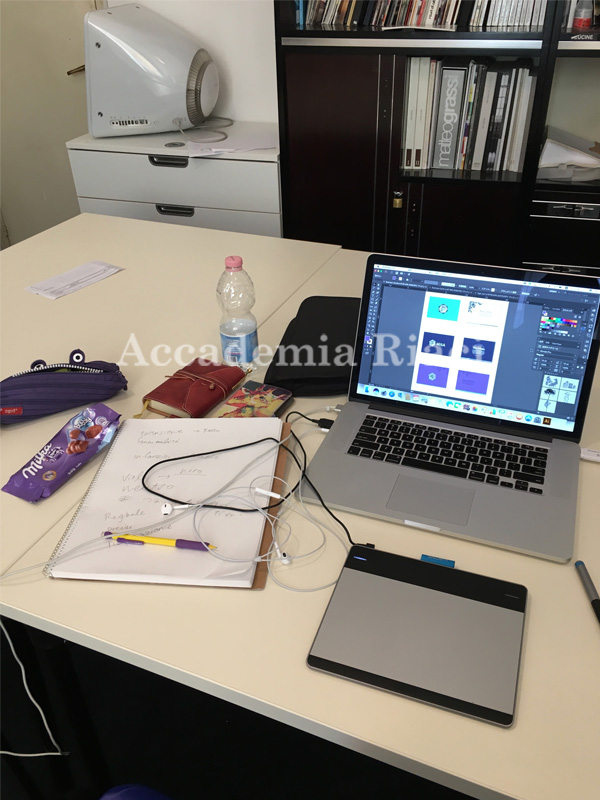 私の作業スペースです。パソコンは最近自分の物を持って来て使う様にしています。ペンタブは日本から持って来ました。自習時間は好きな音楽を聴きながら作業をしています。授業中、先生から言われた事や分からない単語をメモしておける様にノートを側に置いています。チョコレートは必需品で、小腹が空いた時や作業に行き詰まった時に口にしてリラックスできる様にしています。

This is what my workspace looks like. Recently, I started using my own PC at school. I brought this graphics tablet from Japan. I listen to my favorite music during I.S. (Independent Study) time. The notebook on the side is for jotting down instructions from the professor and some vocabularies that I could not understand. Chocolate is a must-have for me so I can eat one to relax myself when stuck with my work, or simply when I'm hungry.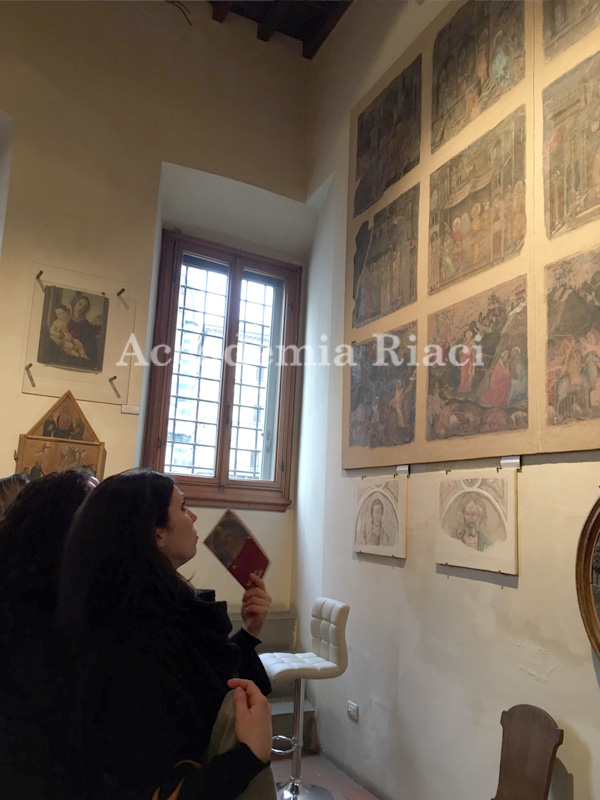 今回のART VISITは大聖堂近くの小さな美術館へ行きました。ここは無料で入る事が出来るのですが、内部がとても狭いので少人数での見学になります。予め決められた時刻に予約をし、入場するので、普段入る事は中々ありません。中はフレスコ画などの宗教画が展示され、フィレンツェの歴史を感じる事が出来ます。

This week's Art Visit was a trip to a small museum near the Duomo. Although its admission is free, it's very small inside therefore only a small number of people can enter at once. Because a reservation is mandatory for this reason, people don't visit here so much. There were religious fresco drawings exhibited inside, and you can certainly feel the history of Florence.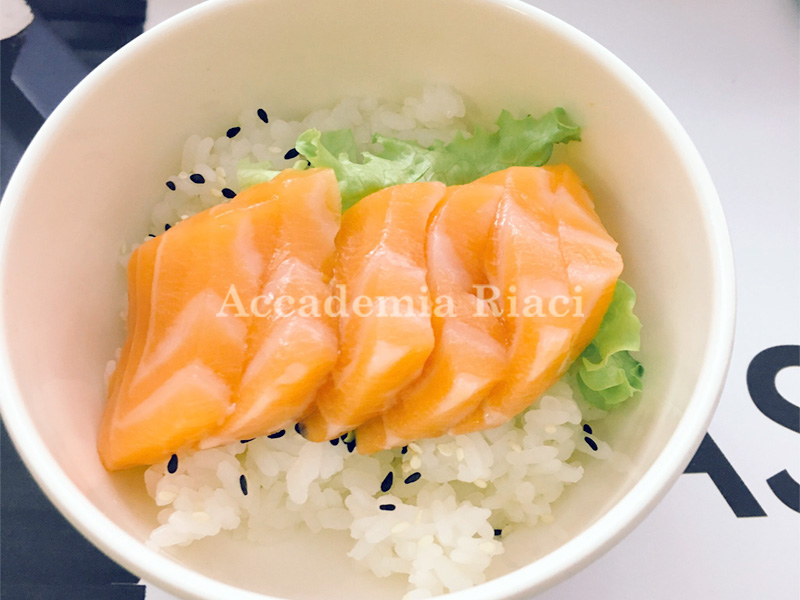 イタリアでの生活が暫く経つと、無性に日本食が食べたくなる時があります。
そんな時は、近くの日本食レストランでちょっと贅沢なご飯を友達を誘って食べに行きます。
この日はフィレンツェにある回転寿司屋さんに行きました。そこで衝撃だったのがとあるメニュー。この写真、実は「サーモンのちらし寿司」を頼んで出て来た一皿なのです。この様に、メニュー表に書いてあるものが自分の想像と全く違う、なんてことが度々あります。

I have lived in Italy for some time now, and I time to time find myself crave for Japanese food.
In such times, I go to Japanese restaurants nearby with my friends to treat myself with good food.
Today, I went to a sushi-go-round in Florence and this menu (photo above) surprised me. They called it "Salmon Chirashi-sushi" (FYI, Chirashi has a variety of ingredients scattered beautifully over sushi rice…), but this is just a fresh salmon bowl. I often encounter this kind of food surprise in Italy. LoL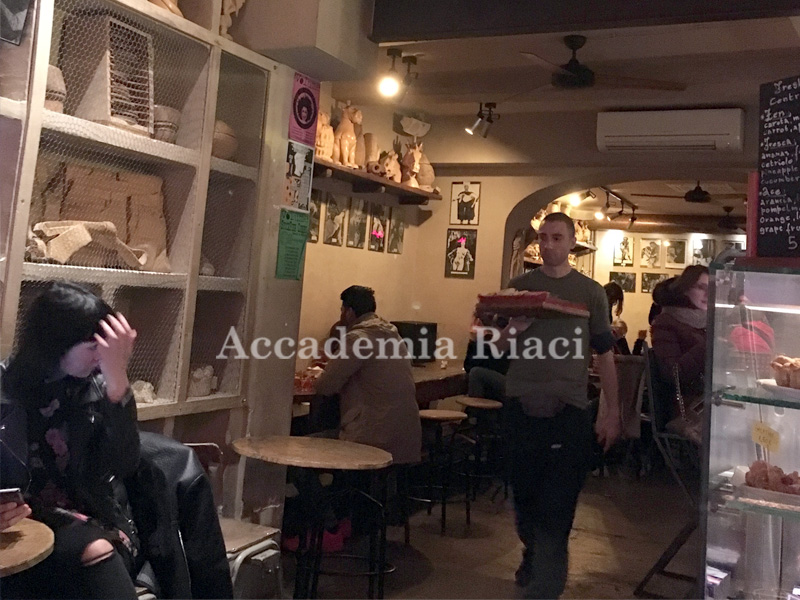 普段、一人での夜の外出を避ける様にしているのですが、友人と時間が合えばそのまま一緒に食事をしに行く事があります。この日は軽い夕食を済ませ、そのままサント・スピリト広場まで足を伸ばしました。この地区には「世界で一番美しい教会」と名高いサント・スピリト聖堂(Basilica di Santo Spirito)があります。広場の周囲にはバールが多くあり、そこでお酒を飲みながら談笑する地元の方が多く見られます。バールも雰囲気のあるお洒落なものばかりで夏にはさらに大勢の人たちがお酒を飲みに集まるのだそうです。

I usually don't go out by myself at night. But if I'm with friends and the time is right, we stay out and go for a dinner. The other day, we went to the Santo Spirito Square after a light supper. It's close to the Santo Spirito Church, which is known as the most beautiful church in the world. There were many bars around the Square, and lots of local people were hanging out there drinking and having a good time. Many of such bars have good atmosphere, so more people gather during the summer time.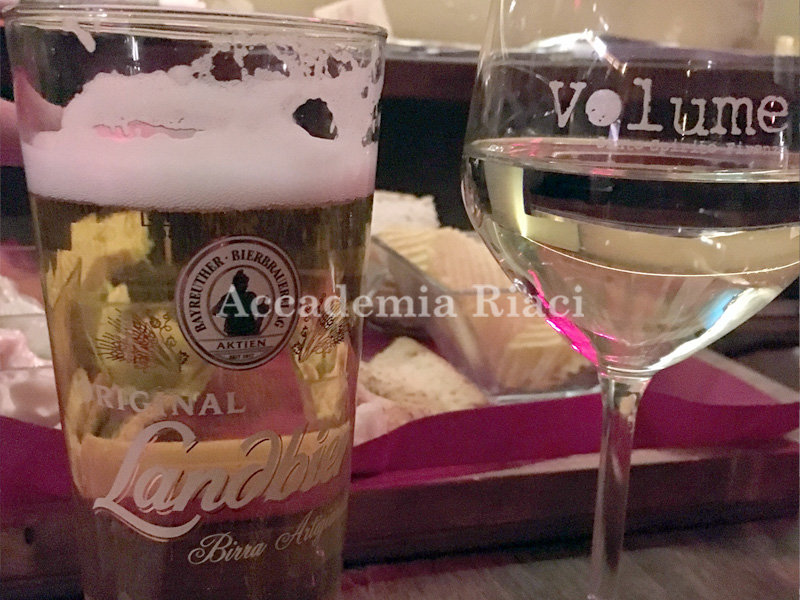 友人の勧めで入ったお店で食後の一杯。ここのバールではビールやワインが€5ほどで、おつまみがつきます。店内のデザインはアンティーク調で、日本ではあまり見られない靴職人さんが使う靴の型や帽子職人さんの作業道具などがショーケースに飾られていました。

We enjoyed after-dinner drinks at the bar recommended by my friend. A glass of beer or wine here costs around 5 Euro with a snack. The antique interior was creating an elegant mood. Shoetrees for shoemakers and tools used by hat makers were displayed in a showcase.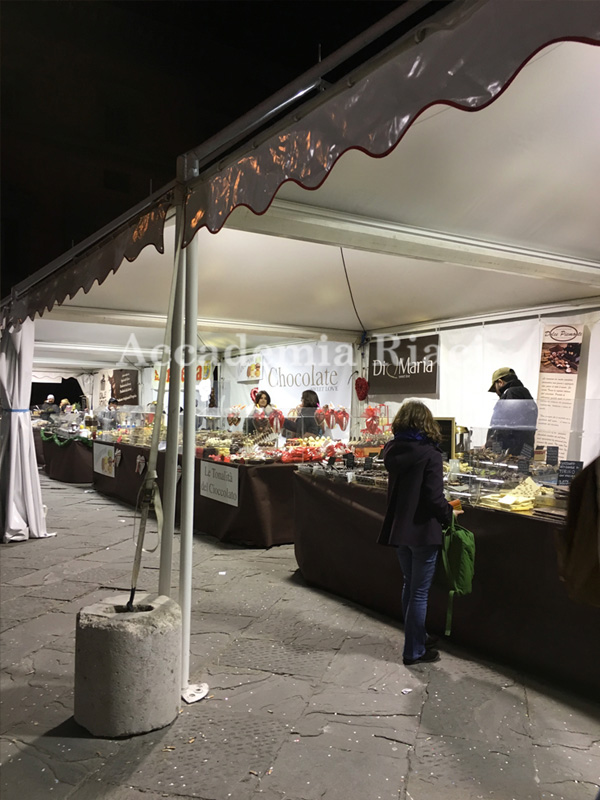 バレンタインデーが近づいたある日、学校近くの広場で小さなマーケットが開かれていました。
見てみると、そこでは様々なチョコレートの計り売りがされていました。種類は多く、一般的なミルクチョコレートからナッツやドライフルーツ入りのもの、イチゴチョコレートやピスタチオチョコレート、そして極め付けが唐辛子チョコレートです。私は以前に一度だけ試食させてもらった事があるのですが、これが意外と美味しんです。他にも変わり種や定番チョコレート、マカロンなども売っていました。

Just before the Valentines Day, a small market opened up near the school.
They were selling various kinds of chocolate by weight. There were milk chocolates, chocolates with nuts and dried fruits, strawberry chocolates, pistachio chocolates, and surprising hot pepper chocolates. I had tasted hot pepper chocolates before, and I remember it was unexpectedly tasty. They sold lots more standard and unique chocolates as well as other sweets such as macaroons.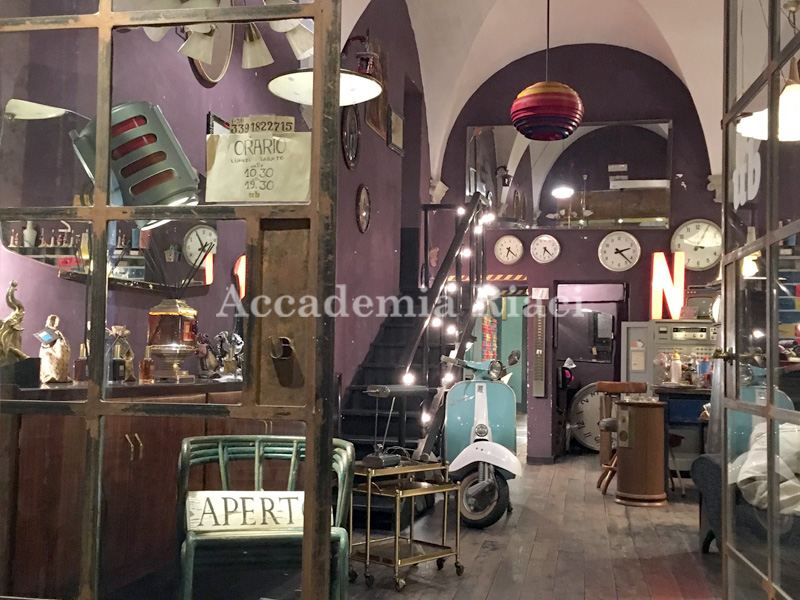 以前から学校の下にある雑貨屋さんが気になっていたので、この日は思い切って中を覗いてみました。店内はレトロな雰囲気で、古い家具や小物などが売られています。中は案外広く、奥の部屋にはシャンデリアが吊るされた作業場の様な場所があります。

I have been curious about the goods shop on the first floor of the school building, so I finally decided to visit there. The shop sells antique furniture and small goods in a retro mood interior. It was bigger inside than I expected, and I found an atelier-like room with a chandelier in the back.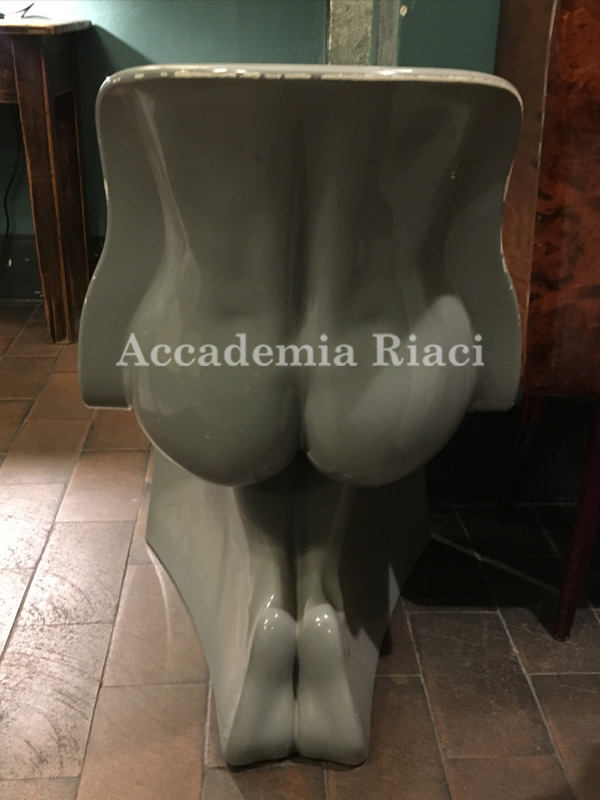 奥の部屋に行くまでに、あった一室の椅子です。手前から見るとなんの変哲も無い椅子なのですが、後ろから見るとお尻がそのまま見えている様なデザインが施されていました。この様なユニークな商品も扱っているので、見ていて飽きないお店でした。

I found a unique chair in this shop. The front side has an ordinary chair look, but the design in the backside was in the shape of buttock. So many interesting merchandises were sold in this shop that I could spend hours here.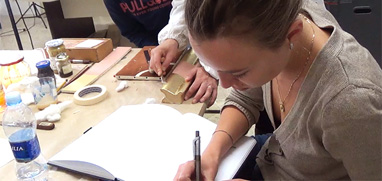 At Accademia Riaci, we are recruiting Course Reporters from our students. The students who are chosen to become Course Reporters are given 10 % of the tuition as their scholarship fee.
The Reporters who have submitted excellent reports will have his or her profile posted on our school website for the next 5 years as an alumnae and will be able to connect with their business chancesafter their graduation.