Accademia Riaci
Student Reports
Read all class reports from our students!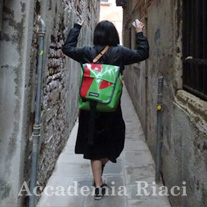 Reporter
Misa YOSHIDA
Nationality: Japan
Course: Graphic Design
Program: OneYear Course
Period: Oct. 31,2016-July 28,2017
高校を卒業後、語学と美術を学ぶ為にイタリアへ来ました。初めの半年間はシエナの語学専門学校に通いながらグラフィックデザインを学べる学校を探し、一度帰国をした後にアカデミアリアチへの入学を決めました。今までは絵画を中心に制作活動をしていたので、ルネッサンス期の芸術作品が溢れるフィレンツェでの生活はとても勉強になります。これまで培ってきた経験を生かし、今回は新たにグラフィックデザインについて学びを深めていきたいです。

I came to Italy right after I graduated from high school to study Italian language and art. I spent my first 6 months in Siena to study at an Italian language school. While I was there, I looked for a good school for graphic design. I went back to Japan once and decided to enroll Accademia Riaci. Because my main art field had always been painting & drawing, I have been learning a lot from the life in Florence surrounded by full of artworks from the Renaissance era. I look forward to learn further more about graphic design based on my past experience.
Apr. 21, 2017 | Posted in Reports, Graphic Design , Student Reporter | Tags:Misa Yoshida, Graphic DesignReporter: Misa YOSHIDA | Course: Graphic Design

一つ目のフライヤーが完成し、今度はまた別のパターンに挑戦。以前の物は、先生に「これはベーシックなデザイン過ぎる。もっとあなたらしくして!」とご指摘を受けましたので、今回は自由なデザインにしてみました。毎度の事ながら、先生に「古すぎる。あなた幾つ?」と聞かれ続け、作業を進めています。

The first flyer was completed, and challenge to another pattern. The professor pointed out that "This is too basic design, make it more like you!", So I tried to design it freely this time. Every time, my professor continues to ask me "This design is too old, how old are you?"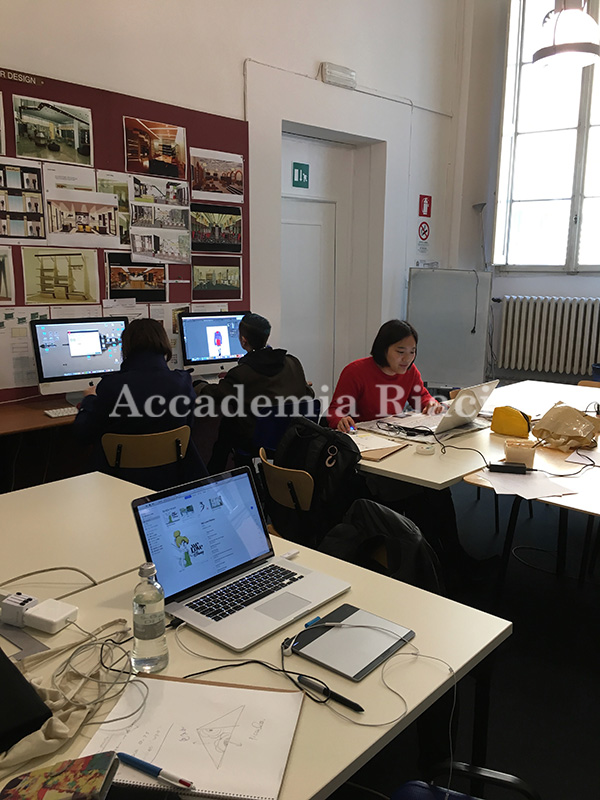 短期で来ていたグラフィックデザインの学生さんがラストレッスンを迎えました。3週間と言う短い期間でしたが、彼女が先生から学んだことは多い様です。日本で学ぶ方法と、海外で学ぶ物は全く違う様で、本人もとても驚いていました。

A graphic design student who came in a short term has reached the last lesson. It was a short period of three weeks, but it seems that there are many things she learned from her professor. She was so surprised since the way to learn in Japan and abroad are completely different.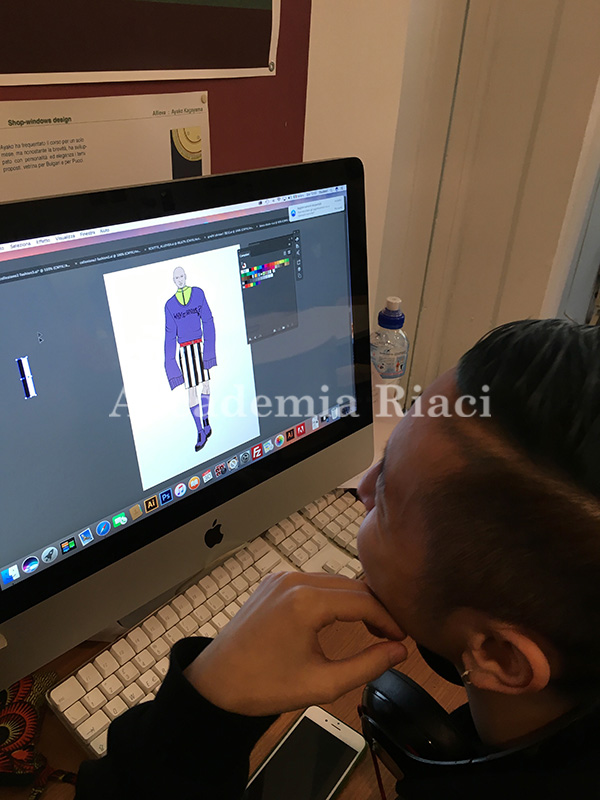 ファッションデザインの生徒さんの作業風景です。彼は日本人で、プライベートでも仲良くさせていただいています。個人的に色々とアドバイスをもらうことも多く、日々とても勉強になっています。彼の作品はいわゆるパンクやヴィジュアル、ミリタリー系等、とても幅広く個性に溢れ、刺激的です。当人ももちろんおしゃれで、見た目はちょっと怖いですが、実は親切で素敵なアーティストです。

It is a work scenery of a student of fashion design. He is a Japanese, and we are good friends. I often get advice personally and I learn a lot every day. His works are so-called punk, visual, military and so on, and it is very exciting with a wide range of personality. He is, of course, fashionable and looks a little scary, but in reality he is kind and a wonderful artist.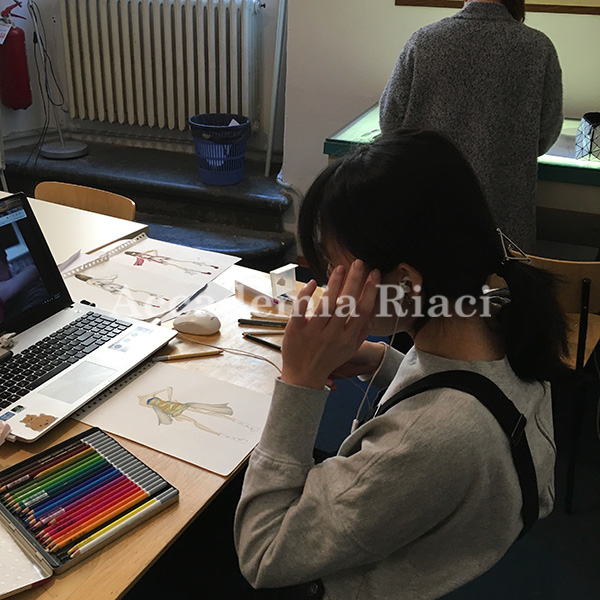 同じくファッションデザインの生徒さんの作業風景です。彼女はマレーシアの方で、普段は英語でコミュニケーションをとっています。私はあまり英語が得意ではないのですが、それでも仲良く接してくれています。たまに作業に行き詰まった時など、こっそり作品を拝見する事があるのですが、まるでパリコレに出ている様な素敵なドレスやワンピースをデザインしています。こんなとき、つくづく英語が出来ればな…と後悔します。

It is a work scenery of a fashion design student as well. She is Malaysian and I usually communicate in English with her. I am not very good at English, but I still try to communicate each other. I sometimes see her work secretly, when I get stuck in. She designs a nice dress or one piece as wonderful as we see at Paris Fashion Week. In such a case, I wish if I could be able to speak English.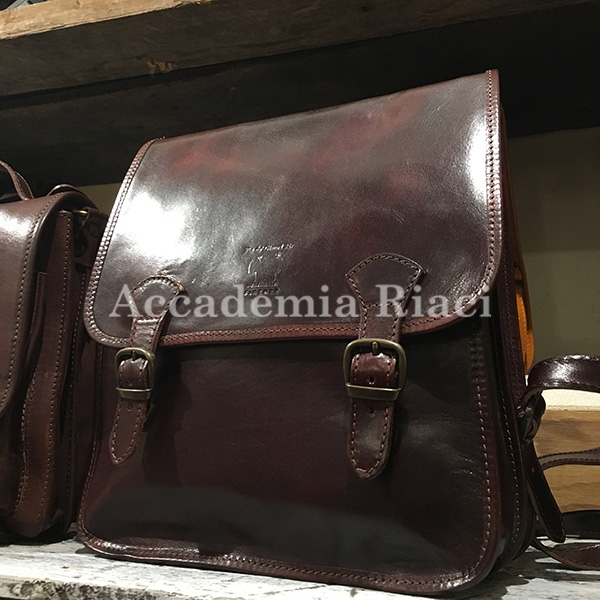 以前行った革工房の鞄です。実はこれとは全く違う鞄を買ったのですが、このタイプも気になっています。革製品は使えば使うほど味が出て、次第に愛着も増して来ます。こうして日々通っているうちに、お店の人とも仲良くなり、フィレンツェの情報について色々と教えてくれる様になりました。

It is a bag of a leather studio that I went before. Actually, I bought a bag completely different from this one, but I also would like to have this type. The more leather products improve the appearance the better as you use. Then the more we have a strong attachment to the products. While I pass through every day, I became friends with the staffs of the shop and they came to teach me various information about Florence.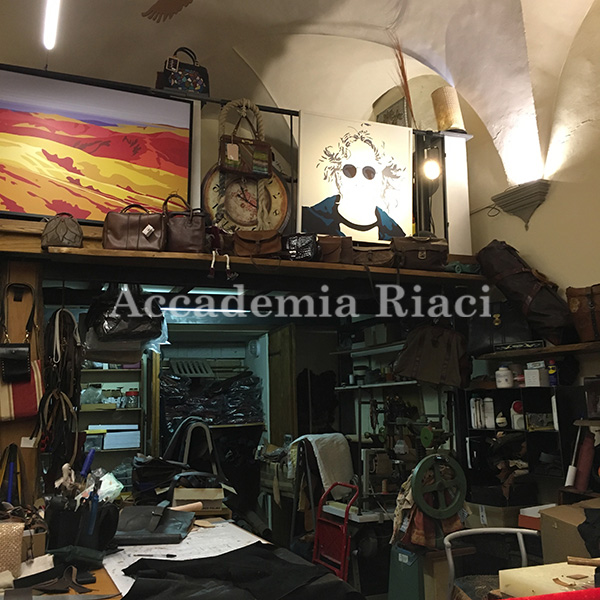 そのお店の工房です。ここでは簡単な革製品(主に鞄)を制作しているとのこと。「ごちゃごちゃしてるから恥ずかしいわ!」なんて言っていましたが、私はこんなおしゃれな工房をこれまで見た事がありません。少なくとも、日本にはこうした場所があまり多くはないのでしょうか。

It is the studio of the shop. Here they are making simple leather goods (mainly bags). They said "We're embarrassed because all things are mixed up", but I have never seen such a stylish workshop so far. At least, there are not so many such places in Japan.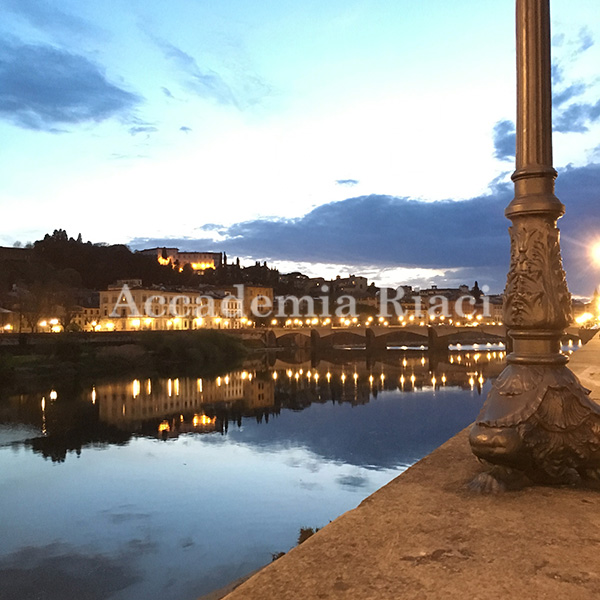 フィレンツェを通るアルノ川です。夕暮れ時になると、川沿いの街の明かりが反射してとても綺麗です。最近では日も伸びて来た為、外にいる時間が長くなりました。観光客の姿も以前より目立ち、今街はとても活気付いています。

It is Arno River passing through Florence. At dusk, the lights in the city along the river are reflected and it is very beautiful. Recently the days have also grown, so I go out longer. There are many tourists and now the city is very lively.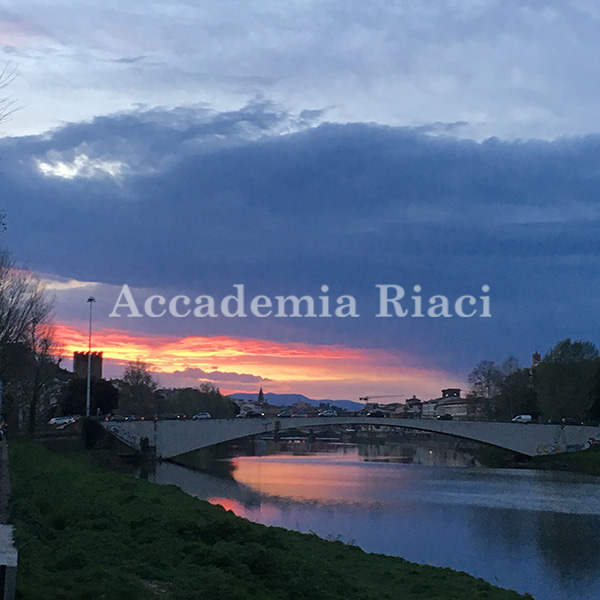 散歩帰りに撮った一枚です。真っ赤な夕日が雲に反射してとても綺麗でした。街には日本の都会の様に大きな高い建物が少ない為、空がとても広く見えます。また、そんな街で唯一の高い建築物である大聖堂からの眺めは最高です。全ての街の屋根を見下ろす事が出来、最近ではそこからの夕焼けを見るための行列を見かける事が多くなりました。

It is a picture taken after a walk. The red sunset reflected on the clouds was very beautiful. As there are few high buildings in town like cities in Japan, the sky looks very wide. Also, the view from the cathedral which is the only high building in the city is the best. Since you can overlook all roofs of the city, recently I see a queue of the people who would like to see sunsets from there.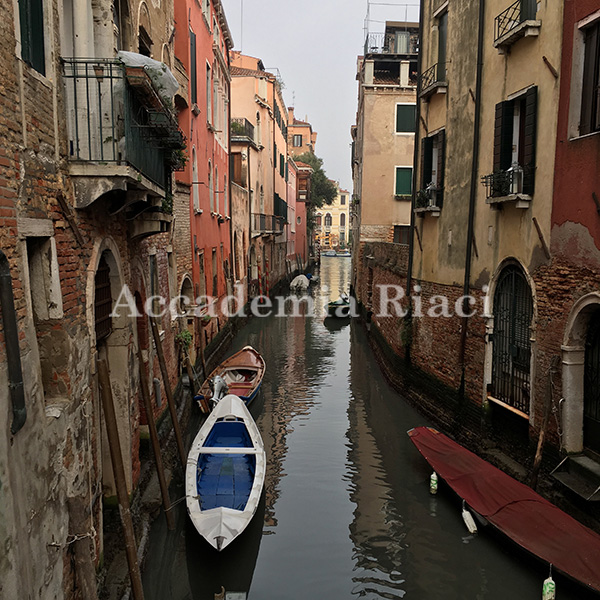 友人がヴェネチア旅行に出かけました。とても充実した旅が出来たそうで、そのお土産話を聞きました。実は、私も去年の冬に一度訪れた事があり、確かに彼女の言う通りとても素敵な街でした。ただ、私が訪れた時はあいにくの霧に包まれ、町並みをはっきりと見る事が出来なかったのです。しかし、そんなヴェネチアも中々味があり、ロマンチックな水の都と言うよりもミステリアスな魔都の様でした。一緒に行った当時の友人とは「なんかハリーポッターに出て来そうだね!」と言いながら−5度の街を散策していました。

A friend went out for a trip to Venice. I heard that she was able to make a very fulfilling trip and heard the story. To tell the truth, I also visited once in the winter of last year, it certainly was a very nice city as she said. However, when I visited there was a fog unfortunately and I could not see the cityscape clearly. However, such Venice had a moderate taste and it seemed like a mysterious demonic city rather than a romantic city of water. With a friend of mine who went with me, we walked around the city at -5 degrees saying "It's like a city on Harry Potter movie."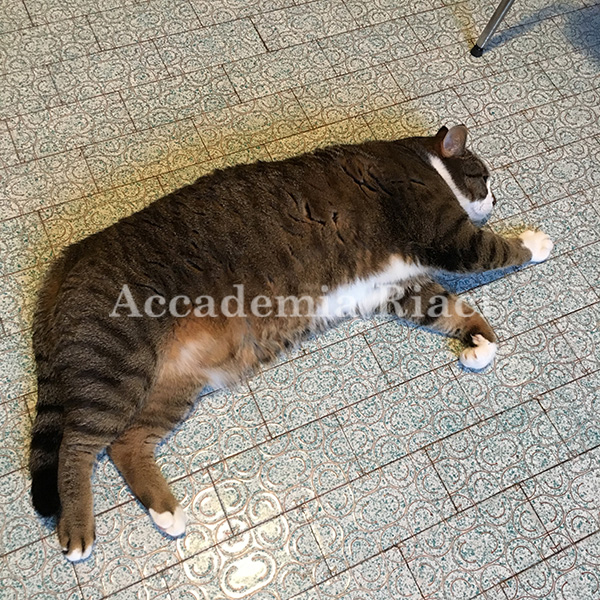 お家で飼っている猫さんです。気分屋な彼女は日々こうしてだらんと過ごしています。毎朝大家さんがご飯を用意しているのですが、私が朝早く起きてコーヒーなんかを準備していると一足早くおねだりをしてきます。あげたいのは山々なのですが、最近彼女はちょっと肥満気味なので気をつけないといけないそうなのです。その為、彼女の要求を流しているのですが、そうしていると助走をつけて飛びかかって来るのです。とても可愛い八つ当たりなのですが、最近は目が本気になって来たので、そろそろ何か対策を考えようと思いました。

It is a cat that the owner keeps at home. This way she is spending her days every day. Every morning the owner prepares food, but as I get up early in the morning and preparing coffee, she starts to ask me food. I wish I could give but the owner said that we should be careful since she is slightly obese these days. For that reason, I cannot satisfy her request, but if you do it, she runs up and jumps at me. She takes it out on me in this cute way, but recently she seems to become serious, so I think that I should find some solution.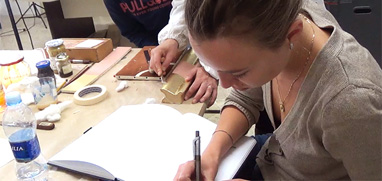 At Accademia Riaci, we are recruiting Course Reporters from our students. The students who are chosen to become Course Reporters are given 10 % of the tuition as their scholarship fee.
The Reporters who have submitted excellent reports will have his or her profile posted on our school website for the next 5 years as an alumnae and will be able to connect with their business chancesafter their graduation.