Accademia Riaci
Lesson Report
Up-to-date report from one of our students!
Reporter
Morita
Nationality: Japan
Course: Shoe Making
Assistant
Sep. 12, 2014 | Posted in Blog, Shoemaking , Lesson Reporter | Tags:Morita, Shoemaking | Language:


Reporter: Morita | Course: Shoemaking
グッドイヤーウエルト製法・ノルベジェーゼ製法・接着製法2 17.4.2014
・Adhesive method men's shoes. They will be welted from now on. (Picture left)
・After coloring the heel part and polishing the entire surface, the shoes are completed.
・It is very important to take precise notes in the class. (Picture right)
・旦那さん用の接着製法の靴。この後ウエルトを接着して制作を進めます。(左)
・この後踵の色付けと全体の磨きを行いもう直ぐ完成です。(中)
・授業の内容は細かくメモを取ることが大切です。(右)
・The student marks where to stitch for the third time in the Norwegian-style stitching. (Picture left)
・Shoe lasting is finished except the toe part. (Picture center)
・The welt is just to be glued around the shoes. (Picture right)
・ノルベジェーゼ製法での3回目の縫い位置に印をつけます。(左)
・つま先部分を残しひとまず吊り込みが完了です。(中)
・貼り付け用のウエルトは糊で靴の周囲に貼り付けるだけです。(右)
・The student is coloring around the heels and the shoe soles. (Picture left)
・Using a glass chip, the student marks where to cut off. (Picture right)
・踵周辺と靴底に色をつけていきます。(左)
・ガラス片を使いナイフを入れる位置に印をつけます。(右)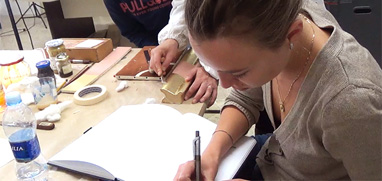 At Accademia Riaci, we are recruiting Course Reporters from our students. The students who are chosen to become Course Reporters are given 10 % of the tuition as their scholarship fee.
The Reporters who have submitted excellent reports will have his or her profile posted on our school website for the next 5 years as an alumnae and will be able to connect with their business chancesafter their graduation.