Accademia Riaci
Lesson Reports
Read all class reports from our students!
Reporter
Morita
Nationality: Japan
Course: Shoe Making
Assistant
Aug. 29, 2014 | Posted in Reports, Shoemaking , Lesson Reporter | Tags:Morita, ShoemakingReporter: Morita | Course: Shoemaking
グッドイヤーウエルト製法、接着製法4 27.3.2014
・This is a Whole Cut type of shoe, where the stitches are present only on the heel part (left photo).
・The shoetree is adjusted by hand, in order to fee the student's feet (central photo).
・In order to attach the heel to the shoe, students have to prepare the adhesive surface (right photo).
・縫いが踵部分のみにあるホールカットタイプの靴です。(左)
・自分の足に合わせて木型を手作業で修正しています。(中)
・踵と靴本体を貼りあわせるために接着面を整えます。(右)
・In this photo: the metallic shanks and the piece of leather used to cover them (left photo).
・The Loafers' type of upper is completed (right photo).
・金属のシャンクとそれを覆う革です。(左)
・ローファータイプのアッパーが完成しました。(右)
・The shoetree adjustment is at first performed roughly with a grinder, then the minute finishing is made by hand (left photo).
・Closed-laced facings are completed through adhesive method (central photo).
・In the last photo, the student is making a type of shoe with outsole stitching, thinning out the welt part (right photo).
・木型の修正は大まかにグラインダーを使用して、細かい仕上げは手作業で行います。(左)
・接着製法の内羽アッパーが完成しました。(中)
・ウエルト部分を薄く漉いて出し縫いを行うタイプの靴を作製しています。(右)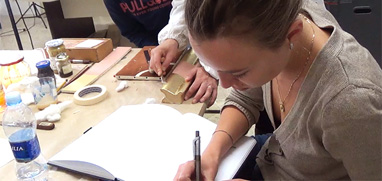 At Accademia Riaci, we are recruiting Course Reporters from our students. The students who are chosen to become Course Reporters are given 10 % of the tuition as their scholarship fee.
The Reporters who have submitted excellent reports will have his or her profile posted on our school website for the next 5 years as an alumnae and will be able to connect with their business chancesafter their graduation.