Accademia Riaci
Lesson Report
Up-to-date report from one of our students!
Reporter
Morita
Nationality: Japan
Course: Shoe Making
Assistant
Sep. 03, 2014 | Posted in Blog, Shoemaking , Lesson Reporter | Tags:Morita, Shoemaking | Language:


Reporter: Morita | Course: Shoemaking
グッドイヤーウエルト製法、接着製法6 2.4.2014
・Students make a groove on the sole made for the outsole stitching of the Goodyear-style welt. (left photo)
・The shoetree for low-quarter shoes can be modified and used also for boots (center photo).
・This student is creating the insole for the Goodyear welt (right photo).
・グッドイヤーウエルト製法での出し縫い用の溝を靴底に作ります。(左)
・短靴用木型でも修正してブーツ用として使うことも可能です。(中)
・グッドイヤーウエルト製法用の中底を整形中。(右)
・Many parts are required in order to produce 1 pair of shoes (left photo).
・The assemblage of all parts is a very demanding task and requires focus on the preset line (central) photo.
・The method to make the paper pattern varies according to each type of shoe (right photo).
・一足の靴を作るにはかなり沢山のパーツが必要となります。(左)
・パーツの接着は設定のラインを間違えない様に注意しながら慎重に作業をします。(中)
・各タイプに合わせて型紙の作り方は異なります。(右)
・As for the design, the procedure requires first to apply some tape on the shoetree and then draw a line (left photo).
・The leather cutting process has to be performed taking into account the condition of the surface as well as the stretching tendency (central photo).
・This student has also improved with the sewing machine (right photo).
・デザインは木型にテープを貼り付けてラインを描くという工程で行います。(左)
・革の裁断は伸びる方向や表面の状態を確認してから行います。(中)
・ミシンがけもだいぶ上手くなってきた様です。(右)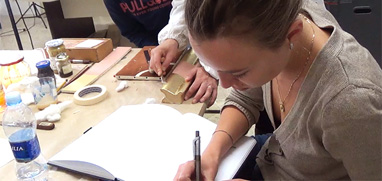 At Accademia Riaci, we are recruiting Course Reporters from our students. The students who are chosen to become Course Reporters are given 10 % of the tuition as their scholarship fee.
The Reporters who have submitted excellent reports will have his or her profile posted on our school website for the next 5 years as an alumnae and will be able to connect with their business chancesafter their graduation.