Accademia Riaci
Student Reports
Read all class reports from our students!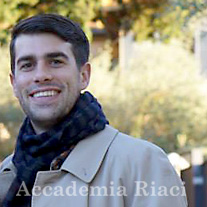 Reporter
Francis Waplinger
Country: U.S.A.
Course: Shoemaking
Assistant
Mr. Waplinger began his training in Italy in 2014 under the tutelage of Accademia Riaci's maestro Angelo Imperatrice, followed by an apprenticeship with famed Florentine shoemaker Roberto Ugolini.
Oct. 31, 2014 | Posted in Reports, Shoemaking , Assistant Reporter | Tags:Francis Waplinger, ShoemakingReporter: Francis Waplinger | Course: Shoemaking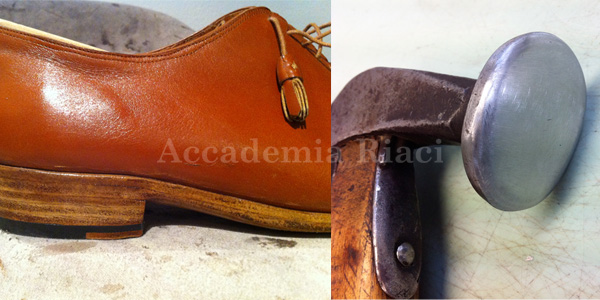 Hi, my name is Francis Waplinger and I am from Seattle, Washington, USA. I came to Florence to study shoe making at Accademia Riaci. Before arriving in Florence, I studied at the Savannah College of Art and Design, graduating with a Bachelor of Fine Arts in Interior Design in 2010.

I studied shoemaking at Accadmia Riaci for two years, completing the Basic and Master level shoe courses. This year, I am a teacher's assistant at the school and an apprentice at a shoemaking laboratory in Florence. My goal is to learn as much as possible about shoe making while in Florence and I hope to have my own workshop some day.

My apprenticeship is at a traditional shoe laboratory located in Santo Spirito area. He specializes in made‐to- measure footwear for men and women. There is a wide range of models to choose from, all of which have a classic Italian style. Some styles are oxford, derby and monk strap, to name a few. All the shoes are hand made in his laboratory and most of his clients prefer a formal dress shoe with a goodyear welt (which is classic and durable). However, there are other types of styles and constructions available, and many different types of animal leather and skins (cow, horse, alligator, snake, etc.)

When I work at the laboratory, I usually prepare insoles and sock liners. I also assist on making test shoes, which are used to make sure all the measurements of the last are correct before the final pair of shoes is constructed.

The thing I find most challenging with shoemaking is pattern making. There are countless steps and measurements that need to be made and followed to achieve the desired result. I am interested in all aspects of shoe making, each step in enjoyable, even if it is difficult.

Although shoe repair is not always fun, it is a necessary step to ensure your shoes last for many years. The shoes I repaired last week were all made by me in the past two years at the school. I notice that in Florence, there are quite a few cobblers that do repair work. In the United States, it is not as common, there may only be one in each city. For me, it is satisfying to own shoes that I can repair and wear for a long time. I do not like things that are disposable. The longer I have a pair of shoes, the more attached I am to them. Good shoes get better with age and wear.

In my spare time, I am currently working on low‐cut boots. I plan for these boots to be more complex than previous ones I have made, using canvas and a design influenced by the style known as a chukka boot, combined with elements of a spectator shoe.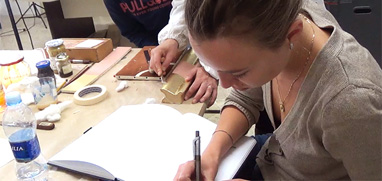 At Accademia Riaci, we are recruiting Course Reporters from our students. The students who are chosen to become Course Reporters are given 10 % of the tuition as their scholarship fee.
The Reporters who have submitted excellent reports will have his or her profile posted on our school website for the next 5 years as an alumnae and will be able to connect with their business chancesafter their graduation.