Accademia Riaci
Student Reports
Read all class reports from our students!
Reporter
Nina Mostert
Country: South Africa
Course: Fashion Design
Program: Semester Course
Period: Sep 2, 2019 - Dec 13, 2019
Hi!
My Name is Nina Mostert and I am from South Africa. Currently, I am taking a gap year to learn what the world has to teach me, to find my style and to make some dreams come true!
I divided my year into 2 halves. In the first semester of the year, I lived in NYC where I was studying Film and Acting whilst I was doing an internship at a jewelry artist. I have a great love for fashion and that is why I chose to spend the second semester at Accademia Riaci. A Great school that combines fashion with the art world in such an amazing way.
I love to visit museums and see art in everything. Furthermore, I love yoga, good food, and my friends.

Aug. 18, 2021 | Posted in Reports, Fashion Design , Student Reporter | Tags:Nina Mostert, Fashion DesignReporter: Nina Mostert | Course: Fashion Design
Monday
I practiced the basic skills I need for photoshop at home by watching videos and doing tutorials.

I love the new work and I can not wait to learn more about the digital programs.
I am so lucky to be part of such a small class where I get individual attention from my teacher. Without this, I would not have been able to learn all my new skills so quickly.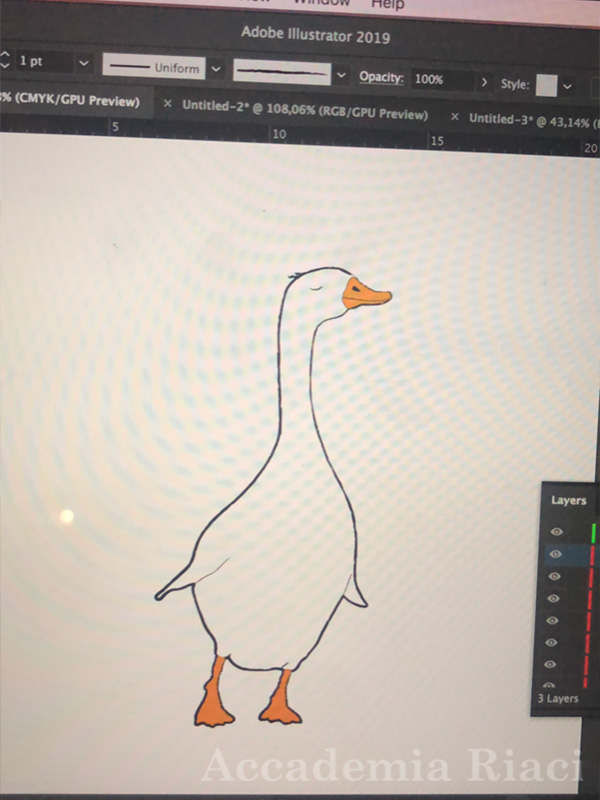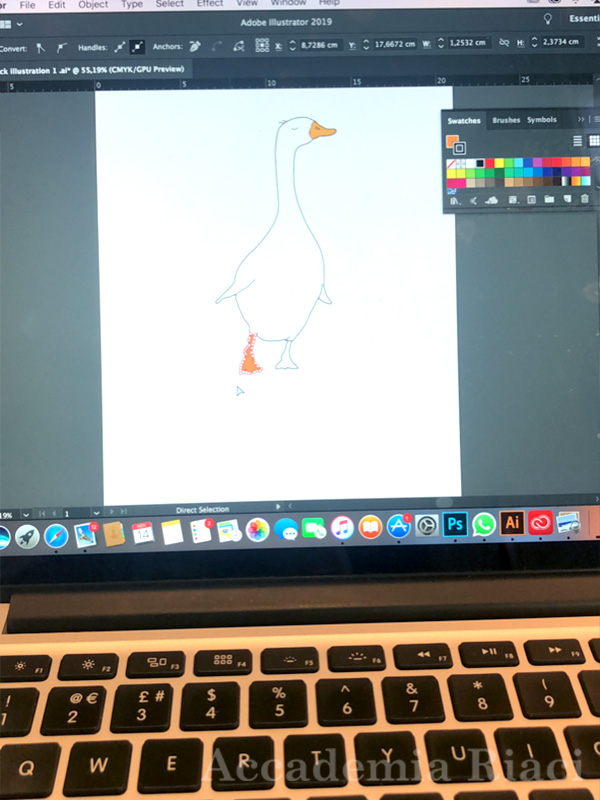 Tuesday
Today Veronica, my teacher, helped me to upload all my outfits to photoshop. We started editing the pictures. I am busy creating the final layout for my collection.
I am very excited to finish this collection as I already have ideas for what I want to do next.
In the beginning of the lesson I worked quite slow as I am still learning how to do everything.
We selected the basic layout and "theme" for my collection look book.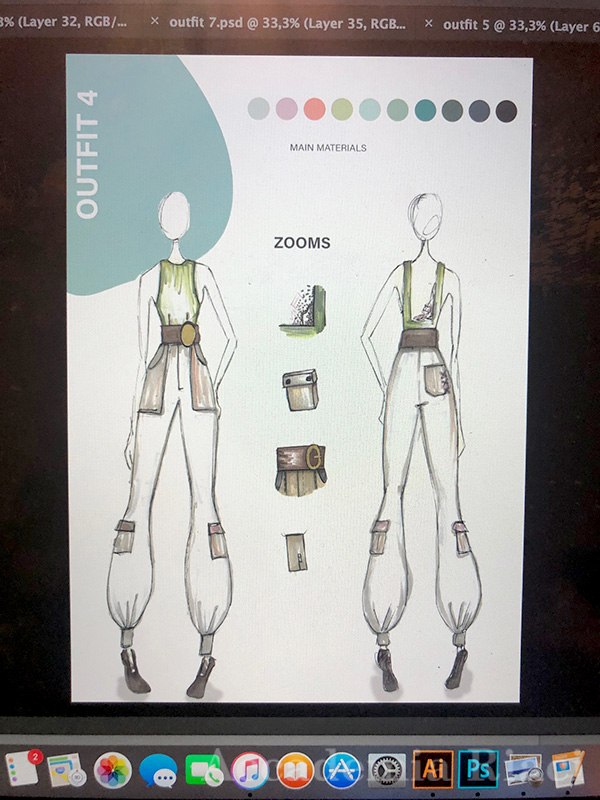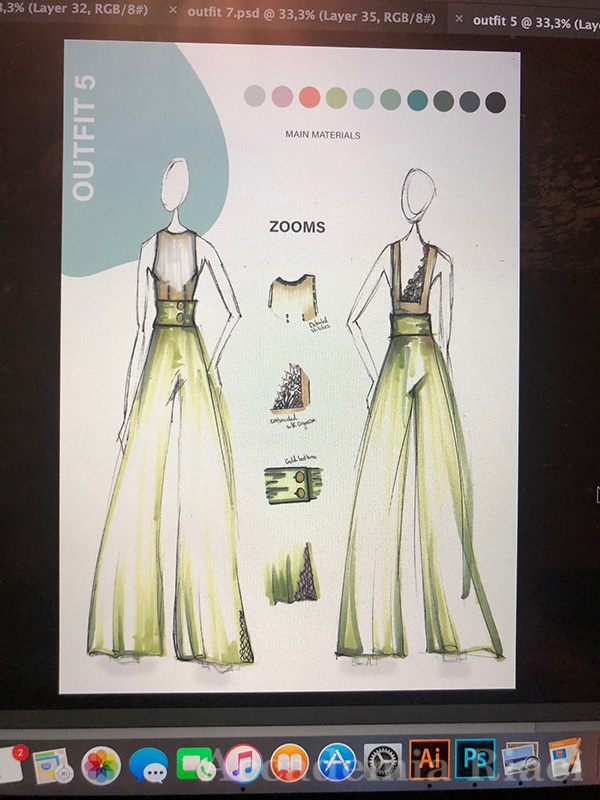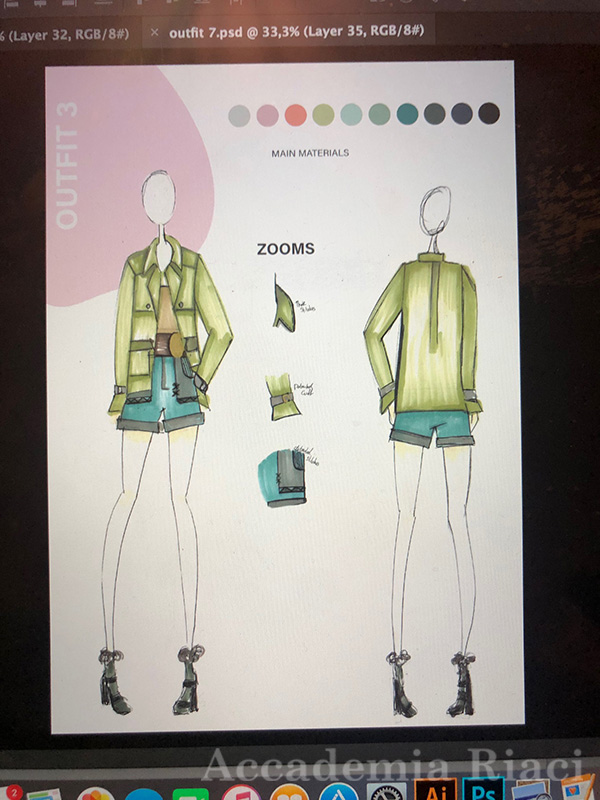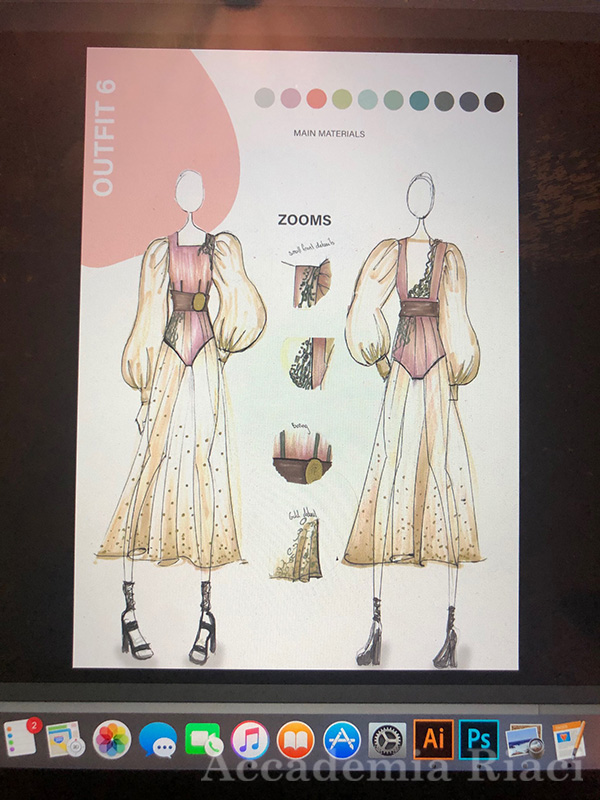 Wednesday
I am so happy with my progress. I finished editing my collection today. I still work quite slowly in photoshop as everything is new to me. All the colours and layouts are correct and everything is cohesive and neat. I am excited to print it out soon. My teacher helped me to choose an interesting color pallet for the documents.
Thursday
I am so excited to use the new program ad start creating illustrations for my next collection. I plan on starting a small t shirt brand. I hope it all works out well so that I can actually print the shirts when I get back in South Africa. My teachers are helping me to create a logo and vision for my future brand. It is so nice to start doing something that I will be able to realize !
Today I did a few rough sketches and made a Pinterest board.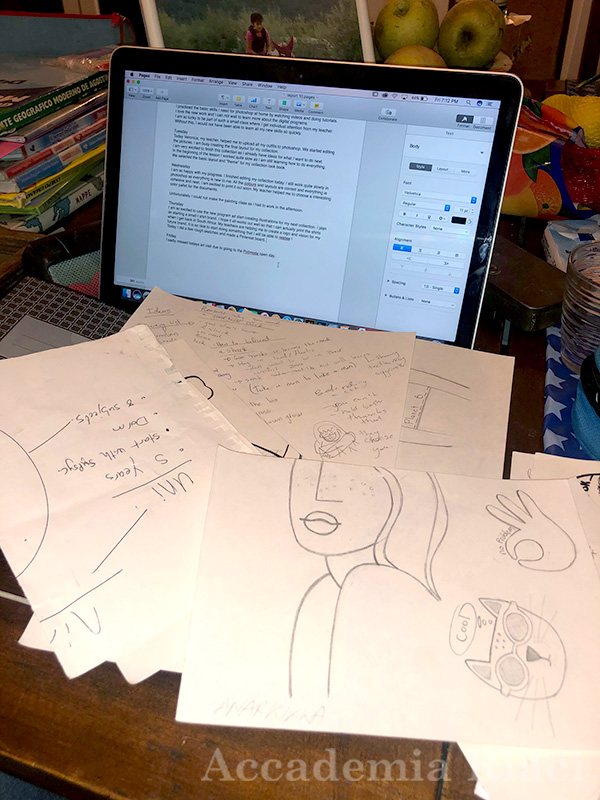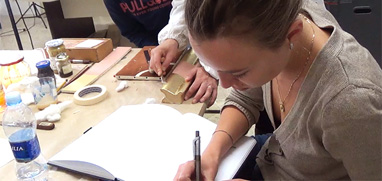 At Accademia Riaci, we are recruiting Course Reporters from our students. The students who are chosen to become Course Reporters are given 10 % of the tuition as their scholarship fee.
The Reporters who have submitted excellent reports will have his or her profile posted on our school website for the next 5 years as an alumnae and will be able to connect with their business chancesafter their graduation.