Accademia Riaci
Student Reports
Read all class reports from our students!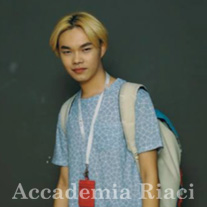 Reporter
Teh Kuan Yon
Nationality: Malaysian
Course: Fashion Design
Program: One-Year Course
Period: Sep. 4, 2017 - May 4, 2018
Accepting the first prize from Accademia Riaci began one of my excited journal in my life. Grewing up as a child I was so passionate with design and I decided to study Interior Design in The One Academy, Malaysia. After all, I found myself have another passionate into Fashion Design. I love to read the strory and concept behind of each single collection from my favorite fashion designer such as Irsis Van Herpen & Emilio Pucci. Fashion design is influenced by cultural and social attitudes, and has varied over time and place. Fashion design is the art of application of design and aesthetics or natural beauty to clothing and accessories. I am studying in Accademia Riaci in Florence Italy to began my journal for Fashion Design.

アカデミアリアチから最優秀賞をもらった事が、私の人生で一番エキサイティングな旅のひとつの始まりでした。子供の頃からデザインが好きだったので、マレーシアのThe One Academyでインテリアデザインを専攻しました。そしてその後、ファッションデザインへの情熱が生まれます。アイリス・バン・ハーパンやエミリオ・プッチといった、私の好きなデザイナーが創るコレクションの背景にあるストーリーやコンセプトを読む事が好きです。ファッションデザインは文化や社会状況に影響されますし、時や場所によって多様です。
ファションデザインはつまり、デザイン、美的センス、そして自然の美しさを衣服やアクセサリーに適用するアートです。
私はファッションデザインへの旅を始めるため、イタリアフィレンツェのアカデミアリアチで学んでいます。
Mar. 06, 2018 | Posted in Reports, Fashion Design , Student Reporter | Tags:Teh Kuan Yon, Fashion DesignReporter: Teh Kuan Yon | Course: Fashion Design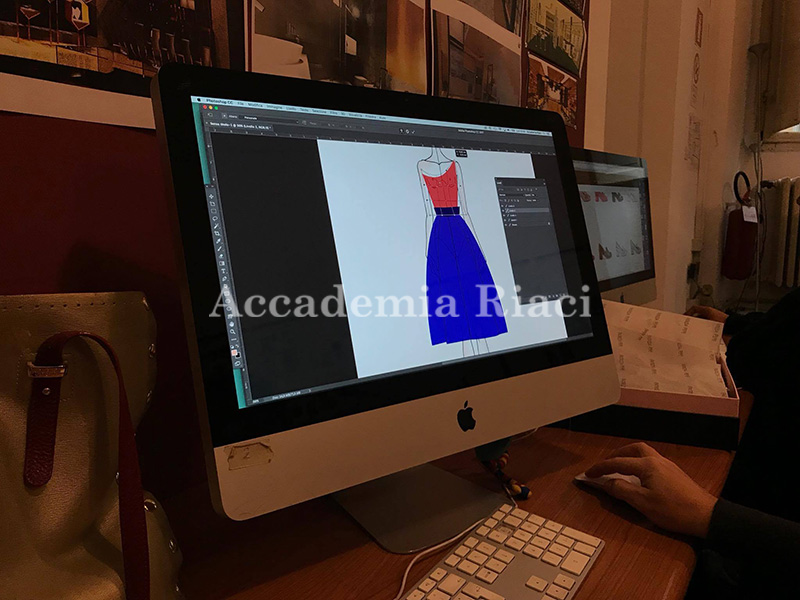 I was taught how to design by using the tools in the illustrator. Tools panel overview. When you start Illustrator, the Tools panel appears at the left of the screen. You use tools in the Tools panel to create, select, and manipulate objects in Illustrator.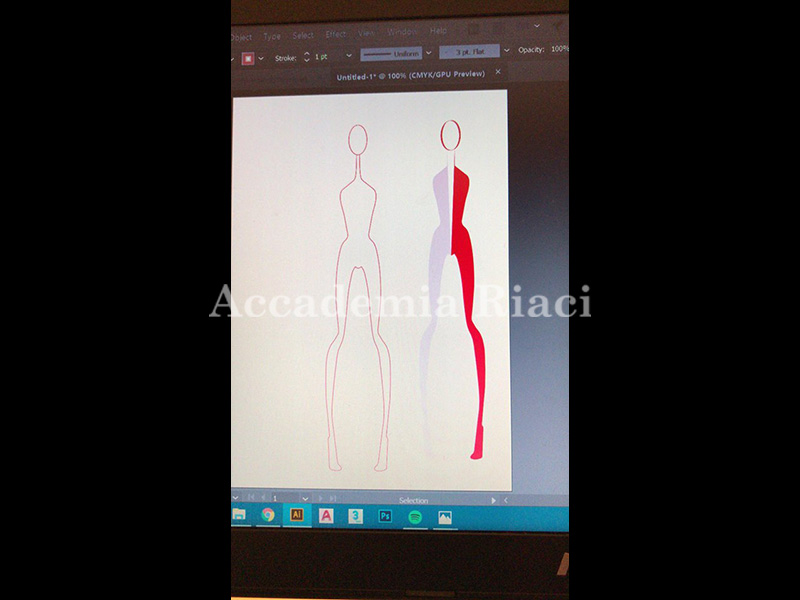 I learnt how to draw paths and apply brush strokes simultaneously.
Select a brush in a brush library or the Brushes panel.
Select the Paintbrush tool .
Position the pointer where you want the brush stroke to begin, and drag to draw a path. A dotted line follows the pointer as you drag.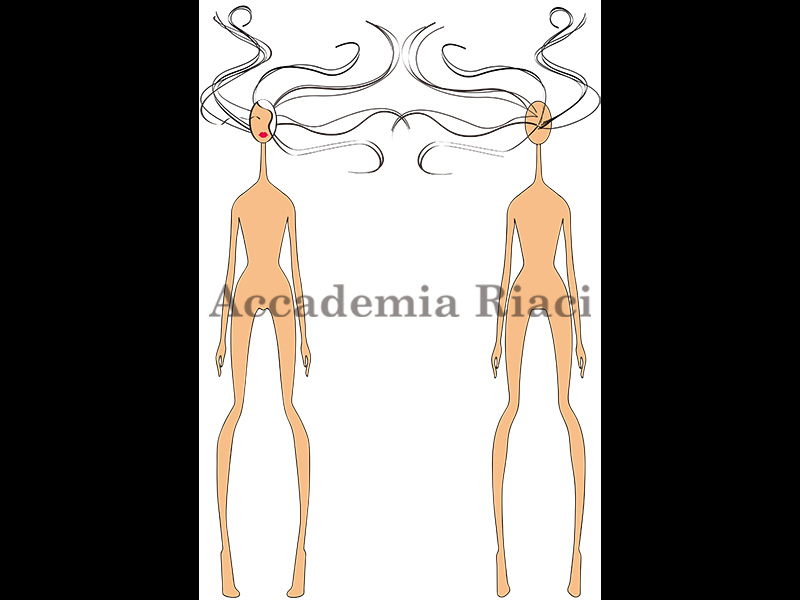 By using the technique and skills I've learnt, I came out with a human figure which inspired from Emilio Pucci long hair mannequin.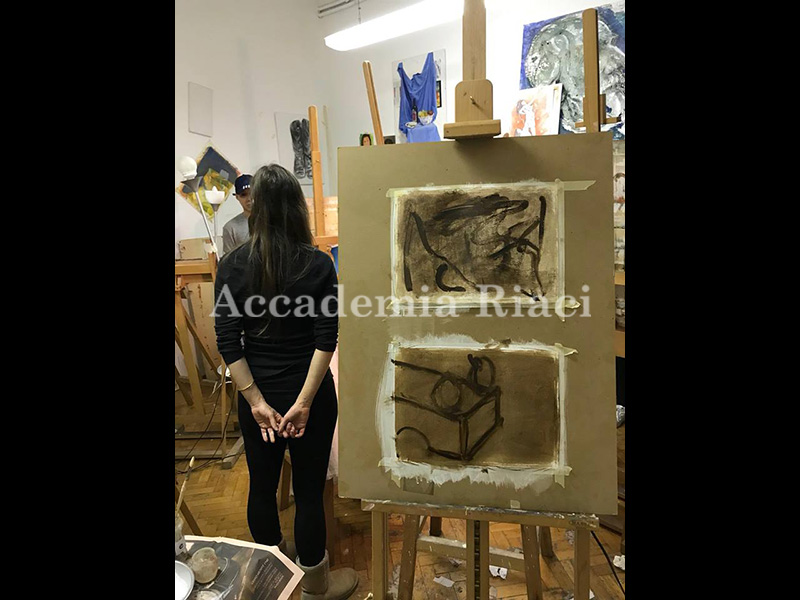 We had a basic art lesson for an art painting class in Friday afternoon. Painting is the practice of applying paint, pigment, color or other medium to a solid surface (support base). The medium is commonly applied to the base with a brush, but other implements, such as knives, sponges, and airbrushes, can be used. Painting is a mode of creative expression, and the forms are numerous.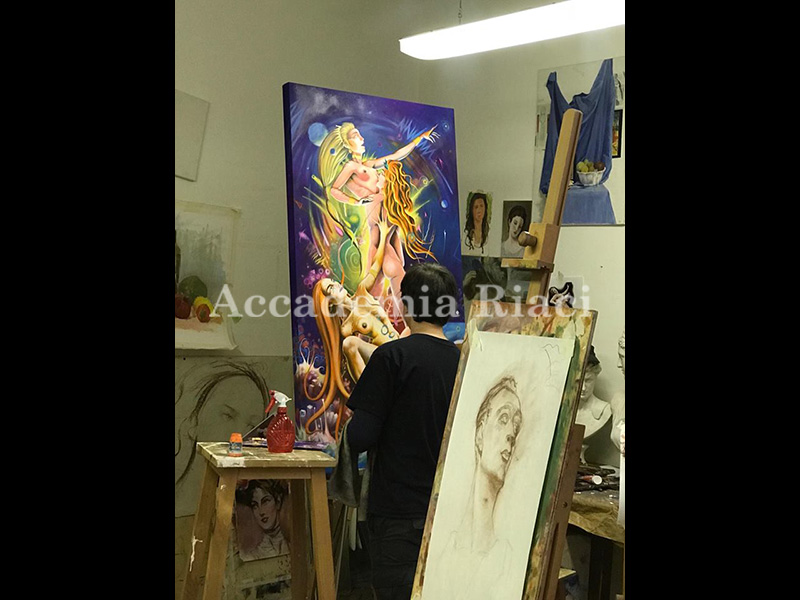 I saw an interesting painting done by our schoolmate in the art painting classroom. It was stunning and caught my eye attention.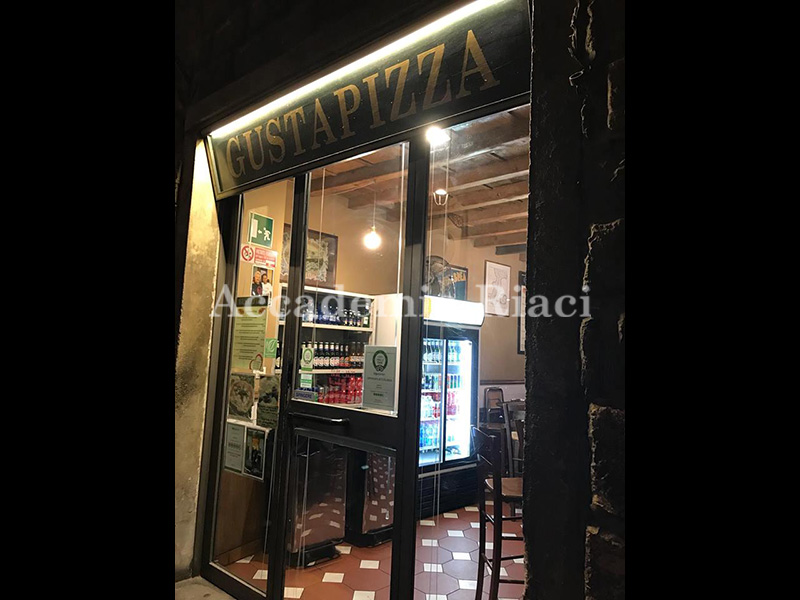 Gusta Pizza is located in Via Maggio, 46/red, 50125 Firenze FI.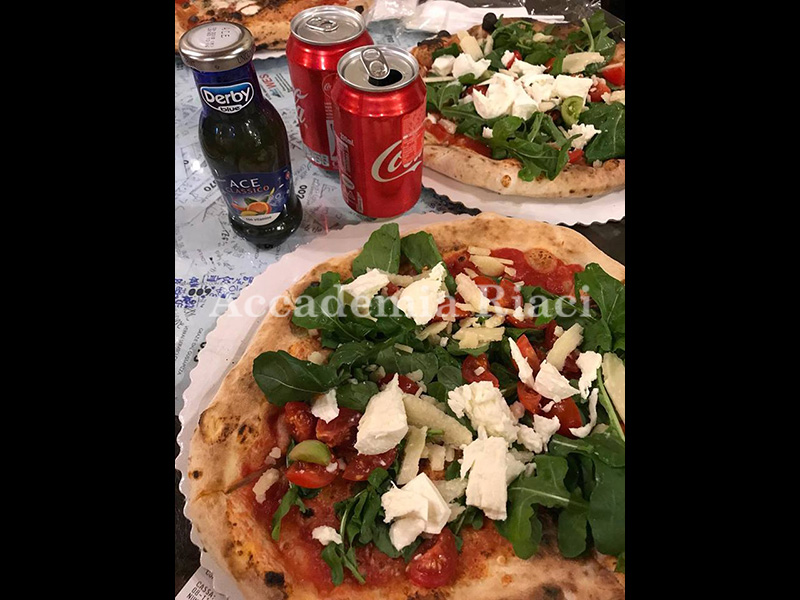 It's a simple pizzeria run by 3 friendly brothers. I love atmosphere of this place, small but charming,you sit on barrel, you can watch pizzaiolo make pizza at open counter with wood fired brick oven. They make traditional, simple pizza with not more than 3 toppings,everything homemade.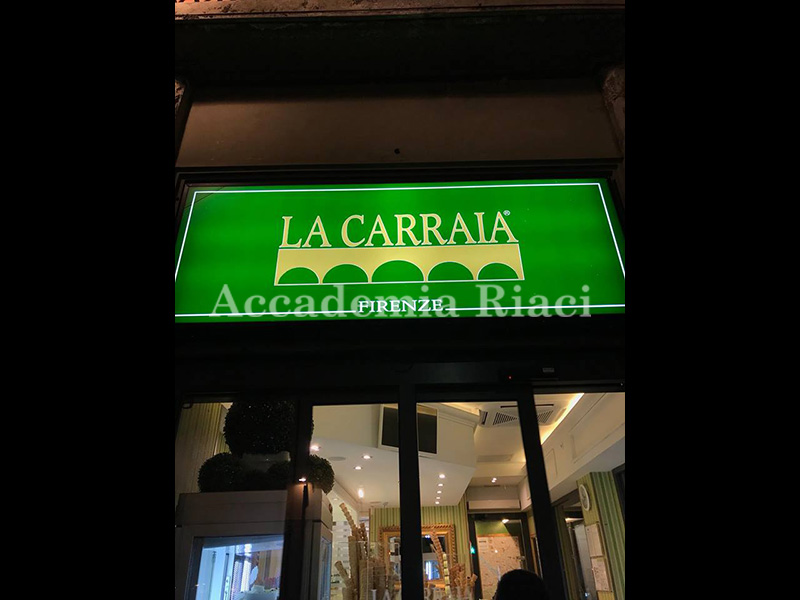 Gelateria La Carraia is located in Piazza Nazario Sauro, 25/r, 50124 Firenze FI.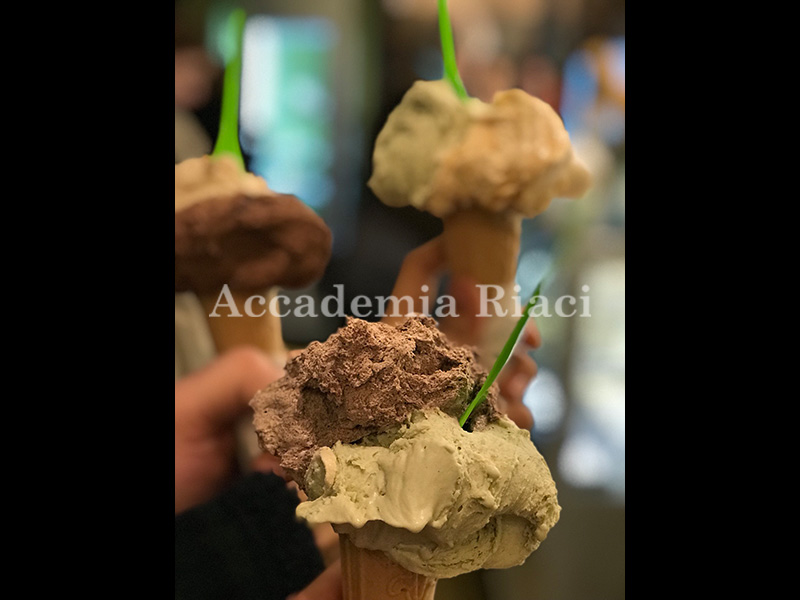 We passed by while dining at a restaurant nearby and saw a line out the door, which is always a good sign. However, the line goes by quick and they're more than happy to provide you with samples. There were also a good selection of flavors to choose from. The prices are very reasonable as we were able to get two scoops on a cone for 3 euros.
I had the almond gelato and it was to die for. It was flavorful, fresh, smooth and the portion was very generous.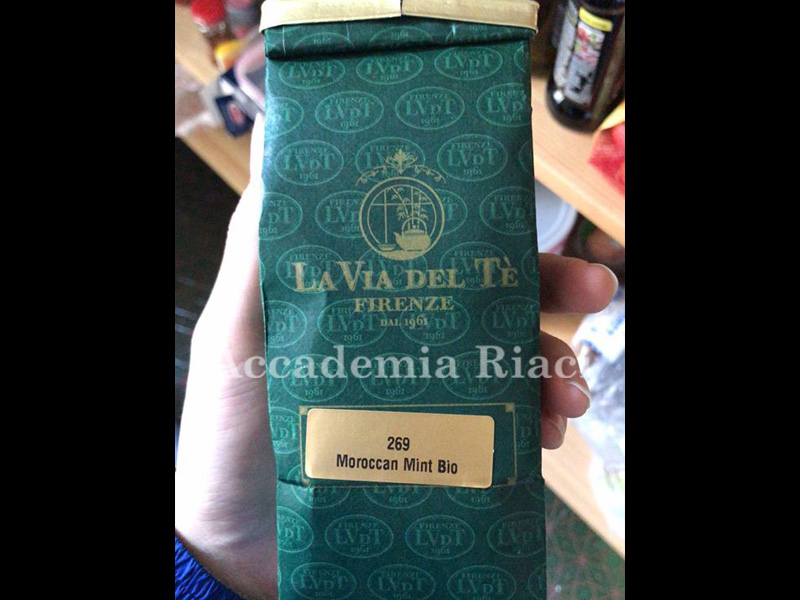 Bought a Moroccan Mint Bio Tea at La Via del Tè which located in Piazza Lorenzo Ghiberti, 22/23r, 50122 Firenze FI.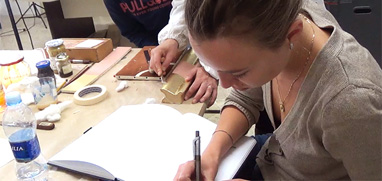 At Accademia Riaci, we are recruiting Course Reporters from our students. The students who are chosen to become Course Reporters are given 10 % of the tuition as their scholarship fee.
The Reporters who have submitted excellent reports will have his or her profile posted on our school website for the next 5 years as an alumnae and will be able to connect with their business chancesafter their graduation.