Accademia Riaci
Student Reports
Read all class reports from our students!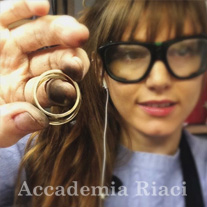 Reporter
Constance Schürch
Nationality: Chile
Course: Jewelry Making
Assistant
Period: Sep. 2017- Aug. 2018
Después de recibir mi titulo universitario en Diseño de Ambientes y Objetos y un post-diploma en iluminación, trabajé para el Gobierno de Chile diseñando y coordinando las ferias internacionales y posteriormente como Project manager para la Cámara chileno- alemana de Comercio e Industria. Descubrí el mundo de la joyería a través de una búsqueda personal, la cual me llenó de satisfacciones al poder expresarme a través del metal.
Participé en el Concurso Internacional de Arte y Diseño de la Accademia Riaci, al cual postulé con un collar de cobre obteniendo el segundo lugar, motivo por el cual decidí seguir mi pasión en Italia.

After receiving my degree in Spaces and Objects Design and a post-diploma in Lighting Design, I worked as for 4 years as International fairs designer for the Chilean Goverment and as Project Manager for the Chilean- German chamber of commerce and Industry. I arrived into the jewelry field for personal research , which brought me complete satisfaction expressing myself through the metal.
I applied into the Accademia Riaci International Art & Design competition with a copper necklace to represent my country, obtaining a second place. That was the principal reason that helped me follow my true passion.

空間物体デザインの学位と照明デザインのポストグラデュエート・ディプロマを取得した後、4年間に渡ってチリ政府で国際博覧会のデザイナーと商工会議所のプロジェクトマネジャーを担当。個人的なリサーチをきっかけに興味を持ったジュエリー分野では、特に金属で作品表現することに満足感を覚えます。
アカデミアリアチ主催の国際アート&デザインコンペティションで銅を用いて作ったネックレスが2位に入賞したことで、自身の情熱が赴く道を進んでいます。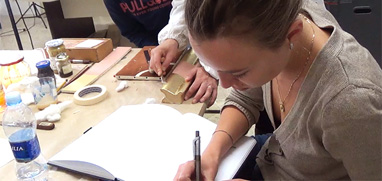 At Accademia Riaci, we are recruiting Course Reporters from our students. The students who are chosen to become Course Reporters are given 10 % of the tuition as their scholarship fee.
The Reporters who have submitted excellent reports will have his or her profile posted on our school website for the next 5 years as an alumnae and will be able to connect with their business chancesafter their graduation.