Accademia Riaci
Lesson Reports
Read all class reports from our students!
Reporter
Morita
Nationality: Japan
Course: Shoe Making
Assistant
Jun. 26, 2014 | Posted in Reports, Shoemaking , Lesson Reporter | Tags:Morita, ShoemakingReporter: Morita | Course: Shoemaking
うち羽接着
・We assemble the leather of the external and internal part, sewing them with the machine.
・Once the sewing is done, we perforate the leather for the shoelaces
(depending on the shoe type, the number of holes vary and can be adapted to each student's preference. Let's make sure that left side and right side holes are aligned).
・外側の革と足の当たる内側の革をミシンを使って縫い合わせます。
・縫い合わせが完了したら紐を通す穴を開けます。
(穴の数はデザインによって様々なので好みの数で開けますが左右でずれが無い様に開けます。)
・Once we cut the insole, after actually having stepped on it, we dampen the leather with water to make it softer and more adaptable to the shoetree.
・
We fix the leather with a nail in 3 points: toe, central part and heel.
・
We cut out the leather in excess with a knife, being careful not to reduce it too much
(it doesn't have to be smaller than the bottom of the shoetree).
・Let's drive the nails only half of their length inside the leather. The nails have to be bended towards the outside and the leather has to adhere completely to the base.
・足が実際にのる中底を切りた後、水で濡らして革を柔らかくして木型に合わせます。
・木型のつま先付近、中央、踵付近の3箇所を釘で留めます。
・周囲の余分な革はナイフを使い切り取りますが、木型の底面より小さくならない様に慎重に作業します。
・革の周囲に釘を打ちますが、釘は長さの半分程打ちつけた後、外側に向かって折り曲げて革を木型の底面に密着させます。
・Prof. Angelo explains how we can use a variety of materials and methods.
・When there's some spare time before starting the next task, the teacher gives practical customized instructions to each student. For example, about the differences between insoles for men shoes and women shoes.
・様々な資料を使って色々な工法の説明などもします。
・次工程まで少し時間があるときなどは先生が色々な説明を各自にしてくれます。
(男性用、女性用の中底の違いなど作業に沿って説明を行います)
・As for the shoe sample, we insert a core in the heel and start to last the shoe
(it's fundamental to perform the lasting process always in the same way, regardless the different shoe design).
・We complete the lasting step by step, being sure to follow the design and fix the leather in the correct position.
・仮靴の時と同じく踵に芯を入れて吊り込みを行います。
(吊り込みの手順は全てのデザインに共通して同じ方法で行うので非常に重要です。)
・手順通りに徐々に吊り込みを行い全体をデザインした位置に合わせます。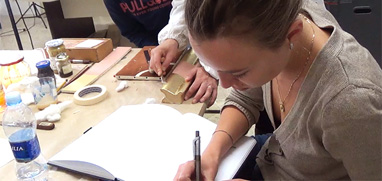 At Accademia Riaci, we are recruiting Course Reporters from our students. The students who are chosen to become Course Reporters are given 10 % of the tuition as their scholarship fee.
The Reporters who have submitted excellent reports will have his or her profile posted on our school website for the next 5 years as an alumnae and will be able to connect with their business chancesafter their graduation.