Accademia Riaci
Lesson Reports
Read all class reports from our students!
Reporter
Morita
Nationality: Japan
Course: Shoe Making
Assistant
Jul. 01, 2014 | Posted in Reports, Shoemaking , Lesson Reporter | Tags:Morita, ShoemakingReporter: Morita | Course: Shoemaking
うち羽接着製法
・The lasting is a very important process to determine the design, and that's why everyone is very concentrated on his/her work.
・After lasting the internal leather, we apply the rubber cement to make it adhere completely.
・吊り込みはデザインを決める重要な工程なので皆さん真剣です。
・内側の革を吊り込んだらゴム糊を塗って内側の革を接着します。
・ After that, we pull back the leather of the upper side, attach the core made by thin leather and proceed again with the lasting.
・ In case we made it smaller than the standard size, we apply some thin paper to adjust it
(in general we use toe core adapted to the standard position).
・吊り込みが終わったら表側の革をめくって先芯となる薄い革を貼り付け吊り込みます。
(革が薄いので吊り込み時に破れないように注意する事が必要です)
・設定サイズより小さくなってしまった場合は細い紙を貼り付けるなどして対処します。
(通常は設定位置に合わせた先芯を使用します)
・After having scraped the base, we attach the shank (for men's shoes)
・Then we attach the cork on the shank and mold it.
・We cut out the outsole (the part that touches the ground) and attach it with the rubber cement.
・先芯をいれ底面を綺麗に削った後、シャンクを貼り付けます。(男性物)
・シャンクを貼り付けた後、シャンクにコルクを貼り付けて整形します。
・本底(地面に設置する底)を切り出しゴム糊で接着します。
・It's fun to choose the heel that best suits our original design!

・During the lessons, students learn also how to make beading for the wearing opening and other parts. .
(This is important in order to create something that matches our personal image of the shoe, rather than using a ready-made article)
・数ある踵の中から自分のデザインにあった踵を探すのもまた楽しいものです。
・靴の履き口などに使うビーディングなどの作り方も授業では行います。
(既製品ではなく自分のイメージに合ったものを作るためには重要です。)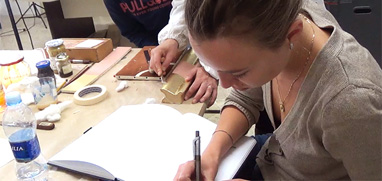 At Accademia Riaci, we are recruiting Course Reporters from our students. The students who are chosen to become Course Reporters are given 10 % of the tuition as their scholarship fee.
The Reporters who have submitted excellent reports will have his or her profile posted on our school website for the next 5 years as an alumnae and will be able to connect with their business chancesafter their graduation.