Accademia Riaci
Student Reports
Read all class reports from our students!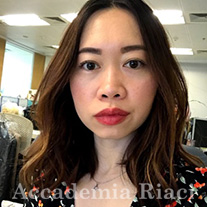 Reporter
Arpagorn Darintapong
Country: Thailand
Course: Bag Design
Program: One-Year Course
Period: Sep 2, 2019 - Apr 24, 2020
With a background working in the fashion industry as a bag designer for a brand in Bangkok, Thailand. She participated in the art and design competition of Accademia Riaci in the year 2018 and won 2nd place in the Bag Design category. She decided to pursue her goal and broaden her knowledge in Florence, Italy.
Oct. 18, 2019 | Posted in Reports, Bag Design , Student Reporter | Tags:Arpagorn Darintapong, Bag DesignReporter: Arpagorn Darintapong | Course: Bag Design
Week1 : Bag design course
Monday 02.09.2019
The class started with the introduction of the course by our teacher Prof. Veronica.
She interviewed each student about their background and their goal for the course. I have seen that there are many students from all around the world attending this class.
I have introduced myself that I have worked as a bag designer before in Thailand but I would like to learn the effective design process and work more creatively. She had me take a look in some trend books and see if I find anything interesting as an inspiration for my collection as a starting point. We discussed what is my main theme and who is my main target customer group. Imagine what is her life style and her routine so I can have an idea what kind of bag would suit her life style.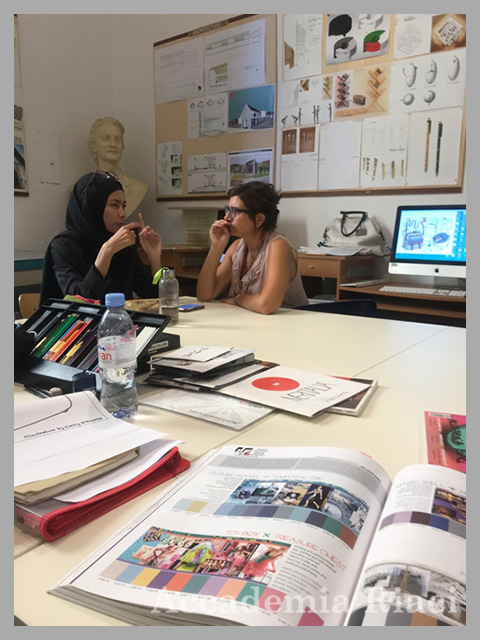 Pic1 : Prof. Veronica discussed with a student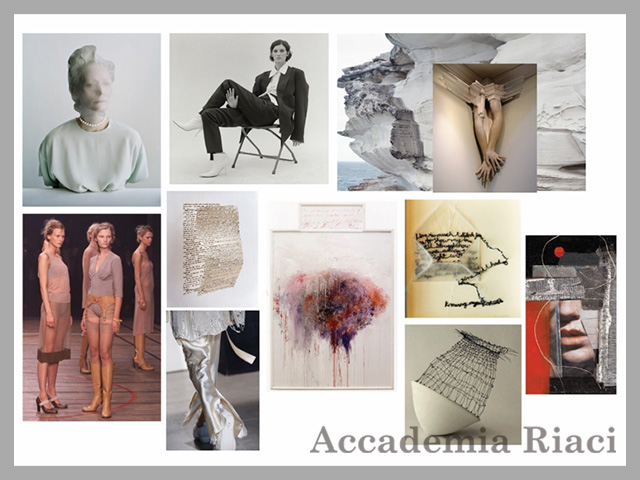 Pic2 : My mood board
I have collected some pictures to use in a mood board I picked from Spring/ Summer 2020 trend book Theme : A life
TUESDAY 03.09.2019
Today we continued developing concept. I presented my mood board to Prof.Veronica.
She suggested how to clarify my concept and to make a personality for my collection.
We discussed about materials or techniques that I would like to use.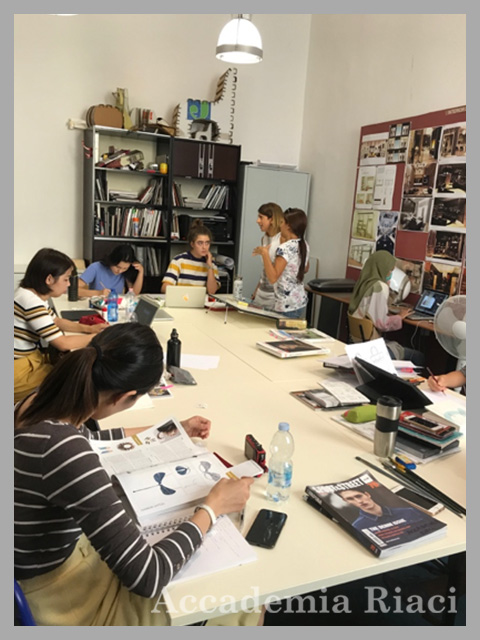 Pic3: Each student concentrated with their projects
WEDNESDAY 04.09.2019
Basic lesson class : Storia dell'arte del Rinascimento
Today I attended art history class by Prof. Barbara. She introduced us the beginning of Renaissance art in Florence in 15th century. How The Medici dynasty began building things around Florence. She showed some works by famous artists from that era like Brunelleschi for Architecture / Donatello for Sculpture / Masaccio for painting
Where we can see their work in Florence or some place in Italy.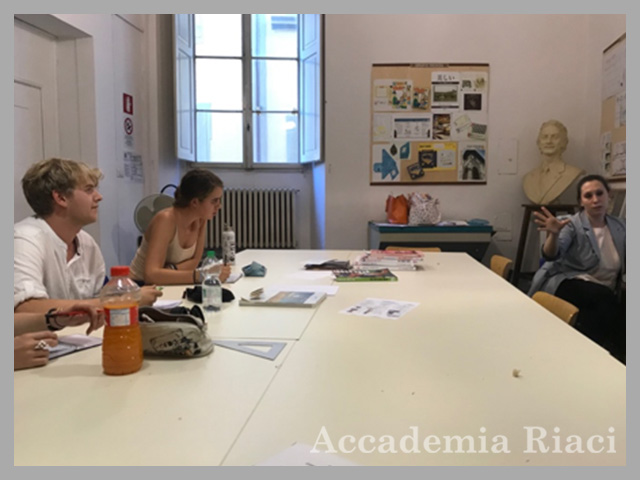 Pic4: Prof. Barbara explained the style of renaissance art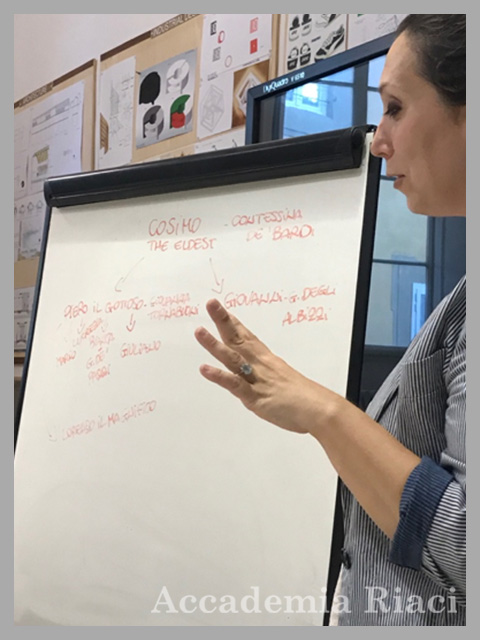 Pic5 : Prof. Barbara explained about The Medici family and how they had ruled Florence
THURSDAY 05.9.2019
Today I showed Prof. Veronica the techniques and form I was interested to use for my bag collection. She gave me some advised how to scope the idea as a main theme and where to find more references. I have concluded the functionality to my bag collection. Prof. Veronica suggested me to start sketching bag design.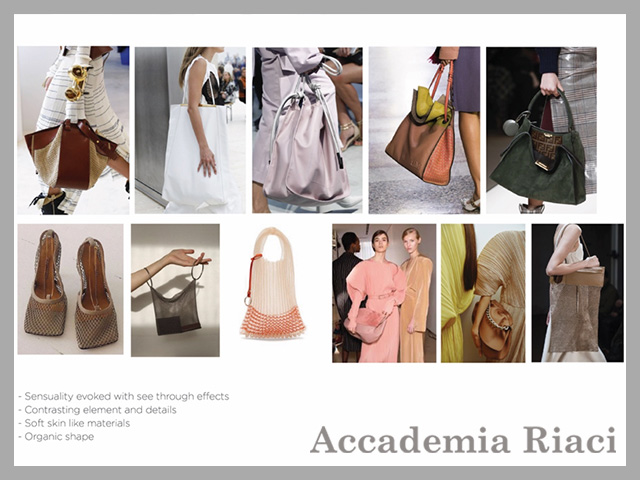 Pic6 : My presentation (Bag references)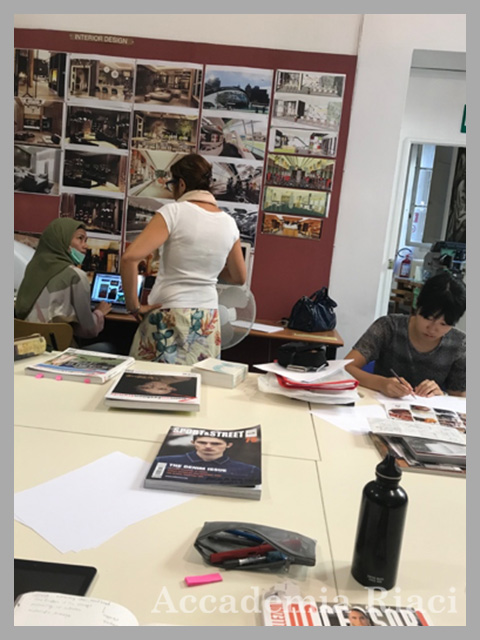 Pic7 : Prof. Veronica talked to a student

Pic8 : Today the temperature in Florence has dropped down. It was a chilly morning.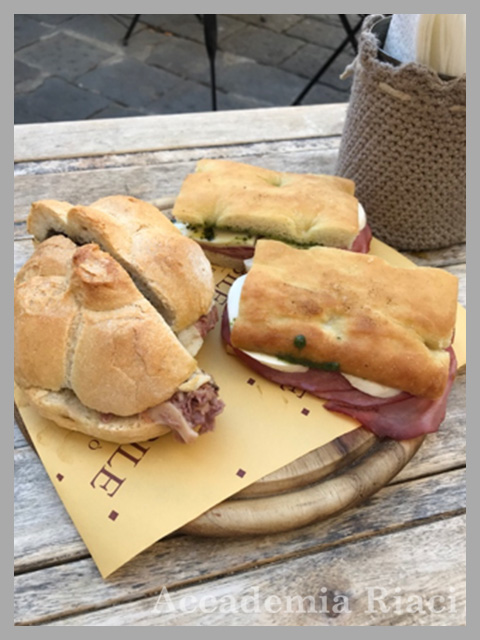 Pic9-10 : Lunch with a class mate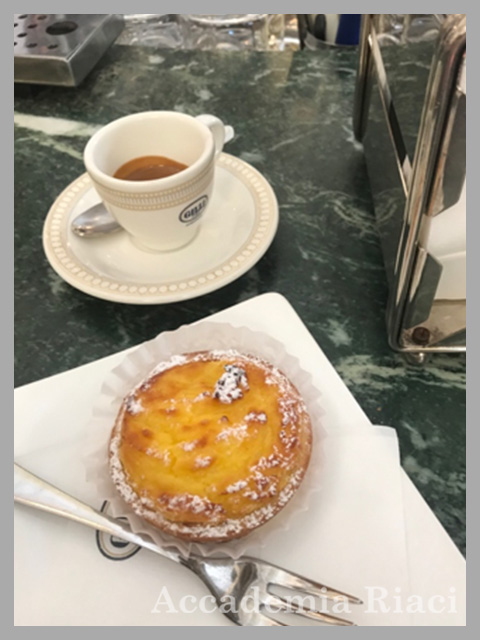 Pic10
FRIDAY 06.09.2019
Art visit 11:00-12:30
Today we visited "Cenacolo di Sant'Apollonia" which is monumental refectory of the convent of Observant Benedictine sisters of Saint Apollonia, Founded in 1339. The museum contains painting from the deposits of The Florentine galleries. I have seen The last supper fresco by the great Renaissance artist Andrea del Castagno.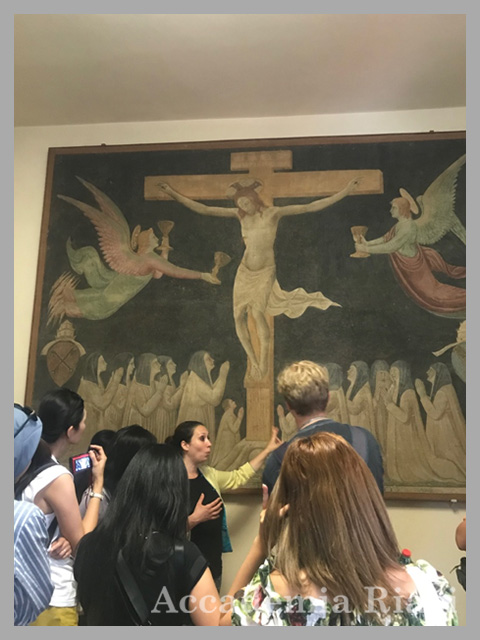 Pic11 : Prof.Barbara explained The frescoes of Sant'Egidio to the students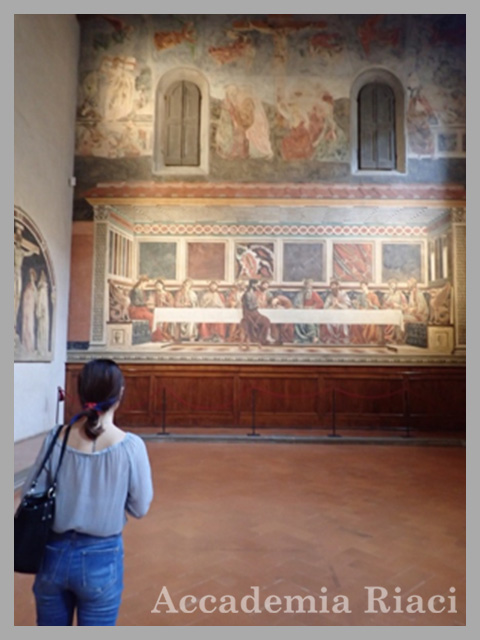 Pic12-13 : Me, Taking the pictures of the paintings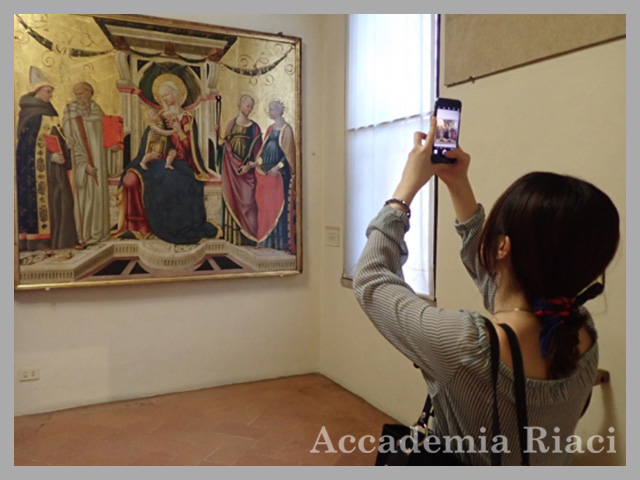 Pic13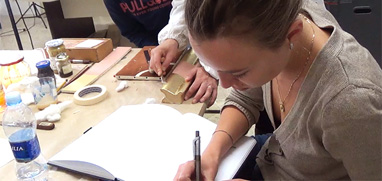 At Accademia Riaci, we are recruiting Course Reporters from our students. The students who are chosen to become Course Reporters are given 10 % of the tuition as their scholarship fee.
The Reporters who have submitted excellent reports will have his or her profile posted on our school website for the next 5 years as an alumnae and will be able to connect with their business chancesafter their graduation.