Accademia Riaci
Lesson Reports
Read all class reports from our students!
Reporter
Morita
Nationality: Japan
Course: Shoe Making
Assistant
Jun. 30, 2014 | Posted in Reports, Shoemaking , Lesson Reporter | Tags:Morita, ShoemakingReporter: Morita | Course: Shoemaking
パンプス接着方法 デザイン~仮靴
・First, we attach the design tape on the external side of the shoetree
・We draw a line in the center of the shoetree and we cut all the parts besides the external side (the tape is applied to half of the shoetree)
・We connect with a straight line the external side with the most protruding part of the internal side
・We measure the height of the heel (C) with the center (B) of the line we drawn (A)

・We connect point B with C with a line and decide the height of the wearing opening.
・木型の外側にデザインテープを貼り付けます。
・木型の中央にラインを引き外側以外の部分をカットします。 (デザインテープは外側半分に貼り付けます)
・木型の外側と内側で一番出っ張っている部分に線で結びます。
・デザインテープ上に引かれた線(A)の中央(B)と使用する木型の踵高さ(C)を測定します。
・点BとCを線で結び履き口の高さラインを決めます。
・Each students draws a design line right in front of the wearing opening, according to his/her own personal taste
・We remove the tape from the shoetree and apply it on the cardboard
・We add a margin of 15mm from the last and 20mm from the heel.
・履き口高さラインより前の部分については各自の好きなラインでデザインを行います。
・木型よりデザインテープを剥がし厚紙の上に貼り付けます。
・線(A)よりもつま先側では吊り込みシロを15mm、踵側では20mm足します。
・Based on the paper pattern, we cut the felt
・We wrap the opening part of about 4mm back
・The heel part is then sewn and assembled with the sewing machine
・切り出した型紙を基にして仮靴用のフェルトを裁断します。
・履き口部分は4mmの折り返しを行います。
・踵部分をミシンで縫い合わせます。
・We perform the lasting
・Firstly the instructor creates the model and then the student works on his own.
・The lasting starts from the toe part, to the external and internal part until the heel. It is important to check constantly that the procedure is following the original design.
・使用する木型に乗せて吊り込みを行います。
・まずは先生による手本を行い、その後に生徒が作業します。
・つま先、外側、内側、踵の順番で吊り込みを行いデザイン通りに出来ているかを確認します。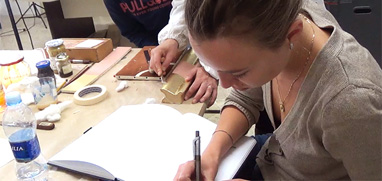 At Accademia Riaci, we are recruiting Course Reporters from our students. The students who are chosen to become Course Reporters are given 10 % of the tuition as their scholarship fee.
The Reporters who have submitted excellent reports will have his or her profile posted on our school website for the next 5 years as an alumnae and will be able to connect with their business chancesafter their graduation.