Accademia Riaci
Lesson Reports
Read all class reports from our students!
Reporter
Morita
Nationality: Japan
Course: Shoe Making
Assistant
Oct. 08, 2014 | Posted in Reports, Shoemaking , Lesson Reporter | Tags:Morita, ShoemakingReporter: Morita | Course: Shoemaking
接着製法・グッドイヤーウエルト製法・ノルベジェーゼ製法・ティロレーゼ製法 4 15.5.2014
・These are adhesive method, Norwegian-style and Goodyear welt shoes.(Picture left)
・About 3mm thick leather is glued to the sole in adhesive method.(Picture center)
・Norwegian-style shoe has distinctive chain stitches and is sewn 3 times.(Picture right)
・接着製法、ノルベジェーゼ製法、グッドイヤーウエルト製法の靴。(左)
・接着製法は3mm程度の革を靴の底に接着することで製作します。(中)
・ノルベジェーゼ製法の靴は靴の横にあるチェーンステッチが特徴で縫いは3回行います。(右)
・Goodyear welt stitching is a standard method of manufacturing men's shoes.(Picture left)
・Tirolese stitching style shoe has a welt sewn on the side of the shoe.(Pictures center & right, bottom left)
・グッドイヤーウエルト製法の靴。一般的な紳士靴の製法です。(左)
・ティロレーゼ製法の靴は靴の横にウエルトを靴の横に縫いつけます。(中・右・下左)
・This crocodile embossed leather is for making strapped shoes.
・クロコ柄の型押し革などを使ってストラップの靴を制作します。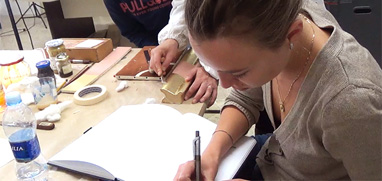 At Accademia Riaci, we are recruiting Course Reporters from our students. The students who are chosen to become Course Reporters are given 10 % of the tuition as their scholarship fee.
The Reporters who have submitted excellent reports will have his or her profile posted on our school website for the next 5 years as an alumnae and will be able to connect with their business chancesafter their graduation.