Accademia Riaci
Lesson Reports
Read all class reports from our students!
Reporter
Morita
Nationality: Japan
Course: Shoe Making
Assistant
Oct. 14, 2014 | Posted in Reports, Shoemaking , Lesson Reporter | Tags:Morita, ShoemakingReporter: Morita | Course: Shoemaking
接着製法、グッドイヤーウエルト製法、ノルベジェーゼ製法1 22.5.2014
・Norwegian-style intermediate sole is different from Goodyear welt one as it has no outlining groove.(Picture left)
・These women's Norwegian boots have distinctive chain stitches on the side.Because Norwegian-style cannot be performed by machine, it has a handcrafted taste.(Picture center)
・This student is performing a shoe lasting, but the hammering after this process unfortunately made this crocodile embossed leather smooth. (Picture right)
・グッドイヤーウエルト製法とは異なり外側の溝が無いノルベジェーゼ製法用の中底。(左)
・女性用のノルベジェーゼ製法のブーツ。靴の横にチェーンステッチが有るのが特徴です。
ノルベジェーゼ製法は機械では作る事が出来ない製法なので手作りならではの靴です。(中)
・鰐(ワニ)皮スタンプの靴の吊り込みですが、この後のハンマリングで表面がスムースになってしまいました。。。(右)
・This adhesive method summer sandals have an unique design with a large opening.(Picture left)
・Leather toe core is inserted to strengthen the toe part.(Picture center)
・This student is making women's whole cut and moccasin shoes at the same time.(Picture right
・夏用のサンダルですが外側が無い特徴的なデザインです。接着製法で制作しています。(左)
・つま先部分には革の先芯を入れ強度を出します。(中)
・女性用のホールカットとモカシンを同時進行で進めている学生さん。(右)
・This adhesive method moccasin shoe has the outsole and the heel made together.The gold line around it is very distinctive.(Picture left)
・Students cautiously cut the leather so they do not miss the lines drawn.(Picture center)
・A ball of thread for hand-sewing fits nicely in this container for mascarpone.(Picture right)
・ソールとヒールが一体となった接着製法のモカシン。周囲の金色ラインが特徴的です。(左)
・革の裁断はラインがずれない様に慎重に行います。(中)
・手縫い用の糸玉はマスカルポーネの箱にぴったりと収まります。(右)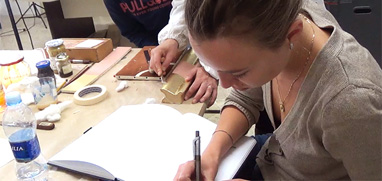 At Accademia Riaci, we are recruiting Course Reporters from our students. The students who are chosen to become Course Reporters are given 10 % of the tuition as their scholarship fee.
The Reporters who have submitted excellent reports will have his or her profile posted on our school website for the next 5 years as an alumnae and will be able to connect with their business chancesafter their graduation.