NEWS and Blog
Jul. 08, 2015 | Posted in Reports, Jewelry Making | Tags:


Staff Blog≫

Student Voice: Jewelry Design 2-week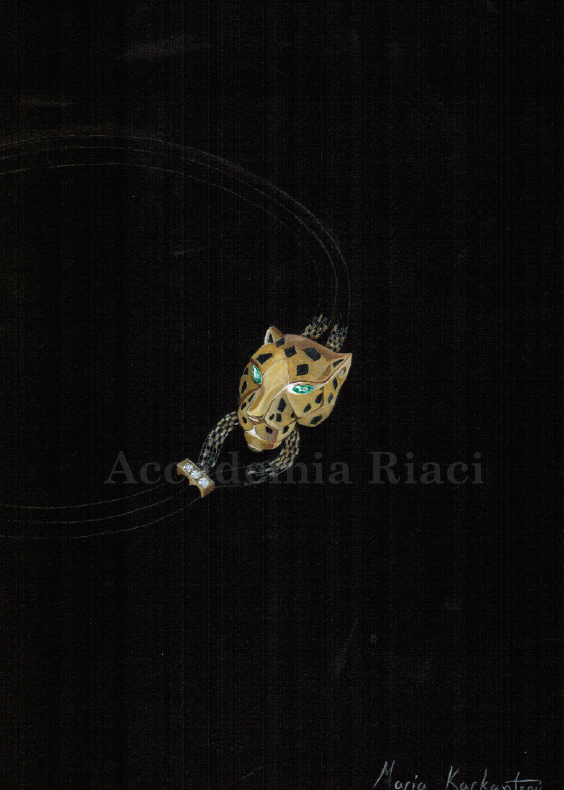 Name:Karkantzou Maria
Course:Jewerly design
Period:from 14/06/2015 to 27/06/2015
How many works did you make/design during the lesson? Please describe what you have made, and techniques you used, and please provide photos.
I designed a several works during my course e.g.technical designs of various rings, color palettes with watercolors, light & shadow exercises, rendered sketches with diamonds, cabochon stones and metals(silver & gold) Also I worked on two concepts that I had a brief from my work.
Did the teacher help you learn what you wanted to learn? Was the way of teaching effective?
My teacher was very helpful. She understood completely that I already work as a jewelry designer in my country and she gave me nice advices for my future way of designing. I appreciated very much that she spoke English and I did not need an interpreter.
Did your skills/knowledge improve compared with before studying at Accademia Riaci? Will you use what you have learned at Accademia Riaci in future?
For sure, I learned many things! Now I know what are the best tools (brushes, pens and pencils) to use for rendering a piece of high jewelry. I would like to have more examples with my teacher of final rendered sketches with watercolors, but I know that 2 weeks are not such a long period of lessons! I will use the jewelry rendering technics that I learned to present some ideas to my clients in Greece and I will try to improve my sketching skills with all the new tools that I bought from Florence!
Did you ask for some assistance to the secretary staff during your stay? Was the Secretary staff helpful?
I asked Ms Emanuela Gucci for some info about Galleria Uffizi and she was very nice and helpful.
What did you do outside the classroom? How did you spend time to enjoy Florence?
My roommates were very pleasant so we spent much time together. We went for walks, dinners and drinks. I enjoyed very much my visits to a several museums. I visited alone 10 of them because I am an art lover. My teacher gave me some advice of the museums and shops that I would definitely have to go. They were places with special jewelry things that I liked a lot!
How was the overall stay in Florence, and study at Accademia Riaci?
It was a very nice experience. Everything was well organized. I met interesting people and many cool places in the city. I think that in the future I will have only nice memories of that trip!