NEWS and Blog
To read the previous parts of this report, click on the following links.

1. Choosing a center stone for my next ring.

2. I chosed an emerald cut amethyst as my center stone, and started to make the ring by bending a bezel from a silver wire for the stone.

3. Composing cubic zirconias around the center stone.

4. Measuring the size of the top of the ring and marking it to the metal.

5. After soldering the bezel on the top part of the ring.

6. Drilling a hole on the silver sheet under the bezel.

7. The hole was made to cut out the metal on the bottom of the bezel to let more light coming from under to the stone.

8. Here I'm cutting out the silver to let more light to the stone.

9. The top part of the ring. Center stone is emerald cutted amethyst, surrounding stones are cubic zirconias, and metal is silver.

10. After cutting the top part to the right size and drilling holes for the surrounding stones, I started shaping the edges into a flowery shape.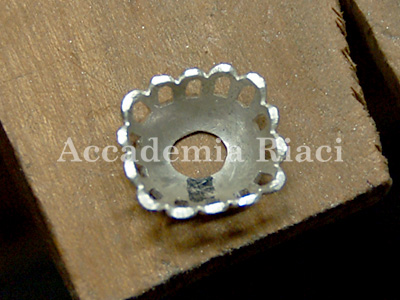 11. The down part of the ring. Shaped to fit to the top part by hammering and shaping with tweezers, and after filed the same flowery shape as the top part.

12. Showing the shape of the down part better.

13. Trying the top and down parts together while filing them.

14. The piece cooling down after soldering the top and down parts together.

15. Starting to make the ring part by fusing a thick silver wire.

16. Pulling the wire in a rolling mill and making into the right size.

17. Bending a basic ring from the wire without soldering the ends together.

18. Pulling the ends apart and sawing a cut in the middle in both ends.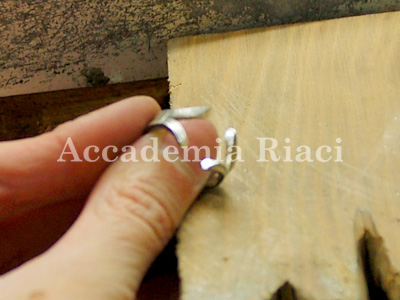 19. Pulling the cuts open and making a fluent shape fitting to the top part of the ring.

20. The two parts ready to be soldered together.

21. The ring after soldering it into a unit piece.

22. The ring sill miss a leaf parts from the side to support the 'flower shape' and to be cleaned and setted with stones.