NEWS and Blog
Jan. 16, 2014 | Posted in Reports, Internship, Shoemaking | Tags:


Staff Blog≫

Shoe Design (27 Nov, 7th lesson)
After having learned how to draw the shoes from the side, students continue to practice drawing them as seen from above, which is more difficult than the previous exercise. Special attention must be paid to recreate the sense of depth, as there is a tendency to make the shoe look flat.
Prof. Ilaria fixes the round part of the toe, which was unbalanced with the whole.
Students needs to observe the sample shoe closely, to draw the design with attention to; the balance between right and left side, the width of the heel and the shoe opening, the side lines, (especially with women's shoes), the depth of the shoe opening towards the toe part, etc. This observation skill is very important in the design and drawing process.
To the base of the outline of the shoes observed, students add their original design as they did with the design from the side, defining in details the type of seams, how many holes for lacing, whether to add patterns and accessories, the type of texture, and so on.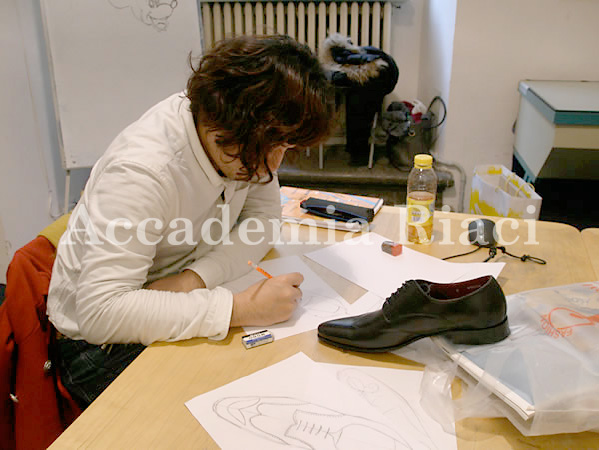 The students draw in details the laces and the seams.
This student had plentiful ideas: in this sketch he used breaded leather for the shoe upper.
After design as seen from above comes the most difficult one, requiring student to draw the shoe from a diagonal perspective. It's a good angle to give a three-dimensional impression, but very difficult to draw.
First of all, place a real shoe diagonally in front of us (it's also possible to use images from magazines, web, photos) and quickly trace the front and back lines of the shoe, as well as the central line with the laces.
These straight lines are the bases to start drawing the shoe.
Since this type of drawing represents an object with sense of depth, even more so than in the case of representation from above, on a flat paper, it is challenging to express 3 dimensional feeling.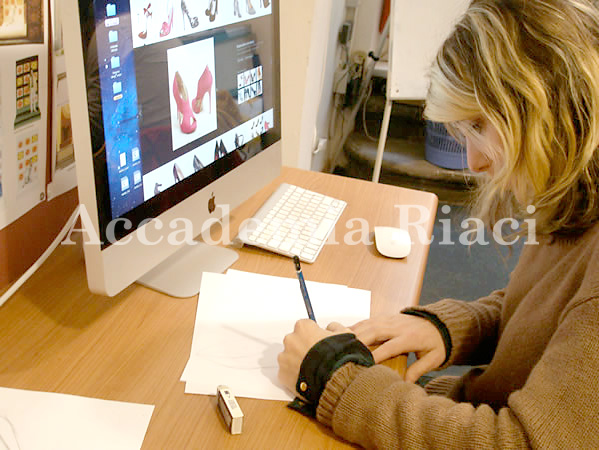 This female student is trying to draw a pair of high-heeled shoes.
Students also draw composition seen obliquely from behind: also this exercise seems rather difficult.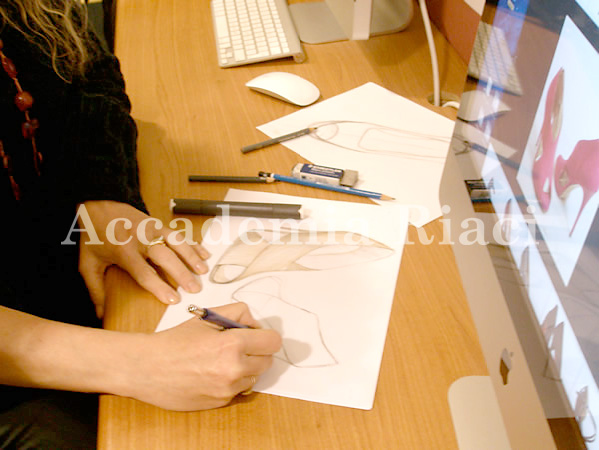 Once the design is done, add colors. Let's represent carefully the lights and shades.
Prof. Ilaria has put the student's work on the wall, since it was well done. Also the student seems satisfied.