Up-to-date report from one of our students!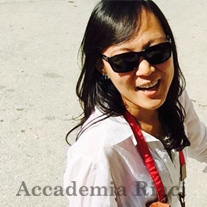 Reporter
Yueh-Ping Chen (Bonnie)
Nationality: Taiwan
Course: Interior Design
Program: Atelier 1year Course
Period: Sept 07,2015-Apr.22,2016
See all reports by this student
After received a business degree in Supply Chain Management in US, I went back to Taiwan working as a buyer for 5 years. But then realized that my true passion lay with Interior Design. Therefore, I chose Accademia Riaci to be the school, which I believed it would help me to establish the fundamental design concept and aesthetic views in Interior Design.
我在美國拿到供應鏈管理的學士學位後回台灣擔任採購的職位五年. 但是在後面的兩年我深刻地感受到採購不是我想要的職業而是室內設計. 所以我選擇了Accademia Riaci來學習設計的理念和美感的培養,我相信在就學的這段時間,我可以從這間學校學到很多的東西.
Sep. 22, 2015 | Posted in Blog, Student Reports, Interior Design, Interior Design | Tags: Interior Design, Yueh-Ping Chen (Bonnie) | Language:



Reporter: Yueh-Ping Chen (Bonnie) | Course: Interior Design Course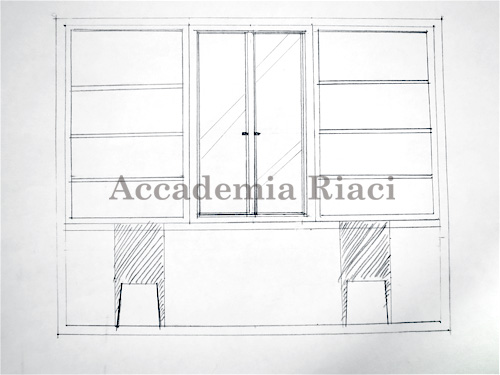 First week of school, professor asked us to design a bookshelf. This photo was my original design, but professor thought it was too traditional, and wanted me to think outside of the box.

開學的第一個禮拜教授請我們設計一個書櫃. 這張照片是我的原始設計. 不過教授覺得太過於傳統,而希望我可以設計一個書櫃是比較不一樣的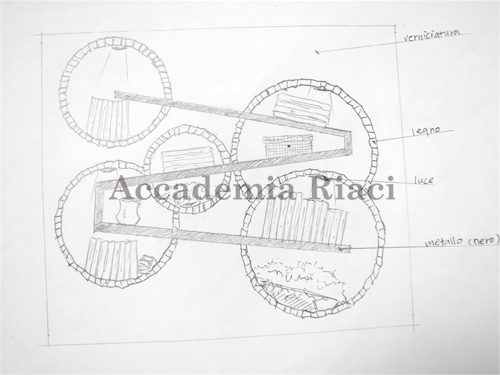 This is my 2nd time modification of the bookshelf; but then professor thought I traveled too far and explained to me the necessary concept when it comes to a good design, such as symmetric and relevant rations.

這是第二次的修改圖,可是教授覺得這個設計太過於瘋狂.所以他跟我解釋要怎麼設計,像是對應和比例.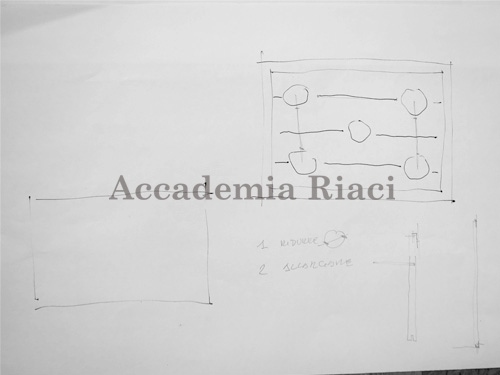 This is professor's sketch on explaining how I can possibly modify my design.

這是教授的手繪示意圖來跟我解釋可以怎麼修改我的設計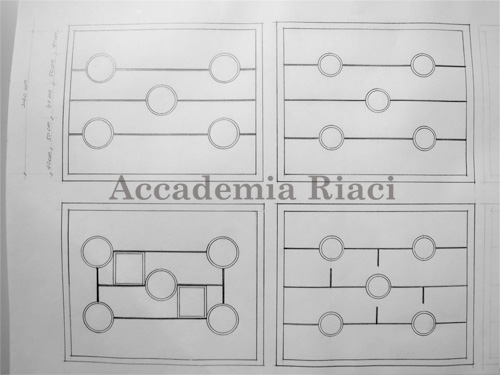 This is my 3rd time modification of the bookshelf with four different designs and based on the feedback from the professor.

這是我第三次的修改圖.跟教授前後溝通後,我設計了四個不一樣的書櫃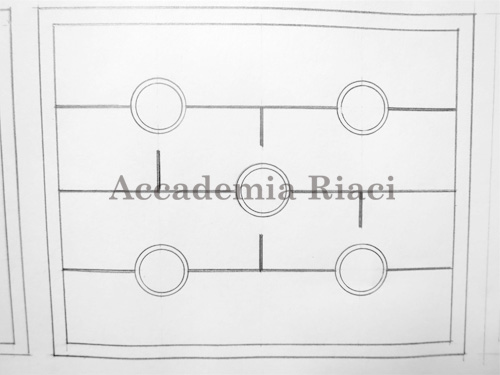 Professor thought this one was the best one out of the four designs and asked me to work on this one to complete this project. At the moment, this is just the design of the bookshelf. Next step is to choose the material to build it. The project is to be continued.

教授最後覺得這個書櫃是四個設計裡面他最喜歡的一個. 所以他請我用這個設計來完成最後的成品. 這一個部分只是完成設計,接下來就是材質的選擇.待續…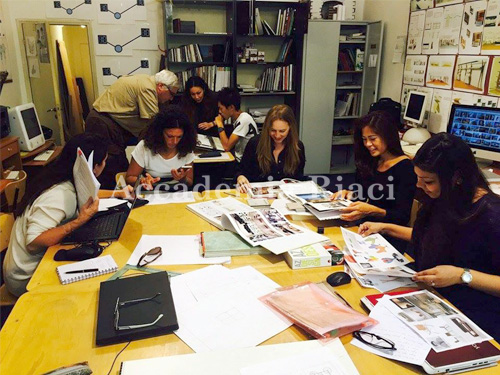 Professor gave us some information on the designers and designed furniture. We were looking through them with the English interpreter in the class.

教授給了我們一些設計師和有名的設計傢俱的資料. 課堂上有英文翻譯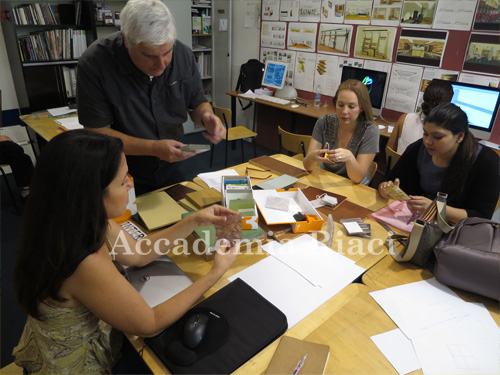 In this class, professor explained us the different materials and the usages. However, there was no interpreter available at that time, so one of our classmates, who could speak some Italian has to be the interpreter in the class.

這張照片裡教授跟我們講解材質和用法. 不過因為沒有翻譯,課裡面剛好有一個同學會講義大利文,所以她當了臨時翻譯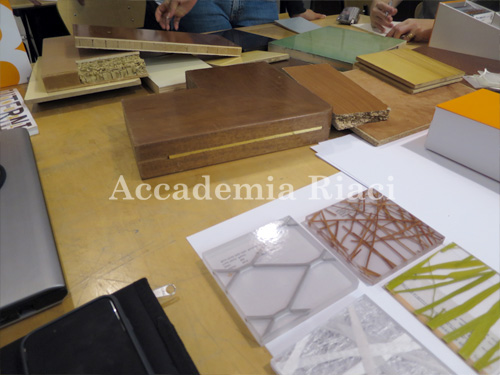 Different material samples

不同材質的樣品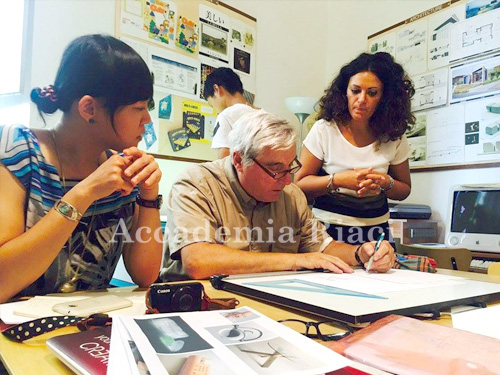 Professor was showing me how to change my bookshelf design with English interpreter.

在翻譯的幫忙下,教授在跟我解釋如何修改我書櫃的設計
My apartment photos

我公寓的照片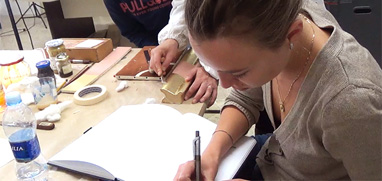 At Accademia Riaci, we are recruiting Course Reporters from our students. The students who are chosen to become Course Reporters are given 10 % of the tuition as their scholarship fee.
The Reporters who have submitted excellent reports will have his or her profile posted on our school website for the next 5 years as an alumnae and will be able to connect with their business chancesafter their graduation.