Up-to-date report from one of our students!
Oct. 15, 2014 | Posted in CourseShoe, Blog, LessonReport, Shoemaking | Tags: Shoe Making, Morita | Language:


Reporter: Morita | Course: Shoe Making Course
接着製法、グッドイヤーウエルト製法2 27.5.2014
・This student is making the open-lace by using black and white leather for Tirolese stitching style shoes.(Picture left)
・This is an intermediate sole for Goodyear welt shoe. It is important to make the depth of groove even.(Picture center)
・Students cut out each part as they check the condition of the leather.(Picture right)
・白と黒のコンビで内羽を作製する学生さん。今回はティロレーゼに挑戦です。(左)
・グッドイヤーウエルト製法の中底。溝の深さを一定にすることが重要です。(中)
・革の状態を確認しながら各パーツを裁断します。(右)
・This student is making shoes adopting the mountain-climbing shoe design. He is having a hard time putting it together well.(Picture left)
・The front-half of this intermediate sole is made by Goodyear welt, and the plantar-arch part of it is made by McKay stitching.(Picture center)
・Belted shoe upper is finished for Goodyear welt shoes.(Picture right)
・登山靴のデザインを生かした靴を制作中の学生さん。上手くまとめるのが難しいです。(左)
・前半分がグッドイヤーウエルト製法、土踏まず部分がマッケイ製法の中底。(中)
・ベルト靴のアッパーが完成です。グッドイヤーウエルト製法で制作します。(右)
・Stitches on the side give Norwegian-style shoe a solid look.(Picture left & center)
・This adhesive method loafer is now ready for pulling nails out and then adhering the outsole.(Picture right)
・ノルベジェーゼ製法は靴の横に縫いがあるので見た目にも重量感がでます。(左、中)
・接着製法でのローファー。この後釘を抜いて本底を貼り付けます。(右)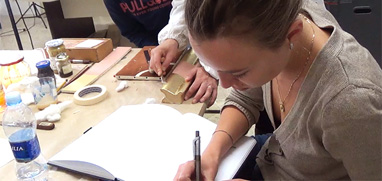 At Accademia Riaci, we are recruiting Course Reporters from our students. The students who are chosen to become Course Reporters are given 10 % of the tuition as their scholarship fee.
The Reporters who have submitted excellent reports will have his or her profile posted on our school website for the next 5 years as an alumnae and will be able to connect with their business chancesafter their graduation.