Up-to-date report from one of our students!
Sep. 22, 2014 | Posted in CourseShoe, Blog, LessonReport, Shoemaking | Tags: Shoe Making, Morita | Language:


Reporter: Morita | Course: Shoe Making Course
グッドイヤーウエルト製法・接着製法10 30.4.2014
・This student will make a pair of ladies boots using the Norwegian-style stitching. (Picture left)
・She is doing the outsole stitching of the Goodyear welt.
Sewing is done carefully because the stitches have a significant effect on the shoe finish. (Pictures center)
・These are McKay stitched shoes. Firstly, students sew a thin rubber sole to the shoe itself.
Then the outsole is glued onto it. McKay stitches are very time-consuming because the shoetree is removed before sewing. It is impossible for a man with a big hand to perform the McKay stitches as he needs to put his hand into the shoe for sewing. (Picture right)
・この生徒さんはレディースブーツでノルベジェーゼを行います。(左)
・グッドイヤーウエルト製法の出し縫いを行っています。
縫いの出来が全体の完成度に大きく影響するので慎重に縫いを進めます。(中)
・マッケイ製法の靴。まずは薄いゴムの底を本体と縫いつけ、その後に本底を貼り付けます。
マッケイ製法は木型を一度抜いて縫いを行うので非常に手間が掛かる上、靴の中に手を入れて縫いの作業を行うので手の大きい男性には出来ません。(右)
・She is removing all the nails used for shoe lasting. (Picture left)
・She needs to check which direction the leather stretches before cutting. (Picture center)
・She is attaching thinly skived leather onto the heel of the pumps. (Picture right)(Picture bottom left)
・吊り込みを行った釘を全て抜きとっていきます。(左)
・革は裁断する前に伸び方向を確認する必要があります。(中)
・パンプスの踵には薄く漉いた革を貼り付けます。(右)(下左)
・She is checking the finished image by provisionally putting the heel with the shoe. (Picture center)
・Once peeled off from the shoetree, the student attaches the design tape to the cardboard so that it does not wrinkle. (Picture right)
・踵と本体を仮合わせしてイメージを確認します。(中)
・木型から剥がしたデザインテープはシワが無いように厚紙に貼り付けます。(右)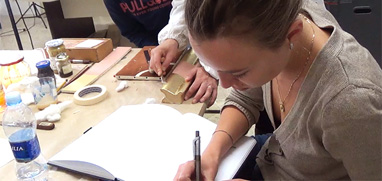 At Accademia Riaci, we are recruiting Course Reporters from our students. The students who are chosen to become Course Reporters are given 10 % of the tuition as their scholarship fee.
The Reporters who have submitted excellent reports will have his or her profile posted on our school website for the next 5 years as an alumnae and will be able to connect with their business chancesafter their graduation.