Accademia Riaci
Student Reports
Read all class reports from our students!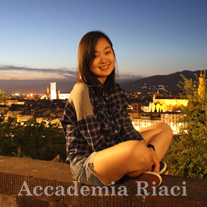 Reporter
Yumi HAYASHI
Nationality: Japan
Course: Jewerly Making
Program: Summer Course
Period: July. 30,2016- Sept. 3, 2016
I am a student of Kansai university which is located in Osaka and I'm majoring commerce there.Graduating from my high school,I really wanted to enter a professional school to be a jewelrer though,instead, I chose the way to go to a university.But I had never give up my dream.
I have came to like jewerly since I was very young.Since my father bought a little piece of crystal for me,I started to collect jem stones.Now I really want to make my stones into jewelries because they will look more precious than being just by themselves.I believe that all beautiful things would make people happy.Also,I'm super delighted if I could succeded in making someone's smile by my handmade.

私は大阪にある関西大学の学生で、専攻は商学です。高校を卒業した後の進路としてジュエリー製作の専門学校に行きたかったのですが、結局大学に進学することにしましたが、それでもなお、ジュエラー(ジュエリー職人)になることをあきらめませんでした。
私がジュエリーを好きになったのは本当に幼いころです。小さな水晶のカケラを父が私に買ってくれたときから、私の宝石集めは始まりました。今では、集めたコレクションをジュエリーにしたいと思っています。宝石そのものを持つよりもジュエリーにしたほうが、さらに美しいと思うからです。綺麗なものは、なんでも、人を幸せにすると信じています。私が作ったジュエリーで誰かを笑顔にできたら本当に嬉しいです。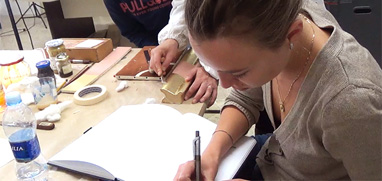 At Accademia Riaci, we are recruiting Course Reporters from our students. The students who are chosen to become Course Reporters are given 10 % of the tuition as their scholarship fee.
The Reporters who have submitted excellent reports will have his or her profile posted on our school website for the next 5 years as an alumnae and will be able to connect with their business chancesafter their graduation.