Accademia Riaci
Lesson Reports
Read all class reports from our students!
Reporter
Morita
Nationality: Japan
Course: Shoe Making
Assistant
Oct. 23, 2014 | Posted in Reports, Shoemaking , Lesson Reporter | Tags:Morita, ShoemakingReporter: Morita | Course: Shoemaking
最終授業 6.6.2014
We are very relieved that no student had a serious accident or injury till this final lesson day.
At the end of the class, students had a little party with Mr. Angelo, the instructor.
靴製作コース最後の授業となりました。
学生の皆さんには大きな事故や怪我などせず無事に最終授業を迎えることが出来、一安心です。
最後はアンジェロ先生と一緒にちょっとしたフェスタを行い終了です。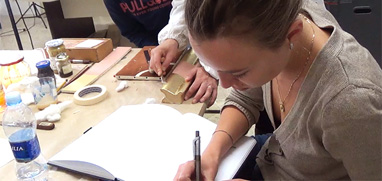 At Accademia Riaci, we are recruiting Course Reporters from our students. The students who are chosen to become Course Reporters are given 10 % of the tuition as their scholarship fee.
The Reporters who have submitted excellent reports will have his or her profile posted on our school website for the next 5 years as an alumnae and will be able to connect with their business chancesafter their graduation.