Accademia Riaci
Lesson Reports
Read all class reports from our students!
Reporter
Morita
Nationality: Japan
Course: Shoe Making
Assistant
Nov. 17, 2014 | Posted in Reports, Shoemaking , Lesson Reporter | Tags:Morita, ShoemakingReporter: Morita | Course: Shoemaking
サマーコース 2 9.7.2014
・After trimming up the outsole, students color the edge of it so it matches with the rest of the shoe. (Picture left)
・Students at the beginning adhere the shank on the 2mm thick intermediate sole, then adhere a leather onto it to finish up the intermediate sole. (Picture center)
・Inside and outside leathers are adhered together using a weak glue prior to using a sewing machine. (Picture right)
・整えた本底の周囲に色を付けて全体の統一感をだします。(左)
・2mm程度の中底にまずはシャンクを貼り、その上に更に革を貼り中底を作ります(中)
・内革と外革は強度の弱いのりで貼り合わせてミシンがけを行います。(右)
・Students remove the shoetree (forma) from the shoe, screw the heel on, and then insert an insole. (Picture center)
・This continuing student is wearing the last shoe he made in the class as a daily wear. (Picture right)
・出来上がった靴から木型(forma)を抜き取り内側からネジで踵を固定して中敷を入れます(中)
・引き続きの生徒さんは前回の作品を普段履きとして活用しております。(右)
・Students can proceed with the instructor anytime they have a problem, which helps them to get a deeper understanding. (Picture left)
・As shoe lasting (montaggio) procedure is the same for any style of shoe, students make sure to perform it in the correct order. (Picture center)
・分からない部分は常に先生と一緒に進めることで理解がより深まります。(左)
・吊り込み(montaggio)は全てのモデルに共通するので手順は確実に行います。(中)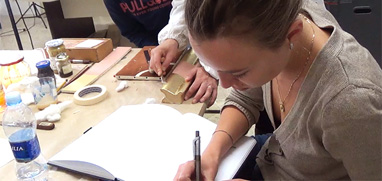 At Accademia Riaci, we are recruiting Course Reporters from our students. The students who are chosen to become Course Reporters are given 10 % of the tuition as their scholarship fee.
The Reporters who have submitted excellent reports will have his or her profile posted on our school website for the next 5 years as an alumnae and will be able to connect with their business chancesafter their graduation.