Accademia Riaci
Lesson Reports
Read all class reports from our students!
Reporter
Morita
Nationality: Japan
Course: Shoe Making
Assistant
Oct. 29, 2014 | Posted in Reports, Shoemaking , Lesson Reporter | Tags:Morita, ShoemakingReporter: Morita | Course: Shoemaking
サマーコース パンプス・グッドイヤーウエルト製法 12.6.2014
・After the felt shoe is finished, students start making shoes using real leather. (Picture left)
・As skiving leather is all done by hands, students need to practice knife handling. (Picture center)
・The instructor is explaining the direction of cutting leather by putting a pattern paper on the leather to be used for the inside of a shoe. (Picture right)
・フエルト生地で仮靴を制作したら実際の革を使って作ります。(左)
・革を薄く漉く作業も全て手作業で行うのでナイフの使い方なども練習が必要です。(中)
・足に当たる内側の革に型紙を載せて裁断する方向などを先生が説明します。(右)
・It takes a practice after practice to get used to using a sewing machine. (Picture left)
・This continuing student is making this shoe by Goodyear welt. (Picture center)
・For Goodyear welt, students make a groove on the side of the intermediate sole and then sew on the upper and the welt. (Picture right)
・ミシンはとにかく慣れる事が必要なので練習あるのみです。(左)
・引き続き授業を受けている生徒さんはグッドイヤーウエルト製法で制作しています。(中)
・グッドイヤーウエルト製法では中底に溝をつくりアッパーをウエルトを縫い付けます。(右)
・Students in the beginning practice sewing so they know how to sew the welt on, i.e. how to prick with a needle, which way to pull a thread, and so on. (Picture left)
・When sewing on the upper and welt at the same time, where the needle comes out will be very important. (Picture center)
・Since the direction and the strength to pull the thread would be important, students begin with a practice in sewing to understand the method well. (Picture right)
・ウエルトを縫い付ける為の針の刺し方や糸の方向など、縫いの練習をまずは行います。(左)
・アッパーをウエルトを同時に縫い付けますが針の出す位置などが非常に重要です。(中)
・糸を引く際の方向や力加減が重要ですが、まずは縫いの練習を行い理解を深めます。(右)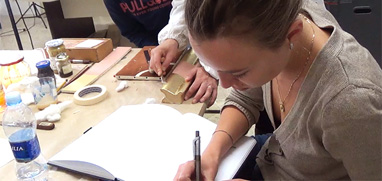 At Accademia Riaci, we are recruiting Course Reporters from our students. The students who are chosen to become Course Reporters are given 10 % of the tuition as their scholarship fee.
The Reporters who have submitted excellent reports will have his or her profile posted on our school website for the next 5 years as an alumnae and will be able to connect with their business chancesafter their graduation.