Accademia Riaci
Lesson Reports
Read all class reports from our students!
Reporter
Morita
Nationality: Japan
Course: Shoe Making
Assistant
Dec. 24, 2014 | Posted in Reports, Shoemaking , Lesson Reporter | Tags:Morita, ShoemakingReporter: Morita | Course: Shoemaking
サマーコース 内羽・外羽接着製法、グッドイヤーウエルト製法2 22.7.2014
・For adhesive method, students perform shoe lasting of the lining, put on the toe core, perform shoe lasting of the upper, and then adhere the edge of the upper on the sole. (Pictures left & center)
・Students choose the heel height and check the balance as a whole shoe. (Picture right)
・接着製法では内革を吊り込み、先芯を載せ、外革を吊り込んで接着剤で外革を靴の裏側に貼り付けます。(左・中)
・設定の踵を選び、全体のデザインバランスを確認します。(右)
・For adhesive shoes, a better design can be achieved by adhering a welt around the shoe. (Picture left)
・After putting a welt around a shoe, students adhere the outsole covering it. (Picture center)
・Students clean up around the shoe, then pile up 4mm thick leathers to build a heel. (Picture right)
・接着製法の場合でも靴の周囲にウエルトを接着することでデザイン性が向上します。(左)
・靴の周囲にウエルトを貼り付けた後、本底を貼り付けます。(中)
・周囲を整えて厚さ4mm程度の革を数枚積み上げて踵を作り全体を仕上げていきます。(右)
・For a rubber sole shoe, the procedure is the same with the leather sole shoe. (Pictures bottom)
・ゴム底の場合でも基本的な手順は革底の場合と同じで作業を進めます。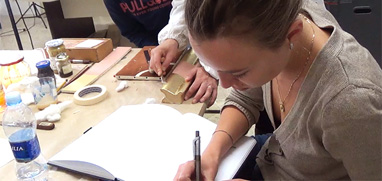 At Accademia Riaci, we are recruiting Course Reporters from our students. The students who are chosen to become Course Reporters are given 10 % of the tuition as their scholarship fee.
The Reporters who have submitted excellent reports will have his or her profile posted on our school website for the next 5 years as an alumnae and will be able to connect with their business chancesafter their graduation.