Accademia Riaci
Lesson Reports
Read all class reports from our students!
Reporter
Morita
Nationality: Japan
Course: Shoe Making
Assistant
Dec. 11, 2014 | Posted in Reports, Shoemaking , Lesson Reporter | Tags:Morita, ShoemakingReporter: Morita | Course: Shoemaking
サマーコース 内羽・外羽接着製法、グッドイヤーウエルト製法1 21.7.2014
・After the upper and the lining are sewn together, the shoe is ready for the shoe lasting. (Picture left)
・For an adhesive method shoe, a metal shank is inserted to the planter arch part of the intermediate sole.
Shank can be made of wood or leather. (Picture center)
・Cutting out of the parts and skiving of the overlapping leather must be done cautiously as they affect the degree of perfection in the finished products. (Picture right)
・外革と内革を合わせて縫い上げた状態。引き続き吊り込み作業に入ります。(左)
・接着製法で使用する中底の土踏まず部分には金属製のシャンクを入れます。 シャンクには木や革を使用する事もあります。(中)
・パーツの裁断や重なり合う部分の漉きは完成度に関わるので慎重に作業をします。(右)
・Students sew the welt (guarudlo) on to a Goodyear welt shoe with blind stitches. (Picture left)
・In the lesson, students open sewing holes on the intermediate sole as marks. Then they put a needle through a hole from inside, open holes through the upper and the welt, and uses 2 needles to sew them together. (Picture center)
・The toe part are sewn so it becomes fan-shaped, therefore students must be very careful about where to open holes inside. (Pictures right)
・グッドイヤーウエルト製法でのウエルト(guarudlo)の縫い付け(掬い縫い)を行います。(左)
・授業では中底に予め縫いの穴を開けてマーキングを行います。内側から穴に針を通して アッパーとウエルトに穴を開け、2本の縫い針を使用して縫い合わせます。(中)
・つま先部分は扇状になる様に縫いを行うので内側の穴の位置は特に注意が必要です。(右)
・For a heel part which was left with no sewing done, students uses nails to fix the welt. (Picture left)
・8mm -nails are used to fix the heel part of the adhesive shoe lasting. (Picture center)
・For adhesive methods, students start with the shoe lasting of the lining, put on a toe core, perform the shoe lasting of the upper, put on glue around and bend the nails down to finish a shoe lasting. (Picture right)
・踵部分は縫いは行わず、釘を使用してウエルトを固定します。(左)
・接着製法の吊り込みでは踵部分は8mmの釘を使用して固定します。(中)
・接着製法では内革を吊り込み、先芯を載せ、表革を吊り込んだのち周囲に糊を縫り釘を倒して外革の吊り込みを完了します。(右)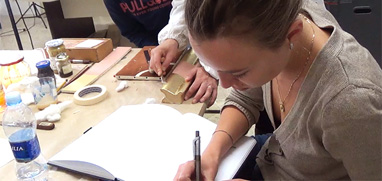 At Accademia Riaci, we are recruiting Course Reporters from our students. The students who are chosen to become Course Reporters are given 10 % of the tuition as their scholarship fee.
The Reporters who have submitted excellent reports will have his or her profile posted on our school website for the next 5 years as an alumnae and will be able to connect with their business chancesafter their graduation.