Accademia Riaci
Lesson Reports
Read all class reports from our students!
Reporter
Morita
Nationality: Japan
Course: Shoe Making
Assistant
Nov. 07, 2014 | Posted in Reports, Shoemaking , Lesson Reporter | Tags:Morita, ShoemakingReporter: Morita | Course: Shoemaking
サマーコース パンプス接着製法 2 19.6.2014
・Because the paper pattern for Chanel style pumps is very distinctive, students start with reviewing how to make a paper pattern. (Pictures left & center)
・Students cut out the outside and the inside leathers making sure which direction the leathers stretch. (Picture right)
・シャネルタイプの靴は型紙が特徴的な為、まずは型紙の取り方の復習します。(左・中)
・革の伸び方向に注意して表革と裏革を裁断します。(右)
・Students fold back the leather and adhere the stay tape around the shoe opening. (Pictures center & right)
・周囲を折り返して履き口の周囲に伸び留めテープを貼り付けます。(中・右)
・Because the heel core cannot be inserted for a Chanel style shoe, thin stiffener is adhered inside. (Picture left)
・Students adhere the outside and the inside leathers together and sew around it. (Picture center)
・Just like a regular pump, students perform shoe lasting with the finished upper. (Picture right)
・シャネルタイプでは踵芯を入れることが出来ない為、芯の代わりに薄手の補強材を内側に貼り付けます。(左)
・表革と裏革を接着して周囲をミシンで縫います。(中)
・通常のパンプス同様の手順で出来上がったアッパーを吊り込みます。(右)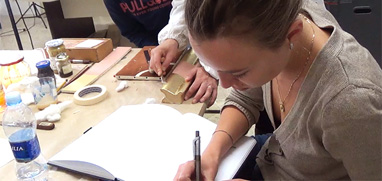 At Accademia Riaci, we are recruiting Course Reporters from our students. The students who are chosen to become Course Reporters are given 10 % of the tuition as their scholarship fee.
The Reporters who have submitted excellent reports will have his or her profile posted on our school website for the next 5 years as an alumnae and will be able to connect with their business chancesafter their graduation.