Accademia Riaci
Lesson Reports
Read all class reports from our students!
Reporter
Morita
Nationality: Japan
Course: Shoe Making
Assistant
Oct. 28, 2014 | Posted in Reports, Shoemaking , Lesson Reporter | Tags:Morita, ShoemakingReporter: Morita | Course: Shoemaking
サマーコース 接着製法、パンプス 2 11.6.2014
・Students draw a design of pumps on the design tapes on the shoetree. (Picture left)
・Students peel off the design tape from the shoetree without messing up the design. (Picture center)
・Students carefully adhere the design tape over a cardboard so the design drawn maintains its lines. (Picture right)
・外側に貼り付けてあるデザインテープにパンプスのデザインを描きます。(左)
・描いたデザインが崩れない様に木型からデザインテープを木型から剥がします。(中)
・描いたデザインのラインに注意しながら厚紙にデザインテープを貼り付けます。(右)
・The design tape must be adhered firmly without any wrinkles. (Picture left)
・Using a pair of compasses, students draw a tab line which will be necessary for shoe lasting. Students then cut it along the tab line. (Pictures center & right)
・全体的にシワをとりしっかりと貼り付けます。(左)
・コンパスを使い吊り込みに必要な吊り込みシロのラインを引き裁断します。(中・右)
・Students trace it onto a cardboard folded in half and cut it out to make a paper pattern. (Pictures left & center)
・Using a sheet of felt, students make a provisional shoe and check out whether their design is correctly reflected. (Picture right)
・半分に折った厚紙み形状を写し取りラインに合わせて裁断をして型紙を作ります。(左・中)
・フエルト生地を使い仮靴を作り、デザイン通りに出来ているかを確認します。(右)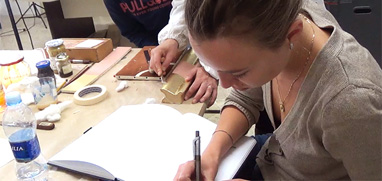 At Accademia Riaci, we are recruiting Course Reporters from our students. The students who are chosen to become Course Reporters are given 10 % of the tuition as their scholarship fee.
The Reporters who have submitted excellent reports will have his or her profile posted on our school website for the next 5 years as an alumnae and will be able to connect with their business chancesafter their graduation.