Accademia Riaci
Lesson Report
Up-to-date report from one of our students!
Reporter
Morita
Nationality: Japan
Course: Shoe Making
Assistant
Dec. 08, 2014 | Posted in Blog, Shoemaking , Lesson Reporter | Tags:Morita, Shoemaking | Language:


Reporter: Morita | Course: Shoemaking
サマーコース 接着製法外羽・グッドイヤーウエルト製法 17.7.2014
・After the shoe lasting is done, students cut off the excess leather and get ready for sewing.
・吊り込みが終わったら余分な革を切り取り縫いの準備を行います。
・Students put together the parts, sew with the sewing machine, and make a thread hole to get ready for the shoe lasting.
・パーツを合わせてミシンがけを行い、紐を通す穴をあけて吊り込みの準備を行います。
・For Goodyear welt, 6 threads twisted together are used. This procedure is more difficult that it may seem. (Pictures left & center) ・All leather skiving work is done manually, so the knife (trincetto) must be sharp at all time. (Picture right)
・グッドイヤーウエルト製法で使用する糸は6本のものを使用しますが見た目以上に難しい作業です。(左・中)
・革を薄く漉く作業も全て手作業で行うので常にナイフ(trincetto)は切れることが大切です。(右)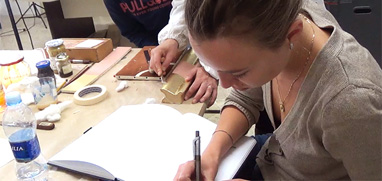 At Accademia Riaci, we are recruiting Course Reporters from our students. The students who are chosen to become Course Reporters are given 10 % of the tuition as their scholarship fee.
The Reporters who have submitted excellent reports will have his or her profile posted on our school website for the next 5 years as an alumnae and will be able to connect with their business chancesafter their graduation.