Accademia Riaci
Lesson Report
Up-to-date report from one of our students!
Reporter
Morita
Nationality: Japan
Course: Shoe Making
Assistant
Nov. 19, 2014 | Posted in Blog, Shoemaking , Lesson Reporter | Tags:Morita, Shoemaking | Language:


Reporter: Morita | Course: Shoemaking
サマーコース 接着製法パンプス・内羽・グッドイヤーウエルト製法 14.7.2014
・Students adhere a thinly skived leather around a heel. (Picture left)
・Students then adhere the heel with glue onto the outsole. (Picture center)
・For Goodyear welt, students firstly set a wet intermediate sole on the shoetree, and then fix it with nails to shape the sole. (Picture right)
・使用するヒールの周囲に薄く漉いた革を貼り付けます。(左)
・本底を貼り付けたパンプスの踵部分に糊を塗りヒールを貼り付けます。(中)
・グッドイヤーウエルト製法では濡らした中底革を木型に合わせ、周囲を釘で固定して木型の底形状を整形します。(右)
・Shoe lasting for the toe part takes many nails, so students use the tip of pliers (pinza). (Picture left)
・This student is ready to start a shoe lasting for the shoes with sewn instep parts. (Picture center)
・Paper patterns must be cut cautiously as it greatly affects the product finish. (Picture right)
・つま先部分の吊り込みは細かく釘を打ち付けるのでpinzaの先端を使います。(左)
・甲の部分に縫いがある靴を制作している学生さんはいよいよ吊り込み作業です。(中)
・最終的な出来上がりに左右するので型紙は慎重に裁断します。(右)
・In order to harden a heel core, students spread a hardener called "pasta". (Picture left)
・Students spread pasta inside the upper, insert a heel core and then perform a shoe lasting. (Picture center)
・Shoe lasting procedures are the same for all styles of shoes, so it is important to perform it over and over. (Picture right)
・踵芯を固めるためにpastaと呼ばれる硬化剤を塗ります。(左)
・アッパーの内側にもpastaを軽く塗り、踵芯を入れて吊り込みを行います。(中)
・吊り込みの手順は全てのモデルに共通するので繰り返し行う事が大切です。(右)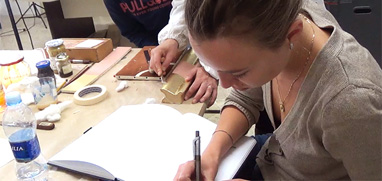 At Accademia Riaci, we are recruiting Course Reporters from our students. The students who are chosen to become Course Reporters are given 10 % of the tuition as their scholarship fee.
The Reporters who have submitted excellent reports will have his or her profile posted on our school website for the next 5 years as an alumnae and will be able to connect with their business chancesafter their graduation.