Accademia Riaci
Lesson Reports
Read all class reports from our students!
Reporter
Morita
Nationality: Japan
Course: Shoe Making
Assistant
Nov. 26, 2014 | Posted in Reports, Shoemaking , Lesson Reporter | Tags:Morita, ShoemakingReporter: Morita | Course: Shoemaking
サマーコース 接着製法パンプス・内羽 4 15.7.2014
・The leather must be cut exactly as the pattern paper because it will make a big difference in the product finish. (Picture left)
・Students put a toe core on the inner leather (fodera), perform a shoe lasting of the outer leather (tomaia), spread glue, and lastly bend nails down. (Pictures center & right)
・仕上がりが大きく左右するので革の裁断は型紙通りに正確に行います。(左)
・内革(fodera)に先芯を載せ外革(tomaia)を吊り込み最後に糊を縫って釘を倒します。(中・右)
・For a shoe with a large shoe opening, it is important to perform a shoe lasting so its line does not get crooked. (Picture left)
・Since the color choice of the leather drastically changes the image of the product, it is very important to imagine the finished product. (Picture center)
・Shoe lasting procedure is the same for all styles of shoes. (Picture right)
・履き口の大きな靴ではラインが曲がらない様に吊り込みを行う事が重要です。(左)
・革の色によりイメージも大きく変わるので完成形をイメージする事は非常に重要です。(中)
・吊り込み作業は全てのモデルについて同じ手順で行います。(右)
・Students confirm with the instructor step-by-step how to proceed with the detailed parts. (Picture left)
・This shoe is finished after coloring around the outsole and adhering the insole. (Picture center)
・細かい部分は先生と確認しながら作業を行います。(左)
・本底の周囲に色を塗り、中敷を貼り付けて完成です。(中)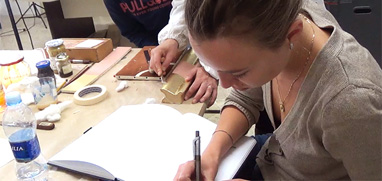 At Accademia Riaci, we are recruiting Course Reporters from our students. The students who are chosen to become Course Reporters are given 10 % of the tuition as their scholarship fee.
The Reporters who have submitted excellent reports will have his or her profile posted on our school website for the next 5 years as an alumnae and will be able to connect with their business chancesafter their graduation.