Accademia Riaci
Lesson Reports
Read all class reports from our students!
Reporter
Morita
Nationality: Japan
Course: Shoe Making
Assistant
Dec. 02, 2014 | Posted in Reports, Shoemaking , Lesson Reporter | Tags:Morita, ShoemakingReporter: Morita | Course: Shoemaking
サマーコース 接着製法 16.7.2014
・Students put each part together with a sewing machine. (Picture left)
・For a single- part balmoral design, students make a paper pattern adjusting so that the heel part is a bit smaller. (Pictures center & right)
・各パーツをミシンで縫い合わせます。(左)
・内羽デザインで羽部分を1パーツで取るデザインでは踵部分を少し小さくして型紙を作成します。(中・右)
・Students adhere design tapes on the outside half of a shoetree and draw a design on it. (Picture left)
・After removing the design tapes from the shoetree, students adhere them on a cardboard so they do not wrinkle. (Picture center)
・When starting a new procedure, the instructor gather all students in the class. (Picture right)
・木型の外側半分にデザインテープを貼り付けデザインを描きます。(左)
・木型からデザインテープを剥がし、厚紙にシワを伸ばしながら貼り付けます。(中)
・新しい作業の説明では学生さんを集めて行います。(右)
・Students adhere a skived leather on the back of the eyelet part, and a skinny reinforcing tape (nastrino) along the shoe opening part. (Picture left)
・For Goodyear welt, students use 6 sewing thread (spago) bundled together. (Picture center)
・Students learn how to sew by practicing before they actually sew a Goodyear welt shoe. (Picture right)
・紐を通すための穴部分には薄く漉いた革を貼り付け、履き口部分には細い補強テープを貼り付けます(nastrino)。(左)
・グッドイヤーウエルト製法で使用する縫い糸(spago)は1本の糸を6本に束ねて使用します。(中)
・グッドイヤーウエルトの縫いを行う前に練習で縫いの方法を覚えます。(右)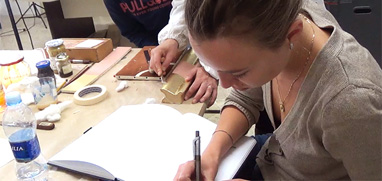 At Accademia Riaci, we are recruiting Course Reporters from our students. The students who are chosen to become Course Reporters are given 10 % of the tuition as their scholarship fee.
The Reporters who have submitted excellent reports will have his or her profile posted on our school website for the next 5 years as an alumnae and will be able to connect with their business chancesafter their graduation.