Accademia Riaci
Lesson Reports
Read all class reports from our students!
Reporter
Morita
Nationality: Japan
Course: Shoe Making
Assistant
Jul. 02, 2014 | Posted in Reports, Shoemaking , Lesson Reporter | Tags:Morita, ShoemakingReporter: Morita | Course: Shoemaking
パンプス接着製法、外羽接着製法、グッドイヤー製法3 6.2.2014
・After adjusting the cork shape, we attach a 5mm-thick outsole
・We firmly hammer it and be sure that there aren't protrusions
・We cut off the pieces of leather in excess that stick out
・We put a mark in order to stitch together welt and outsole
・コルクの形状を修正したら厚さ5mm程度の本底を貼り付けます。
・貼り付けはハンマーでしっかり叩いて浮きが無いようにします。
・貼り付けた後は周囲にはみ出ている余分な革を切り取り形状を整えます。
・周囲の形状が整った後、本底とウエルトを縫い付けるための印を付けます。
・For Goodyear style, we put together 6 threads and stitch
・We thin down the thread extremity and thread the needle.
・グッドイヤー製法を行う際の糸は1本の糸を6本程度まとめて使用します。
・縫い糸の先端部分は細くし針を取り付けます。
・To exercise on Moccasin stitch, we attach the leather on a mold that resembles the shoetree
・We bend the needle on its extremity in order to facilitate the sewing process.
・モカ縫いの練習のため木型を模した型に革を貼り、縫いの練習をします。
・縫いに使う針は先端部分を曲げて縫いが容易に出来る様に調整します。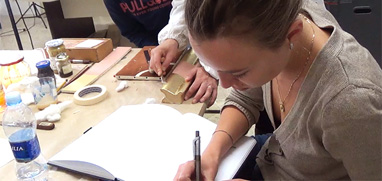 At Accademia Riaci, we are recruiting Course Reporters from our students. The students who are chosen to become Course Reporters are given 10 % of the tuition as their scholarship fee.
The Reporters who have submitted excellent reports will have his or her profile posted on our school website for the next 5 years as an alumnae and will be able to connect with their business chancesafter their graduation.