Accademia Riaci
Lesson Report
Up-to-date report from one of our students!
Reporter
Morita
Nationality: Japan
Course: Shoe Making
Assistant
Jul. 02, 2014 | Posted in Blog, Shoemaking , Lesson Reporter | Tags:Morita, Shoemaking | Language:


Reporter: Morita | Course: Shoemaking
パンプス接着製法、外羽接着製法、グッドイヤー製法2 5.2.2014
・For the open-laced technique, we attach the outsole leather and adjust the shape
・Since the welt has visible seams, the shoe looks like a Goodyear style
・We apply the leather on the paper pattern, and then cut the important parts
・When cutting, it's important to pay attention to how the leather get stretched, in order to prevent that it gets out of its shape
・外羽接着製法で本底の革を貼り付け周囲を整形します。
・接着により貼り付けたウエルトには既に縫いが入っているので、貼り付けるだけでグッドイヤー製法の靴の様にみえます。
・型紙を革に載せ、必要なパーツを裁断します。
・裁断の際は型崩れを防ぐ為にも革が伸びる方向に注意する必要があります。
・For Goodyear style, we apply a 5mm-thick leather to the bottom of the shoetree
・We wet the leather, hammer the nails and attach the leather following the shoetree shape
・Once the leather is dried, we adapt it to the shoetree bottom and make the filler in order to sew the welt
・We create a convex shape: 4mm-distance from the edge, 2.5mm of depth and 7mm filler width
・グッドイヤー製法では厚さ5mm程度の革を木型の底面に貼り付けます。
・革を濡らし、釘を打ち、釘を外側に倒して革が木型の形状に合う様に貼り付けます。
・革が乾いたら周囲を木型底面と同じ形状に整形し、ウエルトを縫い付ける為の壁を作ります。
・外側から4mm程度、深さ2.5mm程度、壁幅7mm程度の凸形状をつくります。
・For the open-laced style, once we have adjusted the outsole part, we create the heel by building up multiple layers of thin leather
・The leather layers are 4mm thick; the correct height for the heel corresponds to 1 pencil placed below the toe part.
・外羽接着製法では貼り付けた本底の周囲を整形し、薄い革を積み上げ踵を作ります。
・厚さ4mm程度の革を積み上げ、つま先部分に鉛筆が1本入るくらいに調整をします。
・As for Goodyear style, after sewing the welt we apply a metallic shank
・There are many types of shank: metallic, made of wood, etc.
・We cover the shank with 2mm-thick piece of leather. We also attach the cork in the part in front of the leather and we finish the outsole.
・グッドイヤー製法ではウエルトの縫いつけが終わったら金属のシャンクを貼り付けます。
シャンクは木、革など他にも種類があります。
・シャンクを貼り付けたらシャンクを覆うように厚さ2mm程度の革を貼り、革より前の部分にはコルクを貼り付け底面を整えます。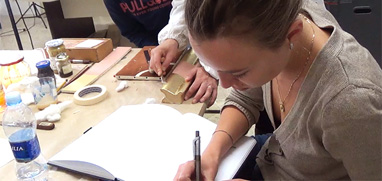 At Accademia Riaci, we are recruiting Course Reporters from our students. The students who are chosen to become Course Reporters are given 10 % of the tuition as their scholarship fee.
The Reporters who have submitted excellent reports will have his or her profile posted on our school website for the next 5 years as an alumnae and will be able to connect with their business chancesafter their graduation.