Accademia Riaci
Lesson Reports
Read all class reports from our students!
Reporter
Morita
Nationality: Japan
Course: Shoe Making
Assistant
Jun. 30, 2014 | Posted in Reports, Shoemaking , Lesson Reporter | Tags:Morita, ShoemakingReporter: Morita | Course: Shoemaking
外羽接着
・After removing from the shoetree the design tape, we attach it to the cardboard and cut out the paper pattern of each part.
・Since in the open-laced type the shoe tongue is connected with the upper leather, during the lasting it's important to cut the paper pattern, taking into account the size, etc., so as not to create pleating.
・木型に貼り付けデザインを行ったデザインテープを木型から剥がして厚紙に貼り付けて各パーツの型紙を切り出します。
・外羽はベロ部分が甲の革と繋がった形をしているので吊り込みの際に浮きがでてしまわないように大きさ等を注意しながら型紙を裁断します。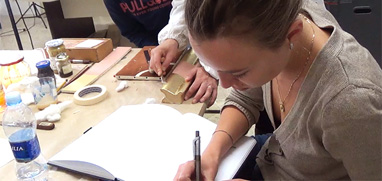 At Accademia Riaci, we are recruiting Course Reporters from our students. The students who are chosen to become Course Reporters are given 10 % of the tuition as their scholarship fee.
The Reporters who have submitted excellent reports will have his or her profile posted on our school website for the next 5 years as an alumnae and will be able to connect with their business chancesafter their graduation.