Accademia Riaci
Lesson Reports
Read all class reports from our students!
Reporter
Morita
Nationality: Japan
Course: Shoe Making
Assistant
Jul. 03, 2014 | Posted in Reports, Shoemaking , Lesson Reporter | Tags:Morita, ShoemakingReporter: Morita | Course: Shoemaking
外羽接着製法、グッドイヤー製法、パンプス接着製法8 11.2.2014
・For Goodyear style, we nail the leather to the shoetree. The leather has been first wetted and its thickness is 5mm.
・Once the leather is dried, we remove the nails and adapt the leather to the shape of the shoetree bottom. Then we scrape off all around.
・The shape is adjusted not only with the knife, but also with
wood rasps and pieces of glass.
・The execution of the inner sole has a significant impact on the shoe final result.
・グッドイヤー製法ではまず木型に厚さ5mm程度の濡らした革を釘で固定します。
・革が乾いたら釘を抜いて木型の底面形状に合わせて周囲を削り取ります。
・ナイフだけではなく木やすりやガラス片を使用して形を整えます。
・この中底の出来が最終的な靴の出来上がりに大きく影響するので非常に重要です。
・The first photo depicts the process of outsole stitching (sewing together outsole and welt).
・With a needle called "Regina", which is curved at the extremity, we punch holes and continue sewing
.
・It's important to match the thickness of the thread with the size of the hole.
・Since the thread used for this work is thin, there is a gap among the stitches.
・グッドイヤー製法で本底とウエルトを縫い付ける出し縫いの工程です。
・先端がカーブしたレジナと言う針を使って穴を開け縫いを進めていきます。
・穴の大きさと使う糸の太さを合わせることは重要になります。
・この作品では穴に対して糸が細いので縫いに隙間が出来ています。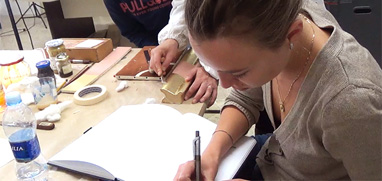 At Accademia Riaci, we are recruiting Course Reporters from our students. The students who are chosen to become Course Reporters are given 10 % of the tuition as their scholarship fee.
The Reporters who have submitted excellent reports will have his or her profile posted on our school website for the next 5 years as an alumnae and will be able to connect with their business chancesafter their graduation.