Accademia Riaci
Lesson Reports
Read all class reports from our students!
Reporter
Morita
Nationality: Japan
Course: Shoe Making
Assistant
Jul. 03, 2014 | Posted in Reports, Shoemaking , Lesson Reporter | Tags:Morita, ShoemakingReporter: Morita | Course: Shoemaking
外羽接着製法、グッドイヤー製法、パンプス接着製法7 10.2.2014
・After having colored the outsole and arranged the shape, the students remove the shoetree
・They fix the heel with screws, from the inside of the shoe

・Then, they cut out the leather in excess from around the opening part
and insert the sockliner
・We add the shoelace and the work is completed
・本底の着色と周囲を整えたら木型を抜き取ります。
・靴の内側からネジで踵を固定します。
・履き口周囲の余分な革を切り取り、中敷を入れます。
・靴紐を付けて完成です。
・For the Goodyear's style insole, they prepare the filler to sew the welt with the upper, and carve 7mm-distance marks on the insole for sewing
・We punch holes in the filler with a special needle called "Regina"
・グッドイヤー製法の中底ではアッパーをウエルトを縫い付ける為の壁を作り、縫いをするための印を7mm間隔でつけます。
レジナと言う針を使用して壁に穴を開けます。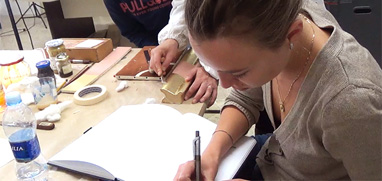 At Accademia Riaci, we are recruiting Course Reporters from our students. The students who are chosen to become Course Reporters are given 10 % of the tuition as their scholarship fee.
The Reporters who have submitted excellent reports will have his or her profile posted on our school website for the next 5 years as an alumnae and will be able to connect with their business chancesafter their graduation.