Accademia Riaci
Lesson Reports
Read all class reports from our students!
Reporter
Morita
Nationality: Japan
Course: Shoe Making
Assistant
Jul. 01, 2014 | Posted in Reports, Shoemaking , Lesson Reporter | Tags:Morita, ShoemakingReporter: Morita | Course: Shoemaking
外羽接着、グッドイヤー製法、パンプス接着製法4 27/1/2014
・The way we cut the paper pattern can affect greatly the shoe design, so it is important to pay attention in the process.
・It's also important to cut out from the pattern only the leather that we are actually going to use, and to juxtapose each part side by side.
・型紙の裁断は完成した際のデザインに大きく影響するので注意しながら裁断します。
・型紙から実際に使用する革を切り出し、パーツごとに並べてみることも重要です。
・In the case of Goodyear stitching, it becomes essential to sew the insole and upper with the thin leather used on the stitching edges at the same time.

・Students thin down the extremities and put a sewing needle.

・Then, they apply pine resin to the whole surface of the thread, as it makes it more resistant and waterproof.
・グッドイヤー製法の場合は中底、アッパーと靴の周囲の細い革を同時に縫い付ける為の縫い糸が必要になります。
・先端部分は細くして縫い針を取り付けます。
・糸全体に松脂を塗りって強度を上げ、水をはじき、糸が腐りにくい状態にします。
・Then, let's insert the toe core inside the shoe extremity and in this way we make it stronger and prevent that the shoe would get out of shape.

・After inserting the toe core, we turn the shoe and while hammering the nails in the surface, we proceed with the lasting.
・靴の先端部分には芯を入れて強度を出すことで型崩れを予防します。
・先芯を貼り付けたあと、表革を戻して釘を打ちながら徐々に釣り込みを行い形を作ります。
・If we want to add garnish on the toe part, this requires some time because we have to: first last the upper on the shoetree, then once drawn the design on it, we remove it and punch holes.
・つま先部分に飾りを入れる場合は出来上がったアッパーを木型に吊り込みデザインを描いた後、木型からはずして穴を開けるので手間が掛かります。
・Then, we polish the side of the shoe, where we attached the leather to the sole
.
・It's also important to imagine the finished shape with different usage of colors. In fact, even with the same design, the final effect can be extremely different just changing the combination of tones.
・ソールに貼り付けた革のサイド部分を綺麗に仕上げ、ソール表面を仕上げると完成です。
・同じデザインでも色使いなどの違いでまったく変わって見えるので完成形を想像することも大切です。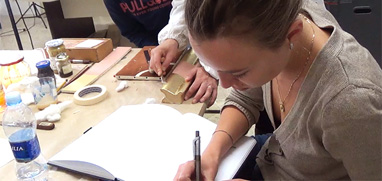 At Accademia Riaci, we are recruiting Course Reporters from our students. The students who are chosen to become Course Reporters are given 10 % of the tuition as their scholarship fee.
The Reporters who have submitted excellent reports will have his or her profile posted on our school website for the next 5 years as an alumnae and will be able to connect with their business chancesafter their graduation.