Accademia Riaci
Lesson Reports
Read all class reports from our students!
Reporter
Morita
Nationality: Japan
Course: Shoe Making
Assistant
Jul. 01, 2014 | Posted in Reports, Shoemaking , Lesson Reporter | Tags:Morita, ShoemakingReporter: Morita | Course: Shoemaking
 外羽接着製法、グッドイヤー製法、パンプス接着製法3  23.1.2014
・This is the open-laced moccasin design

・We assemble 2 types of leather, white and brown color, and sew the parts together
・We perforate the leather with a punch
and we sew by hand
・You can see the brown-colored beautiful stitches on the leather.
・モカデザインの外羽です。
・白い革と茶色い革を合わせて縫います。
・パンチで穴を開け糸で手縫いを行います。
・白い革部分に茶色のステッチが綺麗に出来ています。
・The teacher is making the filler, as preparation for the Goodyear stitching

・That is a very important part in Goodyear stitching, so let's cut it carefully

・We flatten and polish the cut surface with a file
・グッドイヤー製法で縫いを行うための壁を作る作業。
・グッドイヤー製法では非常に重要な部分なので切りすぎなどには注意が必要です。
・ヤスリなどを使い切断面を平にならします。
・We color the stitched edge and proceed with the finishing (photo on the left)
・Using a paper pattern for each part, we draw on the leather with a silver pen and cut it (photo on the right).
・コバ部分に着色をし、この後仕上げを行っていきます。(写真左)
・パーツの型紙を用いて革に銀ペンでした絵を描き裁断を行います(写真右)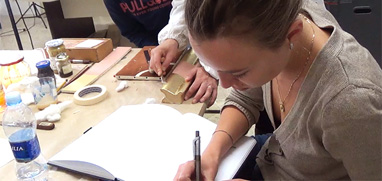 At Accademia Riaci, we are recruiting Course Reporters from our students. The students who are chosen to become Course Reporters are given 10 % of the tuition as their scholarship fee.
The Reporters who have submitted excellent reports will have his or her profile posted on our school website for the next 5 years as an alumnae and will be able to connect with their business chancesafter their graduation.