Accademia Riaci
Lesson Reports
Read all class reports from our students!
Reporter
Morita
Nationality: Japan
Course: Shoe Making
Assistant
Jun. 30, 2014 | Posted in Reports, Shoemaking , Lesson Reporter | Tags:Morita, ShoemakingReporter: Morita | Course: Shoemaking
外羽接着製法、グッドイヤー製法、パンプス接着製法2 22/1/2014
・After having built up the leather layers on the heel, we check the whole height of the shoe.

・The standard uplift corresponds to 1 pencil placed under the toe part.

・If the heel height is correct, we proceed with the polishing.
・踵を革で積み上げた後で全体の高さを確認します。
・つま先部分に鉛筆が1本入る程度の浮き上がりが標準です。
・高さに問題が無い様であれば踵を綺麗に整えます。
・Once the upper is completed, we adjust it to match the shoetree and proceed with the lasting.
・At the beginning, students work on the sample produced by the teacher, continuing from where he stopped.
・We check if there is any protrusion.
・This student has just wrapped the leather around the shoe opening part and the final result is a very beautiful upper.
・アッパーが出来たら木型に合わせ吊り込みを行います。
・まずは先生による手本に続いて生徒さんが作業を行います。
・吊り込んだ状態で浮きがないかを確認します。
・この生徒さんは履き口の周囲に革を巻いて見た目にも綺麗なアッパーを作製しています。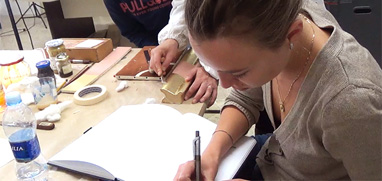 At Accademia Riaci, we are recruiting Course Reporters from our students. The students who are chosen to become Course Reporters are given 10 % of the tuition as their scholarship fee.
The Reporters who have submitted excellent reports will have his or her profile posted on our school website for the next 5 years as an alumnae and will be able to connect with their business chancesafter their graduation.